This article may contain affiliate links which means we might earn a small commission if you decide to make a purchase through them (at no extra cost to you). Thank you for your support!
Blue and purple are both cool colors that can create a beautiful and calming color palette when used together. They work so well together because they appear next to each other on the color wheel so they have a harmonious feel to them.
Fun Fact! Colors that appear next to each other on the color wheel are known as analogous colors.
Blue and purple color palettes are a great choice for brands and products that want to promote relaxation, wellness, and serenity.
Lighter shades of purple combined with pastel blues colors create a soft and romantic feel with light purple shades such as lavender and lilac being popular choices for romantic celebrations and products that promote luxury and relaxation.
Dark purple shades such as eggplant and plum create a more dramatic and mysterious effect and when combined with blue can make a brand or product really stand out!
Blue And Purple Hex Codes And RGB Values
While blue is a primary color, purple is a secondary color that is created when you mix red and blue together. Depending on how much red and blue you use to create purple, you can create a wide range of purple shades ranging from warm, reddish purples to cool, bluish purples.
This is what primary blue and traditional purple look like:
Primary Blue
Hex Code: #0000FF
RGB Code: RGB(0,0,255)
Purple
Hex Code: #800080
RGB Code: RGB(128, 0, 128)
Blue And Purple Color Palettes
While a blue and purple color palette might not immediately come to mind when choosing a color palette for your brand or building your website, it certainly can't be overlooked!
Here you will find a collection of purple and blue color palettes that I hope will help you choose the best blue-purple color combinations! Along with each scheme I've also included a color swatch table with each color's hex code so that you can begin using the color you like in your designs straight away!
If you would like more ideas, don't forget to check out the color palette library where you can search all our color palettes by color!
Blue And Purple Flower Inspiration
Let's get started with this gorgeous, bold blue and purple color palette! A dark navy blue forms the base for this palette with shades of purple and a pastel blue being used to create a calming yet bold look and feel!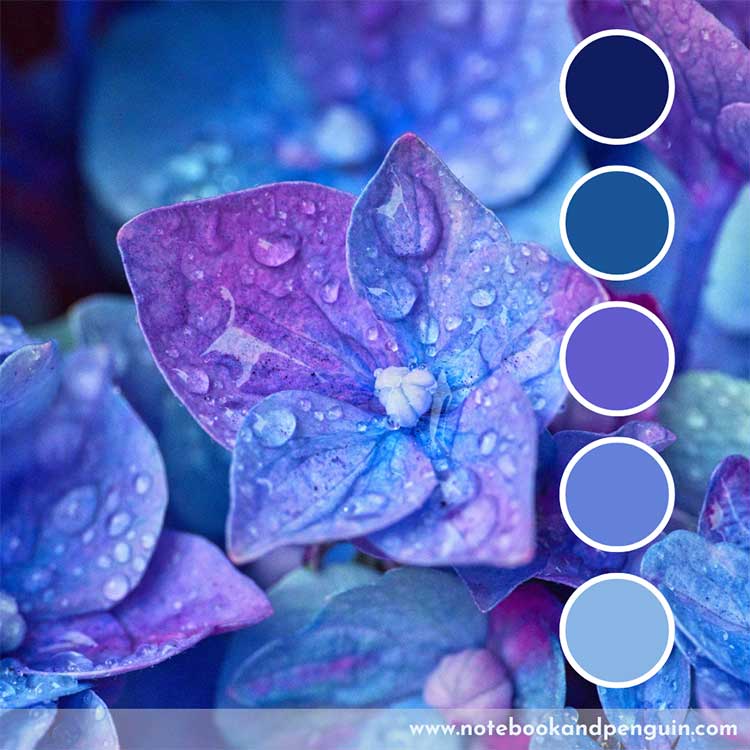 | | | | | |
| --- | --- | --- | --- | --- |
| #0F1C60 | #1A5598 | #625CCE | #6481D9 | #89B5E5 |
Pastel Purples and Blues
This color palette once again uses a darker blue shade as its base but this time uses pastel blues and pastel purples to create a soft and pretty palette.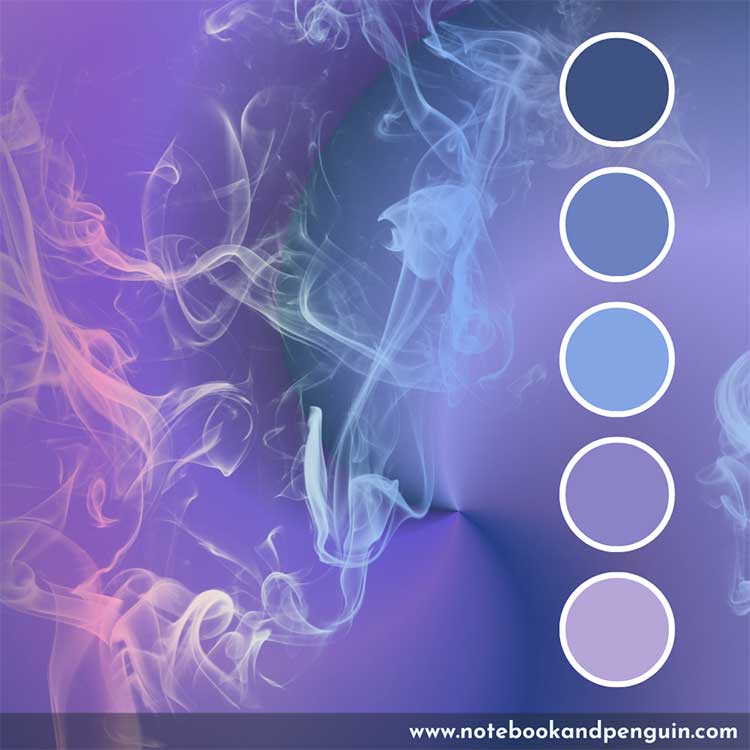 | | | | | |
| --- | --- | --- | --- | --- |
| #3E5282 | #6C81C0 | #84A5E3 | #8B83C6 | #B5A5D7 |
Brighter Pastel Purple Color Palette
If you love shades of pastel purple but still want some brighter contrasts, then why not try this color palette which features bright and vibrant teal-colored shades of blue!
| | | | | |
| --- | --- | --- | --- | --- |
| #A389D4 | #D7BEF5 | #E1CEFB | #8ADEF6 | #B7EAFC |
Vibrant Blue and Purple Color Palette
This color palette is similar to the color combination that was used above. However, this palette features a rich indigo-colored purple combined with a powder blue and teal blue.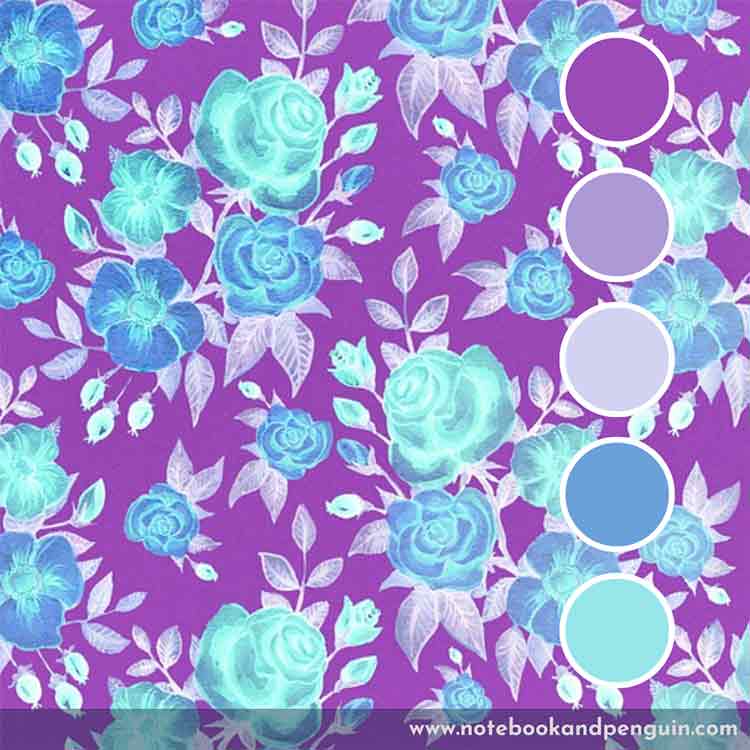 | | | | | |
| --- | --- | --- | --- | --- |
| #9B4BB7 | #AE99D6 | #D3D3F2 | #6AA1DA | #97E6EA |
Dark Purple And Dark Blue Color Palette
Combining an equally dark purple and dark blue shade with lighter shades of blue and purple creates a luxurious color palette that works well for dramatic and bold designs!
| | | | | |
| --- | --- | --- | --- | --- |
| #0A497C | #65A0C5 | #6436A5 | #9370BF | #B29BCB |
Cornflower-Inspired Blue And Purple Palette
This cornflower-inspired color palette combines shades of purple with different blues creating contrast and drama.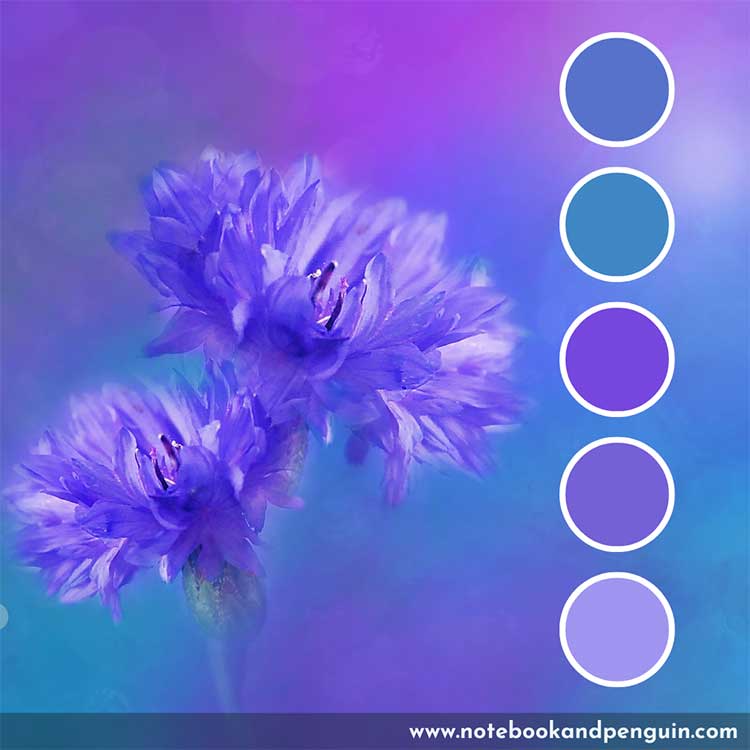 | | | | | |
| --- | --- | --- | --- | --- |
| #5772CB | #4087C4 | #7647DE | #7560D6 | #A095F0 |
Dark, Bold, And Moody Palette
If you are wanting to go for a more dramatic and bold blue and purple palette then this might be the one you are looking for! Navy blue combines with a dark purple shade to create a solid base for bright and vibrant purples and blues.
For another variation of this color palette, check out our navy blue color palette collection!
| | | | | |
| --- | --- | --- | --- | --- |
| #02327C | #064994 | #53007A | #AD01C3 | #9F72D4 |
Conclusion
I hope you enjoyed our collection of blue and purple color palettes!. Both these colors are so versatile and can be used in so many different ways. By using them in the same color palette you can create luxurious color combinations that range from bright and bold to subtle and soft.