This article may contain affiliate links which means we might earn a small commission if you decide to make a purchase through them (at no extra cost to you). Thank you for your support!
This Article Is Part Of Our "Build Your Own Website" Series.
If You Would Like To Learn How To Build Your Website From Scratch Then Check Out This Link.
There are so many benefits to having your own branded email addresses for your business! Just like having your own domain, a domain-specific email address helps to enhance brand recognition and consistency, increase customer and client confidence and create a professional image. And the best part is that creating a new email account in cPanel is pretty easy and straightforward!
But why create an email address for your business using your own domain?
Imagine receiving an email from a wedding planning business with an email address like this:
theweddingplanner@gmail.com
Now compare that to:
sharon@theweddingplanner.com
Can't really compare right? Your own personalized business email address wins hands down every time!
In this tutorial, I'm going to share how you can set up your business email addresses using cPanel. I'm sure you are going to love just how quick and easy it is!
Let's get started!
How To Open The Email Accounts Dashboard
Before you begin you will need to log into your hosting account.
If your hosting account is with HostArmada, you will find the link to cPanel on your dashboard.
Track Your Progress!
FREE CHECKLIST
Sign up for our newsletter and get our free website-building checklist! Easily keep track of your progress and make sure you've covered all the important steps as you build your own website.



Click the cPanel icon to open cPanel.
When cPanel opens, the Email section should be right near the top of your cPanel dashboard.
Click "Email Accounts" to open your email accounts dashboard.
Getting To Know The Email Accounts Dashboard
The cPanel email accounts dashboard is very intuitive and easy to use with all the options you need in one place!
From the main dashboard you will be able to:
Create email addresses.
Delete email addresses.
Manage each email address.
Check your email.
Connect your email address to your favorite email software and apps.
How To Create A New Email Address
To create a new email address, follow these easy steps:
Click the "+Create" button.
Select a domain that you would like to use from the dropdown box.
Select a username for your email account.
Set a password for your email address – you can choose your own password or you can generate one from the dashboard.
Click "+Create" at the bottom of the page to create your new email address.
Congratulations! You have just created a new email address! You should see the new email on your main email dashboard.
When you open your email box for the first time you will see an email with all your email account configuration settings waiting for you there.
How To Check Your Email Online
To check your email online, directly from cPanel, simply click the "Check Email" button to the right of your email address in the email accounts dashboard.
cPanel will being you to a welcome screen with a couple of options for your new email address. From here you will be able to:
Open your email account using Roundcube webmail software.
Manage autoresponders.
Manage email filters.
Manage email forwarders.
Edit your settings.
Set up your email address for different devices.
To open your email, click "Open".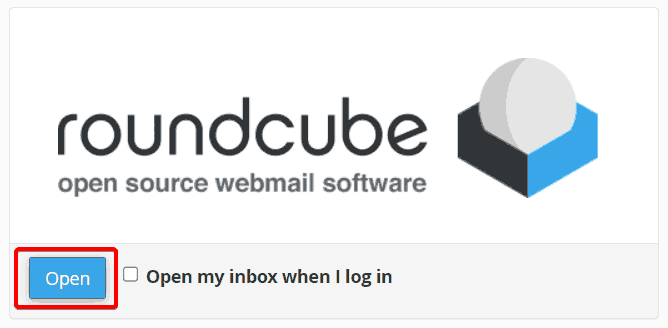 The Roundcube email software is pretty straightforward and easy to use.
You should already have one email in your inbox – Client Configuration Settings. This email will contain all the details that you need to set up your email address with the emailing software that you use.
How To Manage Your Email Address
cPanel gives you quite a few options when it comes to managing your email address. To access these options, click "Manage" from your "Email Accounts" dashboard.
From this dashboard you will be able to:
Check your email.
Change your password.
Specify how much storage your email address can use.
Specify restrictions on your account.
Delete the email account.
You will also have links to connect and configure your devices, calendars, and contacts.
How To Delete An Email Address
To delete an email address, go to the main "Email Accounts" dashboard.
Select the little checkbox to the left of the email address you would like to delete.
Click "Delete".
Conclusion
cPanel makes it really easy to create and manage all your email accounts from one place. I hope this quick tutorial has helped you to set up your first email account! We will be using the email address that you create for your website's legal pages, contact forms, and newsletter subscription forms.