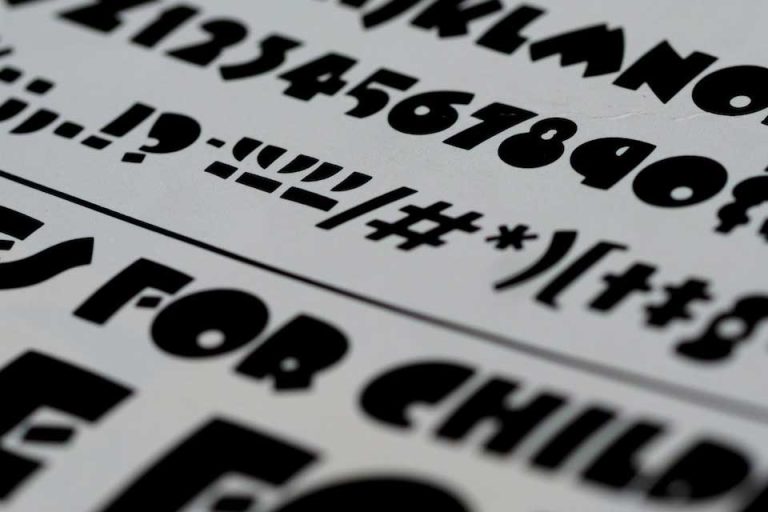 This article may contain affiliate links which means we might earn a small commission if you decide to make a purchase through them (at no extra cost to you). Thank you for your support!
If you are looking for fonts that are bolder than bold and heavier than heavy then you need chunky fonts! Chunky fonts make a bold statement with their hefty and strong letterforms that can't be ignored.
For this article, I have put together a collection of some of the best chunky Google fonts that you will find in the Google Font Library. Each font is heavier than normal with thick strokes and a sense of heaviness that adds a strong presence to any text.
Of course, there are many Google fonts in the library that you can use by simply selecting their boldest and blackest style but, for this article, I have decided to take a look at some of the more unique and unusual chunky fonts that you can use.
Let's jump right in and begin!
If you are new to Google Fonts, then check out our detailed Google Fonts FAQs!
Gasoek
Gasoek is a super chunky font that stands out with its heavy and thick and bold letters. It is quite a versatile font that can be used for headlines and posters as it is easy to read even from a distance.
Asset
Asset is a chunky serif font whose letters move from very chunky to quite skinny in sections. It has more of a formal feel to it but it still works well in quite a few contexts.
Climate Crisis
Climate Crisis is a chunky font that has a really interesting back story. It was designed to correspond with how much the Arctic sea ice has melted since 1979 with the font becoming thinner each year as the ice melts. The font's weight becomes thinner based on the data collected from the National Snow and Ice Data Center. You can learn more about this incredibly interesting font by visiting the Climate Crisis Font website.

Oi
Oi is a super chunky Google Font that has quite a stylized appearance. Its rounded letters have more of a flowing appearance. I think that this is a great font choice for logos!

For more big and bold font ideas don't forget to check out our articles on different Fat Face Google Fonts as well as Wide Google Fonts.
Notable
Notable is a chunky font that has a classic feel to it that is elegant and sophisticated. It is an uppercase sans serif font whose letters are based on the letters found on US Currency.
Rammetto
Rammetto is a chunky font with a bold and heavy appearance. It is a great font choice for posters and banners because it is easy to read even from a distance.

Modak
Modak is a chunky font that the Google Font Library describes as a "Heavy-Chubby Devanagari-Latin display typeface". Its unusual chunky letters are eye-catching and I think that it would also make a great logo font for the right brands.
Sigmar
Sigmar is a chunky Google font that is bold with rounded edges that give it a softer feel. Sigmar comes in two styles, this one and an uppercase style called "Sigmar One".

Spicy Rice
Spicy Rice is a chunky font that has a playful, friendly, and cheeky vibe. It has a retro feel to it that reminds me of Austen Powers!
Click here if you would like more retro and vintage Google Font ideas!
Sonsie
Sonsie is a chunky font that also has a retro feel to it. Its flowing script-like letters create a wonderful balance between chunky and soft.

Ranchers
Ranchers is a chunky font that has a Western feel to it. It is rugged and bold and its uneven letters have their own distinct personality and appeal.
Click here if you would like more Western Google Font ideas!
Rubik Mono One
Rubik Mono One is a chunky font that has thick letters that are straight and simple. It is a minimalistic font that is easy to read.

Rammetto One
Rammetto One is a super chunky Google font that has a strong presence and an interesting and unique look.

Gravitas One
Gravitas One is a chunky serif font that lives up to its name, offering a sense of seriousness and authority. It has a more professional and formal feel to it and it works well for high-end brands and publications.

Fascinate
Fascinate is eye-catching with a distinctive appeal. It adds a touch of uniqueness to designs and works well in a variety of contexts.
Chango
Chango is a chunky Google font with more of a casual vibe. Its rounded letters are bold, eye-catching, and easy to read making it a good choice if you are looking for a font that is easy to see from far away.
Slackey
Slackey is a playful chunky font that has a fun and lighthearted appearance. It has a casual vibe that can inject a dose of whimsical playfulness into any design.
Titan One
Titan One is another super chunky font that makes a powerful statement with its bold appearance and weighty letters.
Erica One
Erica One's chunky letters are chunky indeed! It has quite a distinctive look with its mixture of rounded and straight edges.

Script Chunky Fonts
Who says that you can't have chunky script fonts! I managed to find a few that could work quite nicely in the right design.
Leckerli One
Leckerli One is a thick font that has a handwritten appearance while still being bold and chunky.
Sarina
Sarnina is a flowing chunky font that mimics cursive handwriting. It is striking and bold and strikes a good balance between a script font and a traditional chunky font.

Mrs Sheppards
Mrs Sheppards is a chunky script font with a touch of vintage charm. Its thick uneven letters create a feeling of authenticity with undeniable character and personality.
Lemon
And finally, Lemon is a thick font that has a handwritten and flowing appeal to it that is casual and inviting.

Conclusion
The Google Fonts library offers many high-quality chunky fonts that you can freely download and use and many of these fonts are great alternatives to chunky fonts like ChunkFive. Don't forget to play with the weights and styles of many of the traditional fonts in the library for even more chunky font options! Also, keep in mind that you can also use any of these chunky fonts in Google Docs as well!