This article may contain affiliate links which means we might earn a small commission if you decide to make a purchase through them (at no extra cost to you). Thank you for your support!
What the heck are WordPress widgets I hear you say! A widget is a small block of content that can be added to different areas of your website such as the footer and sidebar and sometimes even the header.
Widget blocks add all sorts of cool features to your website.
For example, if you would like to show all your recent posts in your website sidebar, you can use a widget to easily do this. Or perhaps, you would like to have your social media icons permanently displayed in your sidebar, a widget allows you to do this as well!
But there are many other things that can be added as widgets. Here are a couple of examples:
Email Subscription Form
Social Media Icons
Images and Image Galleries
Video
Ads
Author Bios
Calendars
Menus
Latest Posts / Featured Posts
In this tutorial, we'll work through how to use WordPress widgets and I'll show you how to use them specifically for the Blocksy theme which we have been using thus far.
So let's get started!
What Do WordPress Widgets Look Like?
WordPress widgets are most often found on the sidebar and footer of a website. They provide an easy way to add content to your website without needing to edit each and every page. Simply add your widgets once and they are automatically shown on every page! Pretty cool right?
Likewise, if you ever need to change something on your sidebar or footer, you just change it once in the widget area and you're done. Each and every page on your website will be automatically updated.
Here is an example of where you can find widgets on a website (If you are following along with my tutorials you can find this page by clicking "Blog" in the menu in the header of your website):
What's the difference between Widgets And Plugins?
WordPress plugins and widgets are both used to add all sorts of extra functionality to your website. They do however work a little bit differently.
Just like apps for your computer, plugins can be installed through your WordPress admin dashboard to add more complex functionality to your site. Think of things like contact forms, photo galleries, search engine optimization, etc.
Widgets, on the other hand, are a lot more lightweight and they are added to specific areas of your site such as the sidebar, header, or footer. They usually add more specific features such as your latest posts, featured articles, social media buttons, calendars, email opt-in forms, etc.
In a nutshell, plugins add functionality while widgets add specific features to specific areas of your website both without you needing to have any coding knowledge at all!
Where to find the WordPress Widgets Dashboard
The WordPress widgets dashboard can be found under the "Appearance" menu on the WordPress admin dashboard.
Log into the WordPress admin dashboard.
Click "Appearance".
Click "Widgets".
When the Widgets dashboard opens you may see a welcome window explaining the widgets feature. You can either scroll through the tutorial by clicking "Next" or you can close the window.
When the window closes you will see the standard widgets dashboard. It will be broken down into different sections depending on the theme you are using and what widget areas are available.
How WordPress Widgets Work
Every WordPress theme comes with specific areas where you can use widgets. If you have been following along with my tutorials, you know that we are using the Blocksy theme to build our website. The Blocksy theme comes with 6 footer widget areas and 1 main sidebar widget area.
You can open and close each widget area by clicking the little arrow at the top right-hand side of each widget area. Once a widget area is open, you can drag a widget into the widget area and it will be displayed on your website.
If you click the Main Sidebar widget area, will see a few widgets that have already been added to the sidebar:
Search
Recent Posts
Recent Comments
Archives
Categories
Meta
On your website sidebar they will look like this:
How To Delete A Widget In WordPress
Deleting a widget in WordPress is quick and easy. Let's go ahead and delete a couple of widgets from the sidebar.
With the widgets dashboard open, simply click on the widget you would like to delete. A little toolbox will be opened above the widget with a couple of widget options. Click the button with three dots and choose "Remove Legacy Widget". Your widget will be deleted.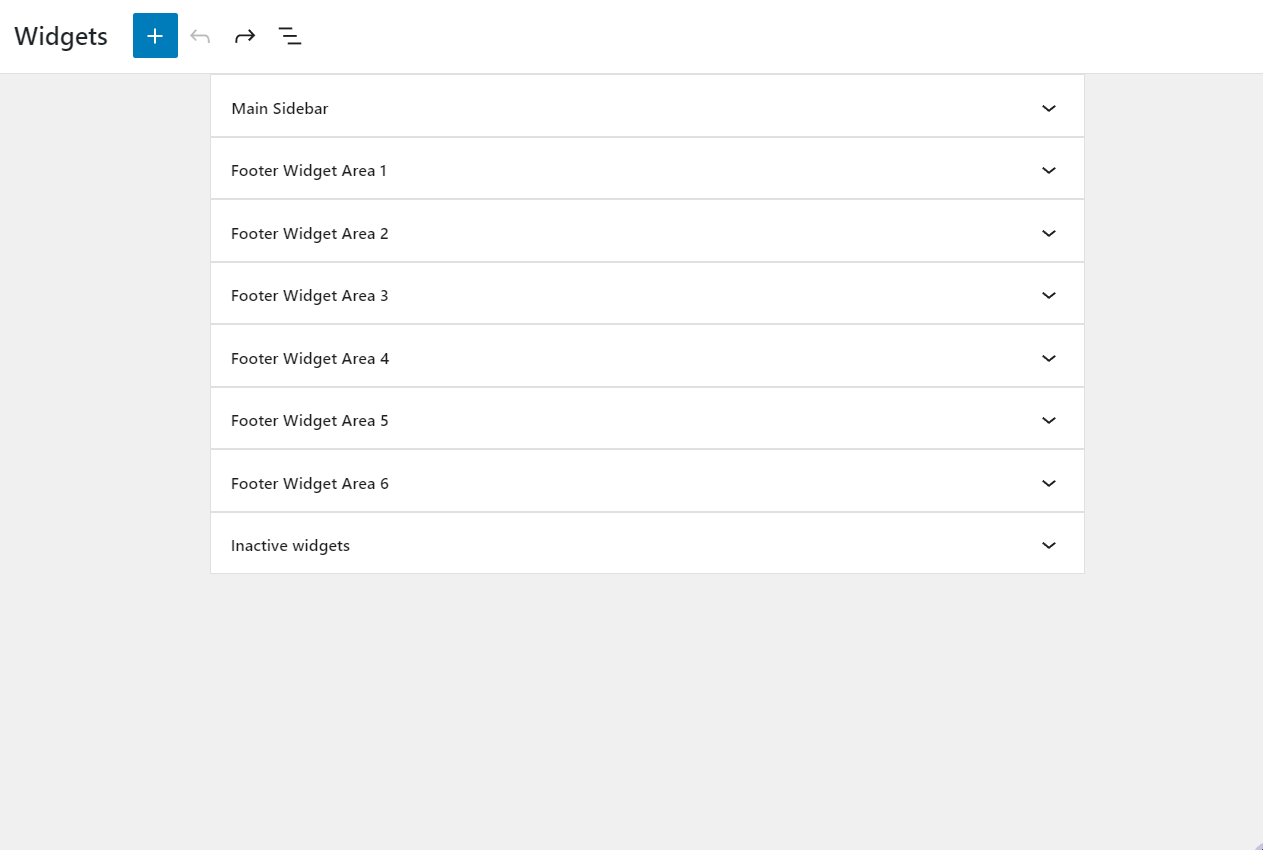 I'm going to go ahead and delete all the other widgets except the search widget from the Main Sidebar widget area.
How To Add A Widget In WordPress
There are two ways to add a widget to WordPress. Both begin by selecting the plus sign symbol at the bottom of the widget area. Let's add a calendar widget to our sidebar.
Method 1
In this method, a pop-up window will open. Here you will be able to select the widget you would like to add to the main sidebar widget area. In the search box type calendar and then click on the little calendar icon that is displayed.
Et voila! A calendar has now been added to your sidebar.
When you are done, click "Update" at the top right-hand side of the screen.
With the calendar widget added, our website sidebar now looks like this:
Method 2
With the Main Sidebar widget area open, click on the plus sign button at the top left-hand side of the page. A section will open with a bunch of widgets you can choose from.
Type "calendar" into the search box. The calendar icon will be displayed. Simply drag and drop the calendar icon onto the widget area.
Click "Update" at the top right-hand side of the window.
How To Configure & Customize A WordPress Widget
Once you have added a widget to either the sidebar or the footer of your website, you can configure it by clicking the widget and adjusting its settings. Each widget will come with its own customization options and you'll easily be able to edit things like the widget's title, background colors, position, etc.
Conclusion
WordPress widgets are an easy but powerful way to add extra functionality and features to your website. Not only do they enhance the design of your website but they also improve the user experience.
I hope that this tutorial has helped you understand WordPress widgets a little bit better. But if you have any questions please feel free to leave them in the comments section below!