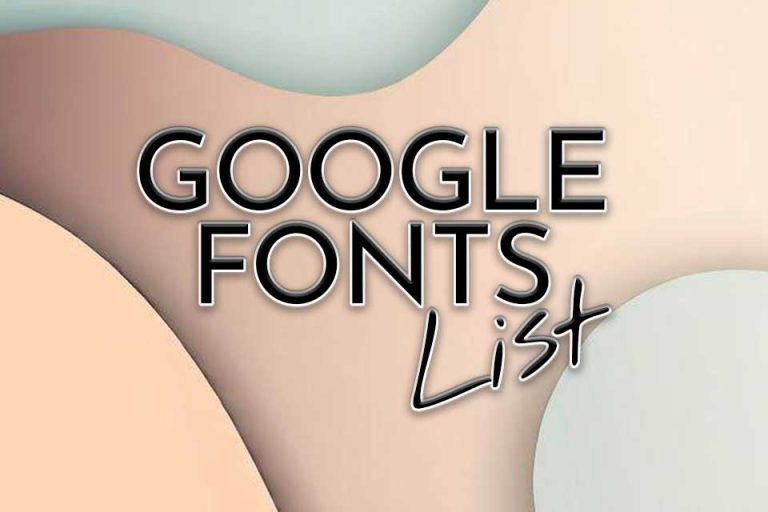 This article may contain affiliate links which means we might earn a small commission if you decide to make a purchase through them (at no extra cost to you). Thank you for your support!
Please Be Patient If This Page Is Slow To Load – There Are Lots Of Fonts On This List Of Google Fonts!
If you've spent any time on my website you will know that I'm a huge Google Font junkie! But, if you are anything like me, I'm sure you have wished that there was an easier way to preview the Google font list in a more concise way.
Today, I hope to make life a little easier for you with a comprehensive Google Fonts list where you can preview each font in a more compact format which will hopefully make it easier for you to find the best Google font for your website or designs.
With over 1,500 fonts in the Google Fonts library, it can be a little overwhelming with all the font choices that are available so I've tried to make it a little easier by breaking the list down into the following sections: Serif Fonts, Sans-Serif Fonts, Handwriting Fonts, Display Fonts and Monospace fonts.
And if you are new to Google Fonts you can learn everything you need to know about them by visiting our Google Fonts Guide. It includes all the details on whether these fonts are free, whether you can use them for commercial use etc.
Download A Complete List Of Google Fonts (2023)
If you are here simply because you want to download a complete list of Google fonts that includes font names without needing to see what each font looks like, then you are in luck! I've collected all the Google Fonts and compiled them into a CSV file which you can download right here.
Shortcuts to Each Section Of The Font List
As mentioned, I have broken the font list down into categories to make things easier for you if you don't want to view the entire font list. Simply click on the buttons below to go to the relevant section within the lists.
Curated Font Lists
If you don't feel like scrolling through the hundreds of fonts and font names in each category, then you should definitely check out our curated selection of font lists where I have sorted the fonts into handy categories to suit any occasion or design, from Retro Fonts to Christmas Fonts and everything in between!
A Couple Of Things To Note:
The Font List Is Long – Because the Google Font list has over 1,300 fonts, it may take a while for all the fonts to load correctly especially if you have a slow internet connection.
Not All Fonts Are Included – I have not included every Google font within the list because there are many that are specifically meant for other languages and writing styles and they do not display correctly in English. As an example, you won't find the Noto Sans and Baloo fonts on this list.
The Fonts and Font Names Are Listed In Alphabetical Order.
The Font Size For The Paragraph Text Is 30px to give you an idea of each fonts size.
Google Handwriting Fonts List
Handwriting fonts look just like natural handwriting and they are great for adding a personal touch to your designs. They can range from elegant cursive lettering to more casual handwritten styles that give any design a warm and authentic human feel!
Google Display Fonts List
Display fonts are the striking attention-grabbers of the typography world! These fonts have unique and artistic designs and are often used in headlines, titles, and logos where you would like to make a bold statement that is eye-catching!
Google Serif Fonts List
Serif fonts are those fonts that have small lines or strokes at the end of each letter. These small decorative strokes are called Serifs. Serif fonts have a classic elegance and they are often used in designs that are looking for a more formal or traditional appearance. They are timeless and have a sense of sophistication to them. They are the perfect font choice for formal documents and printed materials like books and newspapers.
Google Sans-Serif Fonts List
Sans-Serif fonts are those that do not have any decorative strokes at the end of their letters. They have a clean and modern look to them that makes them a great choice for digital designs and user interfaces. They are incredibly versatile and can be used for everything from website design to presentations to social media graphics.
Google Monospace Fonts List
Monospace fonts are those fonts where each character occupies the same amount of horizontal space. These fonts are most commonly used in programming and coding where readability is crucial. Monospace fonts are a great option for technical documentation, code snippets, or any project where you need your text to be structured and precise.
Curated Google Font Lists
Here you will find all the font lists and font collections that I have put together so far. I have tried to organize the fonts into these categories so that it is easy to find a font to suit your design.
Conclusion
I really hope that these lists of Google Fonts have been helpful and in some way have helped you streamline your work a little more. And if you need help choosing colors for your websites or designs, don't forget to check out our section on colors and branding!