This article may contain affiliate links which means we might earn a small commission if you decide to make a purchase through them (at no extra cost to you). Thank you for your support!
This Article Is Part Of Our "Build Your Own Website" Series.
If You Would Like To Learn How To Build Your Website From Scratch Then Check Out This Link.
In my previous article, How To Sign Up for Web Hosting, I covered how you could sign up for hosting with HostArmada (if you would like to know why I specifically chose HostArmada check out this article: My Top Pick For The Best Web Host For 2023).
Once you have signed up for your web hosting, it is time to log into your web hosting account and cPanel (the tool you will use to manage your website)!
Sidenote: I will continue to use HostArmada's interface in all my examples, but if you are using a different host, many of their options should be similar.
Also, don't forget to check out my article, Top 11 Benefits of cPanel Hosting: Why It's A Must-Have For Website Owners, where I go over all the benefits of using cPanel to manage your website and your web hosting account.
Logging In To Your Web Hosting Account
To log into your web hosting account go to HostArmada's homepage. You will find the Sign In button at the top right-hand side of the page.
Enter your email address and password to enter your client area.
Once you have successfully logged in you will be taken to your dashboard. In the client area, you will be able to manage your domain name, see invoicing, open support tickets, and manage products and services you have bought. You will also be able to access cPanel from here.
What is cPanel?
cPanel is an easy-to-use graphical interface or web hosting control panel that allows you to manage every aspect of your web hosting account. Here you will be able to create and manage the email addresses you need, choose software to build your website with, manage your domains, plus a whole lot more!
It also shows you vital information about your web hosting package and the resources you are using. All this information is displayed on the right-hand side of the screen in cPanel. Here is an example of the type of information that is displayed:
Track Your Progress!
FREE CHECKLIST
Sign up for our newsletter and get our free website-building checklist! Easily keep track of your progress and make sure you've covered all the important steps as you build your own website.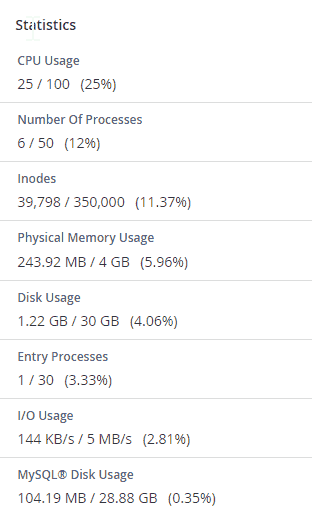 This information is very helpful because it will allow you to keep an eye on the resources your website is using. As your website grows this is where you will be able to see whether you need to upgrade your hosting package.
cPanel can look a bit overwhelming if you haven't used it before, especially with all the options that are available to you. However, many of these options you will rarely use, if ever.
Let's go through a few of the options you will use the most.
Popular cPanel Options That Are Used Most Often
Email
In the email section, you will be able to create and manage the email addresses you need for your business. You will also be able to set up email autoresponders and forwarders.
Files
In the cPanel files section, there are two options that you will most likely use more than any of the others: File Manager and JetBackup 5.
File Manager
File Manager is similar to File Explorer in Windows. It allows you to see all the data and files that you have saved in your hosting account.
And just like File Explorer in Windows, you can copy, cut and paste files and folders, delete files and folders as well as upload or download files and folders.
JetBackup 5
JetBackup 5 is where you will be able to see and manage the backups for your website and email addresses.
If you open JetBackup 5 you will be able to see the number of backups that have been done for each area of your website. This includes backups of your home directory (which you can access through File Manager), email accounts, and databases.
Databases
A database is where all your website data is stored. All the data is arranged in tables that look similar to Excel spreadsheets. Storing your data this way makes it easy to access, edit and display to your visitors when they visit your site.
Generally, you won't need to access your database but if you ever do, you would use an application called phpMyAdmin.
Domains
In the cPanel domains section, you will be able to access and manage the domain(s) that are connected to your hosting account.
In most cases, you won't need to access these options but, just like the Databases and File Manager sections, it is good to know where this information is in case you need to access these features in the future.
Metrics
The cPanel Metrics section is where you will be able to find all sorts of statistics about your website including the resources you are using as well as the visitors you are getting to your site. Of all the options in the Metrics section, Awstats would be the one you will use the most.
Awstats is a really nifty piece of software that keeps track of all the visitors to your site. It has lots of really useful information such as:
The number of visitors you get per month.
The number of visitors you get per day.
Which days of the week your website receives the most visitors.
The times your visitors are the most active on your website.
What countries your visitors come from.
Which search engines are visiting your website.
How long visitors stay on your site.
What files visitors are downloading from your website.
Which website URLs are the most popular.
Which operating systems your visitors use to access your site.
Which browsers your visitors use.
How your visitors are finding your website (search engines, social media, other referring sites, etc.)
Google also has a similar piece of software, called Google Analytics, that you can use to track the same information. We will go through this later on once we start building your website.
Software
The cPanel Software section is where you will be able to access all the software you will need to build your website.
Because we will be building your website using WordPress, you will only need to use the WordPress Manager by Softaculous.
Other cPanel Sections
For now, I don't think that you would need any of the other options in the other cPanel sections. But look through them so you can get a feel of what each option does.
Conclusion
cPanel is an awesome piece of software that helps you to manage everything in your web hosting package quickly and easily.
It can seem complicated at first, but once you get used to the options available, it is pretty easy to understand. And once your website is built and your email addresses have been set up, you most likely won't need to access many of the options there on a regular basis.
In our next article, we will go over how you can quickly and easily install WordPress using cPanel. Check it out here: How To Install WordPress Using cPanel And Softaculous.
And if you have any questions, please let me know in the comments section below!