This article may contain affiliate links which means we might earn a small commission if you decide to make a purchase through them (at no extra cost to you). Thank you for your support!
This Article Is Part Of Our "Build Your Own Website" Series.
If You Would Like To Learn How To Build Your Website From Scratch Then Check Out This Link.
If you are a WordPress newbie you might feel like you are drowning in the sea of settings and options! Don't worry though, it isn't as tricky as it looks.
In this article, we are going to work through each of the settings and options in the WordPress settings menu so that you can tweak your WordPress website and make it your own.
By the end of this tutorial, will be a WordPress settings pro so let's get started!
Where To Find The WordPress Settings Menu
You'll find the WordPress settings menu on the left-hand side of the WordPress admin dashboard.
Alternatively, you can find it at the following URL (the WordPress general settings URL):
https://www.yourwebsite.com/wp-admin/options-general.php
When the WordPress settings page opens you will notice that the menu expands giving you the following options:
General
Writing
Reading
Discussion
Media
Permalinks
Privacy
Let's work through each of them!
Note! When you add new plugins to your website, new options could be added to the WordPress settings menu.
General Options
The WordPress general settings page is the default settings page for your WordPress admin settings. This is where you will be able to configure some of the most important global settings for your WordPress site.
Site Title and Tagline
This section allows you to set up the title and tagline of your WordPress site.
Track Your Progress!
FREE CHECKLIST
Sign up for our newsletter and get our free website-building checklist! Easily keep track of your progress and make sure you've covered all the important steps as you build your own website.



The site title and tagline are displayed in the browser tab. This is what they look like.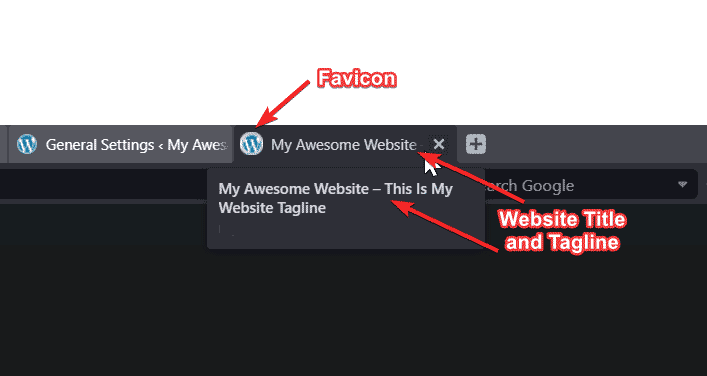 You will notice the little icon to the left of the site title, this is called a Favicon and we will be covering how to create your own favicon and how to add it to your WordPress site later on.
WordPress Address URL / Site Address URL
This section shows you what the URL of your website will look like. If you have been following along with our tutorials, you would have selected the display option you would like when you installed WordPress using cPanel and Softaculous.
Your URL should be displayed in one of the following formats:
http://www.yourwebsite.com
http://yourwebsite.com
https://www.yourwebsite.com
https//yourwebsite.com
Administrative Email Address
This is the email address that WordPress will use to send any notifications and alerts to.
Membership
The membership option allows you to choose whether website visitors and users can register on your website.
If you select "Anyone can register," then users will be able to register and create their own WordPress accounts.
New User Default Role
If you have selected the anyone can register option above you will be able to specify the default role of any new users on your website. You will be able to choose between the following user roles:
Administrator
Editor
Author
Contributor
Subscriber
Site Language
This is where you can choose the default language you would like for your website. There are lots of options to choose from!
Time Zone
This is where you can specify what time zone you are in. The time zone setting is used to display dates and times on your site.
Date Format and Time Format
The date and time format options allow you to choose how dates and times are displayed on your website. You can either choose a predefined format or you can create your own custom-made format depending on how you would like your date and time displayed.
Week Starts On
Here you can specify what day of the week you would like the calendar on WordPress to start on.
Writing Settings
The WordPress writing settings page is where you can find all the options you need for writing and publishing content on your website. It comes with a couple of options:
Default Post Category
This is where you can specify the default category you would like to use when creating new posts. You can either choose an existing category or create a new one.
Default Post Format
This is where you can set the default format you would like for any new posts you publish.
Post formats allow you to style your posts differently depending on the type of content you are creating (for example chat, video, audio, quotes, etc).
You can leave this option as "Standard" in the meantime.
Post via email
This option will allow you to remotely publish posts to your WordPress website using email.
Update Services
When you publish a new post, WordPress can automatically send out a notification (called an XML-RPC ping) to various websites and services to let them know that there is new content on your site. This is really helpful if you would like your site to be seen by search engines.
Here is a list of update services that you can add to your update services settings:
http://rpc.pingomatic.com
http://rpc.twingly.com
http://api.feedster.com/ping
http://api.moreover.com/RPC2
http://api.moreover.com/ping
http://www.blogdigger.com/RPC2
http://www.blogshares.com/rpc.php
http://www.blogsnow.com/ping
http://www.blogstreet.com/xrbin/xmlrpc.cgi
http://bulkfeeds.net/rpc
http://www.newsisfree.com/xmlrpctest.php
http://ping.blo.gs/
http://ping.feedburner.com
http://ping.syndic8.com/xmlrpc.php
http://ping.weblogalot.com/rpc.php
http://rpc.blogrolling.com/pinger/
http://rpc.technorati.com/rpc/ping
http://rpc.weblogs.com/RPC2
http://www.feedsubmitter.com
http://blo.gs/ping.php
http://www.pingerati.net
http://www.pingmyblog.com
http://geourl.org/ping
http://ipings.com
http://www.weblogalot.com/ping
Simply copy and paste this list into the WordPress Update Services text box.
You can find an updated list of recommended update services on the WordPress Codex Website.
Don't forget to "Save Changes" before moving to the next section!
Reading Settings
The WordPress Reading Settings page lets you choose how you would like the content on your WordPress website to be displayed.
Your Homepage Displays
Here you can choose whether you would like your homepage to display your latest posts or a static page. These options might be greyed out if you don't have any pages or posts published.
If you choose the "A Static Page" option, you will need to specify which pages you would like to use. You can do this by using the dropdown boxes in this section.
Blog Pages To Show At Most
Here you can specify the maximum number of posts that you would like shown on your blog pages.
Syndication Feeds Show The Most Recent
In this section, you can specify the maximum number of posts that should be included in your syndication feeds.
The option below that allows you to choose whether you would like to display the full text for your posts or just a summary of each one.
What is Syndication Feed In WordPress?
Each WordPress website has an automatically built-in syndication feed or RSS feed.
A feed (often called RSS) is a stream of posts or comments that is updated when new content is published. This is very useful, as it allows other people to monitor your blog, along with other websites they are interested in.

WordPress
You can find your website RSS feed by visiting the following URL:
https://www.yourwebsite.com/feed/
Each time you publish a new post, this page will automatically be updated. Pretty cool right?!
Search Engine Visibility
Here you can decide whether you would like search engines to crawl and index your site. If you select this option, your website will be kept private and will not be crawled.
VERY IMPORTANT! Be very careful when selecting this option! There has been many a web developer who has selected this option and later wondered why on earth the search engines are ignoring their site.
So, if you ever have any indexing problems in the future, this is the first place you should check to make sure that search engines can see your site.
Discussion Settings
This is a rather long page with lots of settings! But it isn't that tricky – it is simply the place where you will specify whether people may add comments to your site or not.
If you decide that you would like to allow people to add comments to your site, then you can work through the other options on the page. You will be able to specify:
Whether visitors must leave their names and email addresses when they submit a comment.
How long comments are open to the public for.
Whether you would like to be emailed when new comments are added to your website.
Whether comments must be approved before posting.
Blacklisted words.
Avatars.
Bear in mind that when you allow people to comment on your WordPress website, you will receive lots of spam comments. We will however use a WordPress plugin to combat this problem.
Media Settings
The WordPress Media settings page lets you specify how you would like to handle your media files (images, video, audio, PDFs, documents, etc).
Image Sizes
Here you can set the maximum dimensions for the images that you will use in WordPress. These are the default sizes that will be used when you insert images into your posts and pages.
You can set the sizes for thumbnail images, medium images, and large images.
For now, you can leave these settings at their default settings.
Uploading Files
When you build a website you will most likely have a lot of uploads in the form of images, video, audio, etc. It is a good idea to save these media files in a year/month file structure so that you aren't saving all your media into one folder that will eventually become way to big! Saving your media files this way is also helpful if you are ever trying to find a specific image in your media library.
If you would like to use this option then simply select the "Organize my uploads into month- and year-based folders" checkbox.
By choosing this option your image URLs will look like this:
https://www.yourwebsite.com/wp-content/uploads/2023/01/image-name.jpg
Permalink Settings
What Are Permalinks In WordPress?
Permalinks are permanent URLs that link to specific content on your website, such as blog posts, pages, and images. These URLs are unique and they help people find your content on the internet.
Why Are Permalinks Important?
Permalinks are really important for SEO (search engine optimization). And how you set up your website permalinks and URLs directly affects how easily search engines can understand and read your pages. And this in turn can affect how well your website is ranked in the search engines.
But, a good permalink structure isn't just good for search engines, it is also good for the people visiting your site. The permalinks and URLs you use allow people to easily see what your page is about.
For example, let's look at the following permalinks:
https://www.yourwebsite.com/?3564.php
Versus
https://www.yourwebsite.com/health/smoking-health-risks
As I'm sure you can see the second URL is far more user-friendly for both your website visitors and search engines.
What Is The Best Permalink Structure For WordPress?
The best WordPress permalink structure is one that is descriptive and keyword-rich. From the above example, you can see that the URL used does a great job telling both website visitors and search engines exactly what the article is about.
How To Set Up Permalinks in WordPress?
To set up permalinks in WordPress, I recommend choosing either the "Post Name" option or the "Custom Structure" option.
If you choose the "Post Name" option your URLs will look like this:
https://www.yourwebsite.com/your-first-article
https://www.yourwebsite.com/your-second-article
If you choose the "Custom Structure" option you will be able to specify exactly how you would your URLs to be structured.
For example, let's say you would like to break your website up into categories. You might want your permalink to show which category an article is in. In this case, your URL could look like this:
https://www.yourwebsite.com/recipes/roast-chicken
https://www.yourwebsite.com/occasions/best-christmas-dinner-dishes
You will see that WordPress makes it easy for you to specify exactly how you would like your URLs to be displayed by using tags. You will see that you have tags for:
Year
Month
Day
Hour
Minute
Second
Post ID
Post Name
Category
Author
To use any of these tags, simply click on them after choosing "Custom Structure" (you may need to delete the code that is in the custom structure box already).
For example, if you would like your URL to show the category as well as the post name you would enter the following into the "Custom Structure" text box:
/%category%/%postname%/
This is what it will look like on your permalink settings page:
Reasons Why I Use The "Post Name" Permalink Option
You will notice that I use the "Post Name" permalink option for this site and all my URLs look like this:
https://www.notebookandpenguin.com/post-name
I chose this structure because it helps to keep my URLs nice and short and it also allows me to easily change the categories on my website without messing up the URLs of my existing posts.
Of course, this is a completely personal preference!
When you are done, don't forget to click the "Save Changes" button at the bottom of the page!
Privacy Settings
Last but not least, we get to the final option in the WordPress settings menu!
The privacy settings section allows you to specify which page you would like to use as your Privacy Policy page. For now, you can simply click the "Use This Page Button" to get started.
Conclusion
That's it!
Congratulations you have just finished configuring the default WordPress settings! You most likely won't need to change these settings very often but it is good to know what each setting does in case you need to change something in the future.
Please let me know if you have any questions in the comments section below and I'll do my best to help you out!