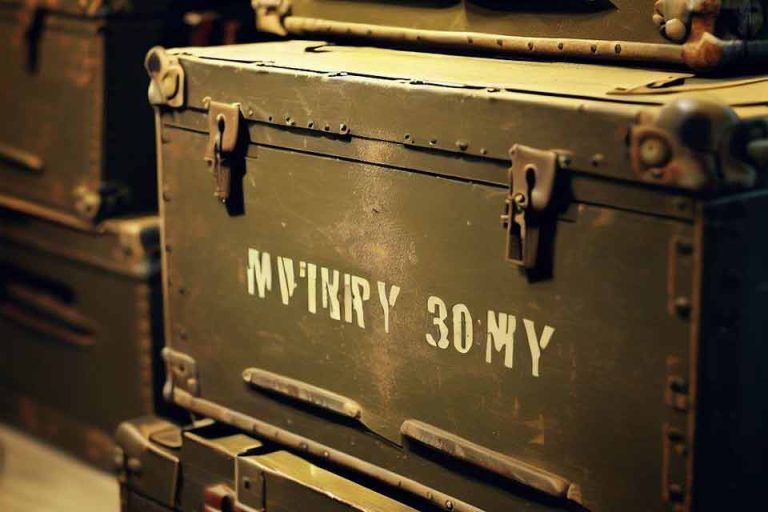 This article may contain affiliate links which means we might earn a small commission if you decide to make a purchase through them (at no extra cost to you). Thank you for your support!
Are you looking for the perfect military-inspired font to add some serious clout to your designs? Then look no further than stencil fonts! These bold army-style fonts are often used in designs to mimic the look of the stencil text that is used to mark military crates and equipment.
In this article, we are going to look at the free stencil fonts that you will find in the Google Fonts Library. Each Google stencil font listed here creates a powerful visual impact that can't be ignored so you should definitely consider using one if you are on the lookout for bold eye-catching fonts. And keep in mind that any of these fonts can also easily be used in Google Docs!
If you are new to Google Fonts, then check out our detailed Google Fonts FAQs!
Why Use Stencil Fonts?
Most stencil fonts are associated with strength and reliability and because they are bold and rugged they have an undeniable masculine feel to them. This makes them great options for services or businesses in the following niches:
Outdoor Adventure
Survival Gear
Off-Road Gear And Accessories
Physical and Endurance Training
Fitness Centers
Craft Breweries
Urban Streetwear
Construction and Renovation
Industrial Manufacturing and Heavy Machinery
Adventure Tourism
Where To Use Google Stencil Fonts?
Stencil fonts can be used in many different ways to create impactful designs. Here are a few ideas to get you started:
Logos and Branding – Using a stencil font in your logo or in your branding can help you convey a sense of strength and durability. This makes stencil fonts a great branding option for outdoor gear, rugged lifestyle brands, survival brands, and military-themed businesses.
Posters and Flyers – Stencil fonts are bold and easy to read even from far away so they are perfect for posters and flyers for product promotions and events.
Signage – Warehouses, construction sites, and military facilities will often use stencil fonts to create clear and easy-to-read signage.
App and Web Design – If you use Stencil fonts in the right context they can make your digital designs stand out. You can use them in headings and call-to-action buttons for a unique touch.
Packaging and Labels – You will sometimes see stencil fonts being used in product packaging and labels for tools, equipment, or any other products or services where an industrial and rugged aesthetic is needed. These fonts create a feeling of strength and reliability so they are a great option if you are looking for masculine fonts.
Google Stencil Fonts
And now, let's jump into the free Stencil fonts Google Fonts has to offer!
Alberta Stencil
Alberta Stencil is a stencil font that is easy to read with its clean and simple design. It is a great option for designs where you would like to create a balance between strength and sophistication.
Black Ops One
Black Ops One is one of the more popular Google stencil fonts. It completely embraces a military-inspired look and is perfect for designs where you want to create a strong visual impact.
Stardos Stencil
Stardos Stencil is more of a refined stencil font that has more of a classic look to it. It thinner lines create a softer font that is still eye-catching and easy to read.

Saira Stencil
Saira Stencil is a bold Google stencil font that is an excellent choice for bold headlines, logos, and posters. Its heavy letters and sturdy appearance are impactful and unique so it is also a great option for signage.

Big Shoulders Stencil Text
Big Shoulders Stencil Text is a narrow stencil font that still has a big impact! It comes in 9 different styles ranging from thin to black. I like the big shoulders stencil text because it can also be used within paragraph text without becoming too overwhelming.
Big Shoulders Stencil Display
Just like its namesake above, Big Shoulders Stencil Display is a more narrow Google stencil font. It also comes in 9 styles ranging from Thin to Black giving you lots of options to create the perfect design..
Plaster
Plaster is more of a unique Google stencil font with more unusual letterforms. It isn't as easy to read as some of the other fonts on this list but it can definitely be a great font option for the right project.

Wallpoet
Wallpoet is a versatile and striking stencil font that has an urban edge to it. It has a modern, futuristic aesthetic that could be a great font choice for street art, music, or urban culture brands.
Sirin Stencil
Serin Stencil is more of a rounded and flowing stencil font that has more of a refined feel to it. It can be used in headlines as well as paragraph font and is easy to read even in small sizes when the stencil gaps seem to merge to create a solid-looking font.
Kenia
Kenia is a bold and distinctive stencil font that has a unique feel to it making it a great headline font choice for magazines, logos, blogs, posters, or anywhere else where you need to draw attention to your text.

Keania
Keania One is the evolution of the Kenia font above. While similar you can see the less stylized letter cutouts.
Emblema One
Emblema One is a stencil font that commands attention with its strong letters and compelling look and feel.
Conclusion
Google stencil fonts are a great option for you if you are looking for high-quality free stencil fonts to use in your designs. Whether you are building a website or choosing fonts for your brand, you can't go wrong with any of these amazing fonts!