This article may contain affiliate links which means we might earn a small commission if you decide to make a purchase through them (at no extra cost to you). Thank you for your support!
In the world of web design and small business branding, typography and fonts play a crucial role in creating visually appealing and user-friendly designs. And one of the best places where you can find high-quality fonts is the Google Fonts Library!
In this article, we are going to take a look at what Google fonts are, what makes them so popular, the benefits of using them as well as all the ins and outs about their licensing and usage terms.
Let's jump right in!
Key Takeaways
1. Google Fonts are free for both personal and commercial usage. However, it is important to check each font's license for any restrictions before using it.
2. Google Fonts are designed to work across modern browsers and devices but it is still important to test the fonts you choose to make sure that they display correctly.
3. You may modify fonts and change their appearance using CSS. But be sure to check the licensing terms for each font before doing so.
5. You may use Google Fonts for your logo.
6. You may use Google Fonts for print.
7. You can download Google Fonts to your PC.
What Are Google Fonts?
Google Fonts is a massive library of free and open-source fonts that have been curated by Google. It has a huge collection of high-quality typefaces that you can use on any website or within any design project. With over 1,500 font families available, Google Fonts has become the go-to font library for many designers and small business owners.
The library has a wide selection of serif and sans serif fonts, as well as script fonts, slab serifs, display typefaces, and handwritten fonts. One of the things I love about the Google Fonts library is that each font has its own dedicated page where you can easily preview and customize different parameters such as the font weight, italics, and size before deciding to use a specific font.
Are Google Fonts Free To Use?
Yes they are! One of the major advantages of Google Fonts is that they are completely free to use, even for commercial projects. This means that designers, web developers, and small business owners can easily use any font they choose within the library without worrying about paying for them. You can freely use them for your website, presentations, social media graphics, or any other project free of charge.
In Google's own words:
Is there a cost for any of these fonts?

No, all Google Fonts are open source and are without cost.

Google Fonts
Are Google Fonts Free For Commercial Use?
Yes, Google Fonts are free for commercial use. Google Fonts work under an open-source licensing model which means that designers can use the fonts without any cost, and this includes commercial usage.
In Google's words:
Can I use any font in a commercial product?

Yes, you can use them commercially, and even include them within a product that is sold commercially. Usage and redistribution conditions are specified in the license. The most common license is the SIL Open Font License. Some fonts are under the Apache license or Ubuntu Font License. You can redistribute open source fonts according to those conditions.

Google Fonts
Do Google Fonts Require Attribution?
While Google Fonts are free for commercial use, it is always a good idea to check the licensing terms for specific fonts. Each font provides an "About and Licence" page where you can check exactly how that font is licensed and whether there are any restrictions or guidelines you need to follow when using that particular font – this includes whether the font you choose requires attribution.
How To Find The Licencing Details Google Fonts
The Google Fonts library is very well organized and it is really easy to navigate so it isn't difficult to find the licensing information for each font. These are the steps you need to take to check the license for each font.
1. Go to Google Fonts
Click here to open the Google Fonts Library (will open in a new tab). Choose a font that you would like to use. For this example let's use "Roboto". Click on the font card to open up further detail for the specific font.
2. Open The "About & Licence" Page
At the top right-hand side of the page, choose the "About & Licence" Tab.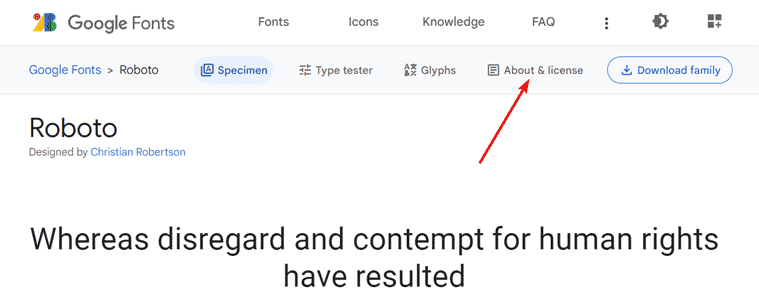 3. Review The Font Licencing Information
When the "About & Licence" page opens, you will be able to see all the details for the font you have chosen. This will include background information about the font as well as the licensing details. In this case, you will see that the Roboto Font is licensed under the Apache Licence, Version 2.0 – click the hyperlink to view the full licensing terms for the font.
Are Google Fonts Open-Source?
Yes, they are! As mentioned above, the Google Fonts Library states that all the fonts in the Google Fonts library are open source. But, what does this mean exactly?
Open-source refers to any resources or programs whose source code is freely available to everyone. This means that anyone can view, modify and distribute the resources or software freely.
Open source is a term describing a means of developing and distributing software that ensures software is available for use, modification, and redistribution by anyone. Generally, anyone can download open source software for free or a small fee, and can use, share, borrow, or change it without restriction. Open source practice promotes software reliability and quality by supporting independent peer review and rapid evolution of source code.

University Information Technology Services
Are Google Fonts Safe To Download And Use?
Yes! Google Fonts are safe to download and use. As a widely used and recognized font library, Google provides a reputable and trustworthy place to download fonts. Of course, if you are interested in using a Google Font then you should always download it directly from the official Google Fonts website instead of an unofficial or third-party website.
How To Download Google Fonts
Downloading and installing Google Fonts is a pretty straightforward process. Here is a quick step-by-step guide to help you:
Go to the Google Fonts website.
Browse through the library of fonts and select the one that you would like to download.
When the fonts homepage opens, click on the "Download Family" button at the top right-hand side of the page.
A zip file will be downloaded to your PC.
Extract the ZIP file to access the font files. There may be a couple of files that are extracted depending on the font that you have downloaded.
In the case of "Roboto", you will see one licensing file called "LICENCE.txt" and 12 font files with the extension TTF (TrueType Font).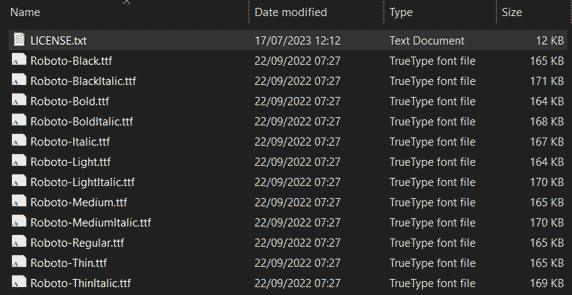 Double-click on one of the font files to open up a window that will show you what the font will look like in different sizes and styles. If you are happy and would like to go ahead and install the font, click "Install" at the top left-hand side of the page.
And that's it! Congratulations, your font is now available for you to use on your PC!
Can You Use Google Fonts For Your Logo?
Yes, you can use Google Fonts for your logo! And the best part is that because the Google Fonts library has so many different fonts in so many different styles you are sure to find one that suits your brand personality!
In Google Fonts words:
Can I use the font in a logo?

Yes, you can use Google Fonts within any logo.

Google Fonts
Can Google Fonts Be Used For Print?
Yes, you can use Google Fonts for print typography or any other medium you choose.
Again, this is what Google Fonts says:
Can I use the font in print, on websites, in apps, in teaching materials, e-books, store fronts, jewelry?

Yes, you can use the fonts on any surface.

Google Fonts
Can You Edit Google Fonts?
Yes, you can! Of course, you must check the specific font license before doing so to make sure that you are allowed to make changes to the font. You can also make changes to the fonts using CSS. These include font size, weight, style, letter spacing, and line height.
This is what Google Fonts says:
Can I modify the appearance of text made with a font in a design tool for commercial use? For example, may I change the slope, thickness, and space between letters?

Yes, text in bitmap images or vector graphics made with fonts from Google Fonts can be modified, because the result isn't another font, but an image of text.

You can also modify fonts themselves with font editor tools, subject to the license conditions.

Google Fonts
Are Google Fonts Web-Safe?
Technically speaking, Google fonts are not traditional web-safe web fonts.
Web-safe fonts are a set of web fonts that are commonly installed and supported by default across many different operating systems and devices which is why they are sometimes called system fonts. Web-safe fonts ensure that your text will be displayed consistently across various web browsers and platforms.
A couple of popular web-safe font families include:
Arial
Times New Roman
Georgia
Verdana
Helvetica
Check out our Web-Safe Fonts guide for a detailed explanation of what web-safe web fonts are and how to use them
Now, while Google Fonts are not technically web-safe fonts, they are designed to display across multiple platforms and have been optimized for web use. So, if you find a Google Font that you would like to use on your website or within your typography, your best bet is to experiment and test it in different browsers and devices to make sure that it displays correctly.
Do Google Fonts Work In All Browsers?
Google Fonts are designed to work seamlessly across all modern browsers including Chrome, Firefox, Safari, Microsoft Edge, etc. That said, it is always a good idea to test your chosen Google Font on various browsers and devices to make sure that it is displaying correctly.
Do Google Fonts Slow Down A Website?
A fast website is incredibly important when it comes to giving your website visitors a good user experience. If you use fonts that aren't properly optimized they can slow down your page which is never a good thing.
Before using Google Fonts on your website, you should test your website speed by using PageSpeed Insights. This free tool allows you to check the speed of your website for Mobile devices and Desktops. After running a test, the tool will give you tips on how to speed up your website.
If you would like to test the speed for more than one page on your website, then check out this free bulk page speed testing tool. Simply enter your URL and the tool will scan your website and check the speed for each page saving you tons of time!
Once you are happy with your website speed then you can add Google Fonts and check the speed again to make sure that the addition of the fonts isn't slowing down your website too much.
If you are concerned about speed, then you may want to consider using web-safe fonts that won't slow your website down.
There are ways to optimize your website for Google fonts so let me know in the comments section below if you would like me to write an article that covers this in more depth.
Getting Started With Google Fonts
There are tons of Google Fonts available for you to use with just about any type of project and we have curated collections of fonts to make selecting the best ones easier! Here are a few that might interest you:
Conclusion
Google Fonts is an incredibly valuable resource for anyone looking for high-quality fonts that are free to use and download. They can be used for both commercial and personal projects and, with over 1,500 fonts available you really are spoilt for choice!