This article may contain affiliate links which means we might earn a small commission if you decide to make a purchase through them (at no extra cost to you). Thank you for your support!
Cursive fonts give any design an artistic and elegant touch. And when it comes to free cursive fonts, Google's collection of cursive fonts certainly can't be beaten! In this article, we are going to take a look at some of the best cursive Google Fonts out there so whether you're a seasoned designer, deciding on branding for your small business or you are building your website from scratch, you're sure to find a cursive font here!
But before we begin…
What Exactly Are Cursive Fonts?
Cursive fonts are also known as script fonts and they mimic the flowing and interconnected strokes of natural cursive handwriting. The strokes and flow of each letter are made up of elegant curves and stylish flourishes that create a unique and personal feeling when read. They have a sense of timelessness and sophistication and they bring a personal touch that adds depth and character to any design. Using cursive fonts in your designs can transform plain, ordinary text into stylish and eye-catching text that is captivating and engaging!
Cursive Google fonts come in a variety of styles, from flowery and ornate to simple and sleek, and by doing a simple Google search, you can find a wide range of cursive fonts that can bring your designs to life.
Looking for other handwriting Google fonts? Check out our article that has 27 Google Handwriting Fonts that are not in the cursive style.
When Can You Use Cursive Fonts?
Cursive fonts can be used for any design when you want to add a touch of elegance personality and visual interest. Here are a few ideas of where you can use Google cursive fonts:
Branding and Logos
Cursive fonts can help you to create a distinctive and memorable brand identity. They add a sense of sophistication and uniqueness and depending on how you use them, they can give your branding a handcrafted charm with a distinct personality
Stationery
Cursive fonts are an incredibly popular choice for formal stationery and you will often see them being used in things like wedding invitations, menus, and formal events. They have a romantic and graceful feeling to them that helps to set the tone for any occasion.
Website Design
You can use cursive fonts in your web design in headings, call-to-actions, and accents to draw attention and break away from more traditional and conservative fonts. But be careful when using them in paragraph text because they can sometimes be difficult to read especially at small sizes.
Design Projects
Whether you are designing posters, brochures, book covers, magazines, or even social media graphics you can use cursive fonts to catch your reader's attention and create a strong visual impact.
As mentioned is very important to consider how is easy your cursive font is to read, especially in longer paragraphs with small-sized text. You will need to play with your layout to make sure that your message is effectively communicating your message and is easy to read.
Why Use Cursive Google Fonts?
Now you may be wondering why you should use Google Fonts when choosing fonts for your designs. Google Fonts provides an enormous library of free high-quality fonts that you can easily integrate into your website or designs. Google Fonts have a diverse range of cursive fonts each with its own very unique style, personality, and charm. In the collection, you will find classic cursive fonts alongside fancy and even contemporary fonts.
One of the best things about using Google Fonts is how easy it is to download and use them in your Design. With a few simple steps, you can add these fonts to your web design without any hassle. And the best part is that Google Fonts has a user-friendly platform where you can easily browse, preview and select the perfect cursive font for your needs!
Also don't forget, that you can use Google Fonts directly in Google Docs! So, if you find a font that you like, you should definitely experiment with it in Google Docs as well!
If you are new to Google Fonts, then check out our detailed Google Fonts Guide!
It includes everything you need to know about what Google Fonts are, whether they are free to use, and how to download them.
Cursive Google Fonts Collection
Now let's jump in and take a look at some of the best cursive Google Fonts in the Google font library! I've chosen these 25 cursive fonts because they offer a diverse range of styles and designs, allowing you to choose the perfect font for your project. And if you need more font ideas, don't forget to check out our other font style ideas:
Dancing Script
Dancing Script is a lively and casual cursive font with a bouncing rhythm, ideal for adding a playful and handwritten feel to your designs.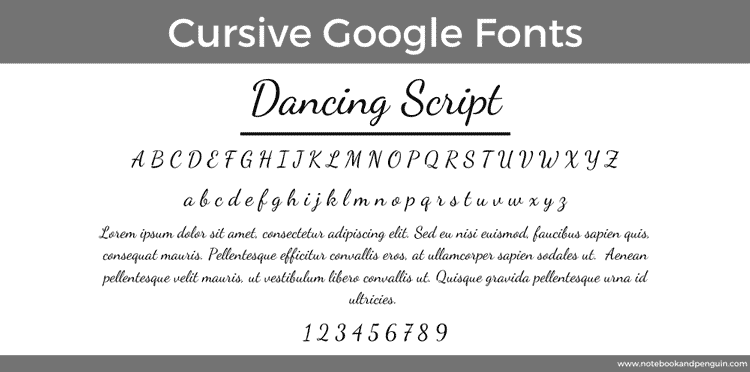 Niconne
The Niconne Google font is a delicate and elegant cursive font with flowing strokes and graceful curves, perfect for projects that require a touch of sophistication.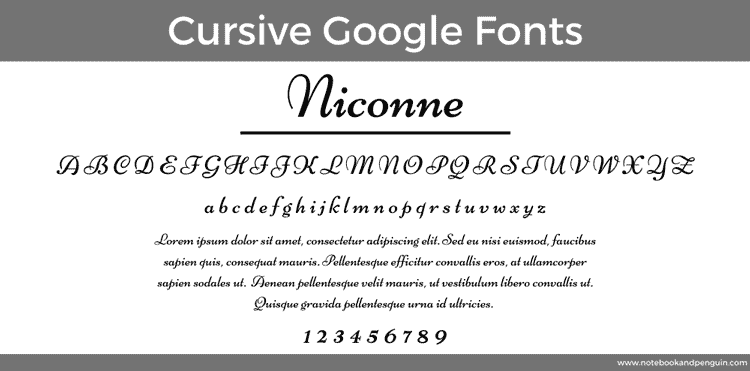 Italianno
Italanno is a font inspired by Italian calligraphy and features a classic and timeless style, making it suitable for projects that demand a sense of tradition and refinement.
Alex Brush
Alex Brush is a popular cursive Google font with gentle and fluid brush strokes. It has a sense of warmth and informality, making it a great choice for designs that require a friendly and approachable vibe.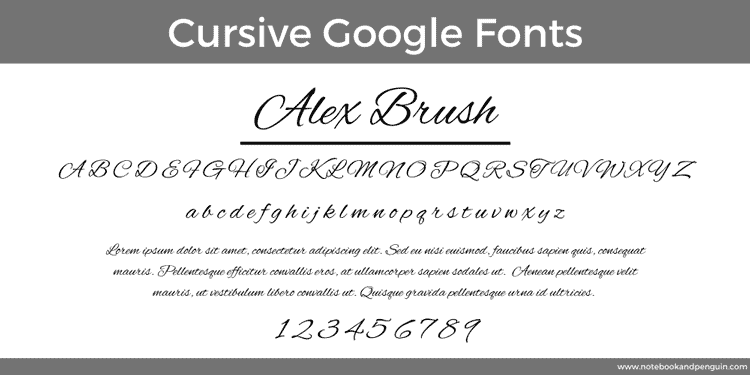 Parisienne
Parisienne captures the essence of Parisian handwriting with its elegant and romantic letterforms, ideal for projects that aim to evoke a sense of French allure and charm.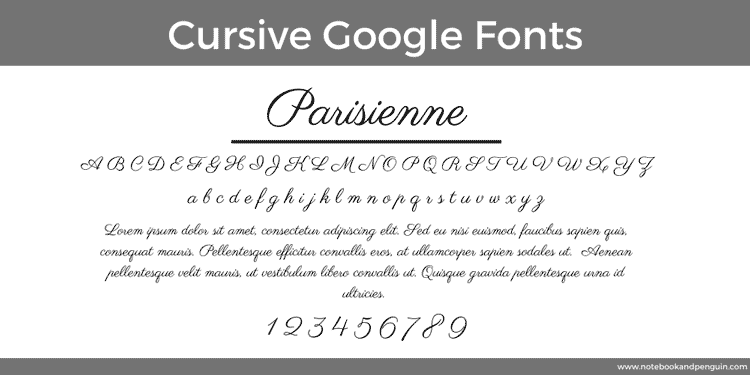 Petit Formal Script
The Petit Formal Script font combines a formal and sophisticated appearance with a delicate touch, making it suitable for projects that require an elegant and refined cursive style.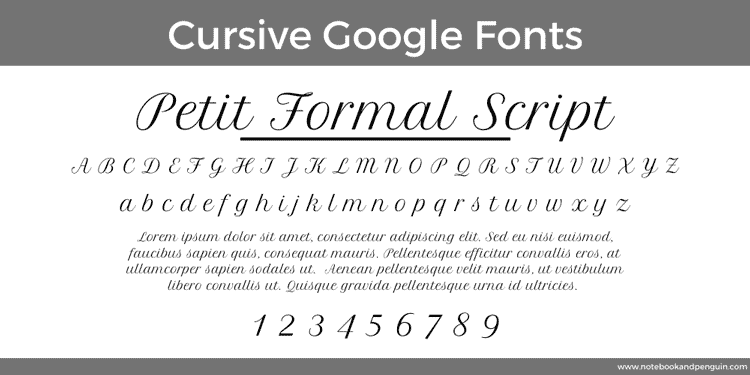 Pinyon Script
Pinyon Script is a flowing, casual Google font that emulates the look of handwritten calligraphy, bringing a relaxed and artistic vibe to your designs.
Tangerine
The Tangerine font is a bold and expressive cursive Google font with dynamic strokes, making it an excellent choice for projects that need a touch of energy and vibrancy.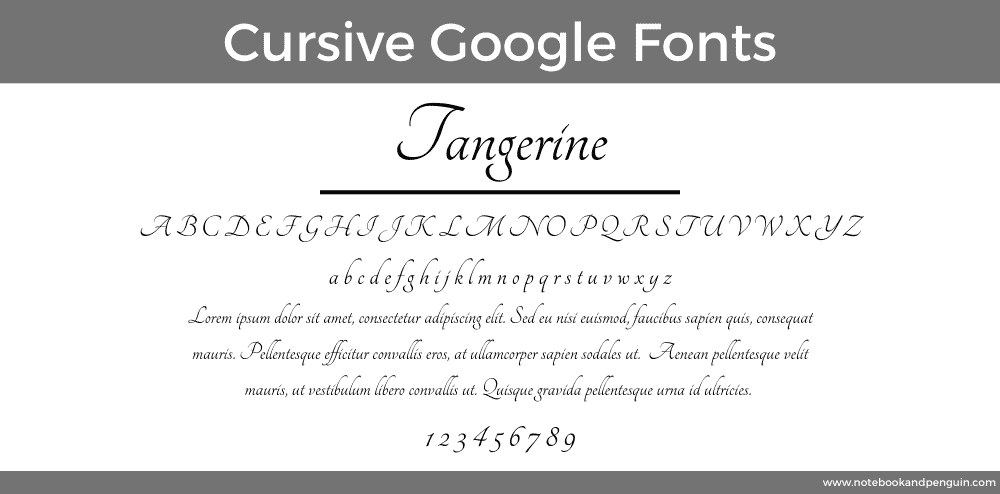 Allura
Allura is a modern and versatile script font that strikes a balance between elegance and legibility, offering a wide range of design possibilities.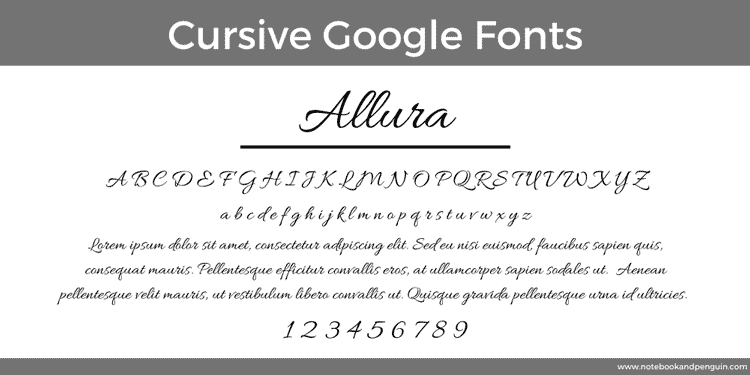 Euphoria Script
Euphoria Script features a contemporary and stylish cursive style, perfect for projects that require a touch of modern sophistication and visual impact.
Great Vibes
The Great Vibes font is an awesome Google font that has a feeling of nostalgia about it! It is a great choice for retro-style designs but can also be used in more classic designs as well.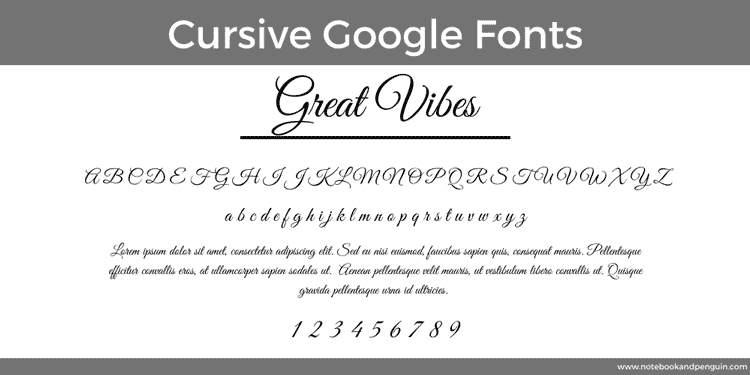 Her Von Mueller
Her Von Mueller is a decorative and ornate script font with intricate details and elaborate letterforms, perfect for projects that demand a lavish and vintage-inspired aesthetic. Be careful when using it in paragraph text though! You can see from the font example below that it isn't very easy to read.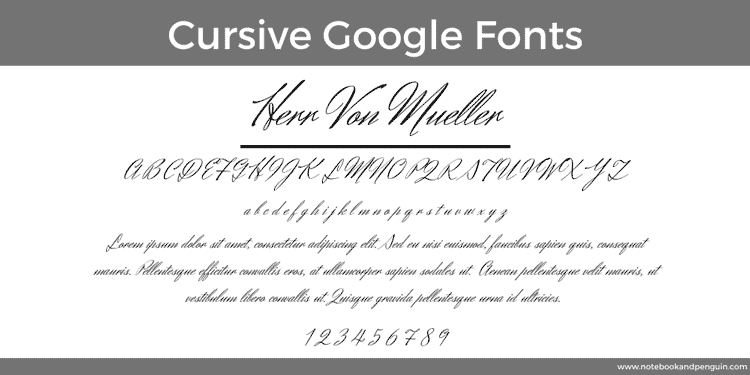 Sacramento
Sacramento is a simple and elegant cursive font that emulates traditional handwriting, offering a clean and classic look for a variety of design applications.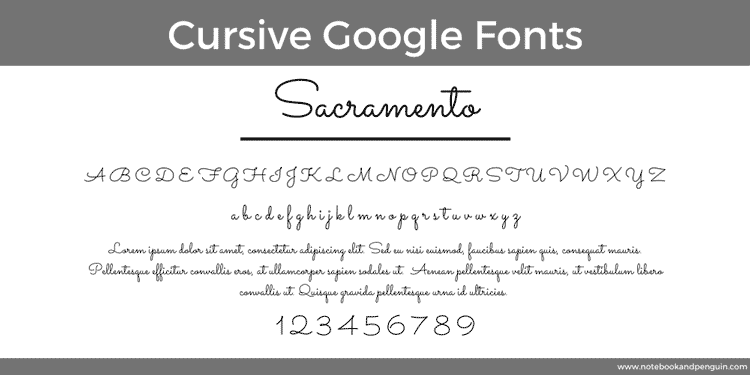 Satisfy
Satisfy is a casual and handwritten script font with a relaxed and friendly feel, making it ideal for projects that require a personal and approachable touch.
Yellowtail
Yellowtail is a vibrant and energetic Google script font with bold brush strokes, lending a dynamic and eye-catching appearance to designs that aim to stand out.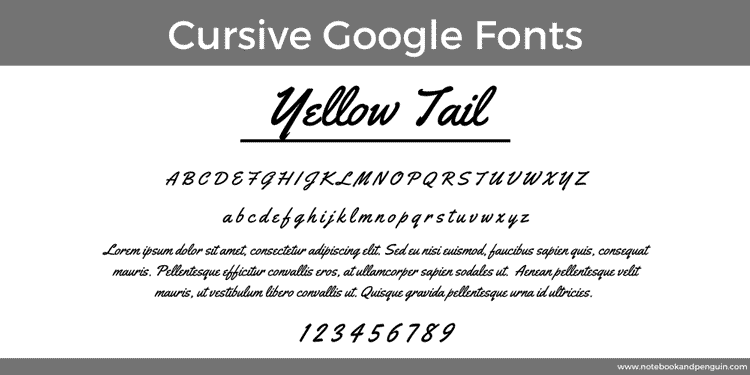 Grand Hotel
Grand Hotel is a retro-inspired cursive Google font that evokes a sense of vintage charm and nostalgia, perfect for projects that aim to capture a classic and timeless aesthetic.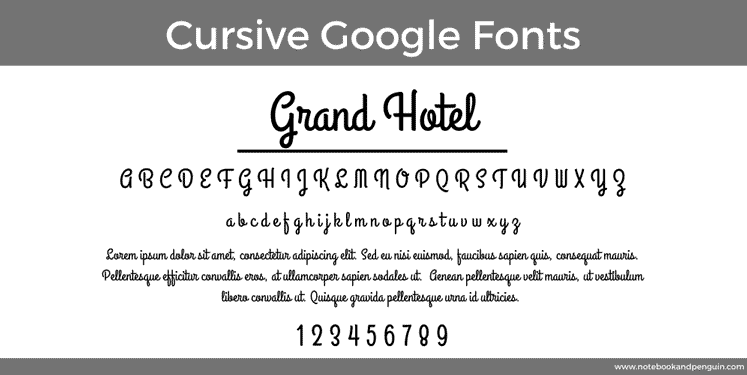 Pacifico
Pacific is a unique and contemporary cursive font with smooth curves that is a great choice for projects where you want to create a statement and stand out! It has a retro feel to it that is perfect for vintage-style typography.
Check out more Retro Google Fonts here!
Beth Ellen
Beth Ellen is quite a dark cursive font with an almost messy handwritten appearance. It is really unique and when used in the right design it can be eye-catching and memorable.
League Script
The League Script font offers a casual and hand-drawn style with playful letterforms, making it a great choice for projects that require a fun and whimsical vibe. It is quite pale in appearance and it can appear a bit drowned out if not used correctly. You will need to play with font and background colors as well as font size so that you can ensure that your text is still readable.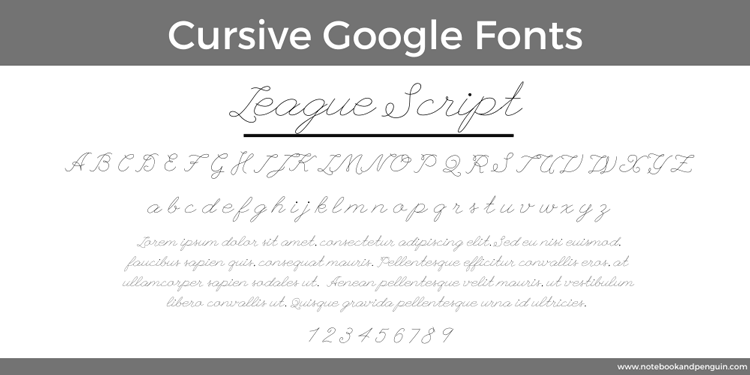 Zhi Mang Xing
Zhi Mang Xing is an elegant and decorative Chinese Google script font that embodies the beauty of traditional Chinese calligraphy, adding a touch of cultural richness to your designs.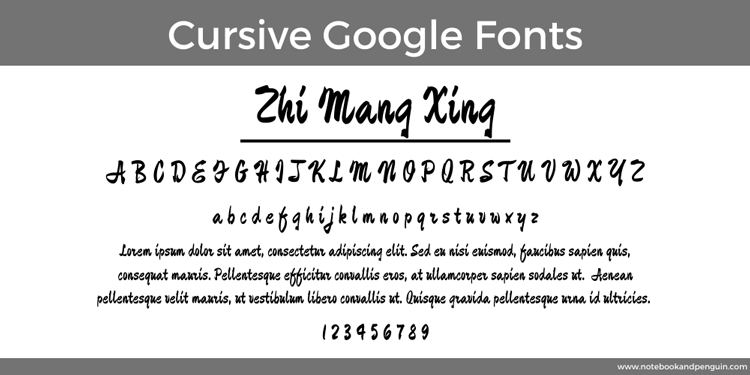 Yesteryear
Yesteryear is a vintage-inspired script font with a retro feel, evoking a sense of nostalgia and capturing the essence of bygone eras.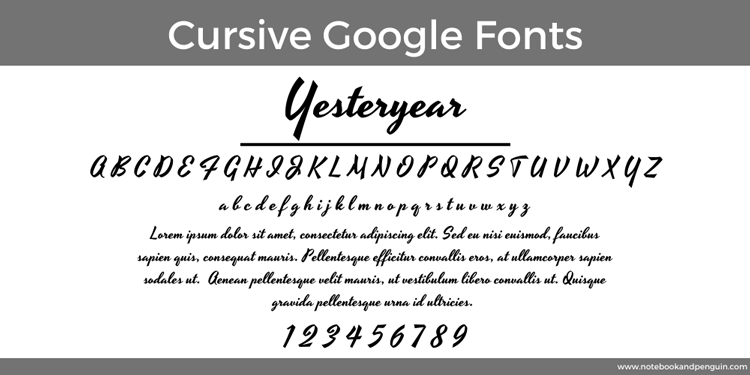 Ma Shan Zheng
Ma Shan Zheng is a bold and expressive Chinese script Google font with dynamic strokes and a contemporary appearance, lending a modern and artistic touch to your designs.
Marck Script
Marck Script is a clean cursive Google font that combines elegance with readability, offering versatility for a wide range of design projects.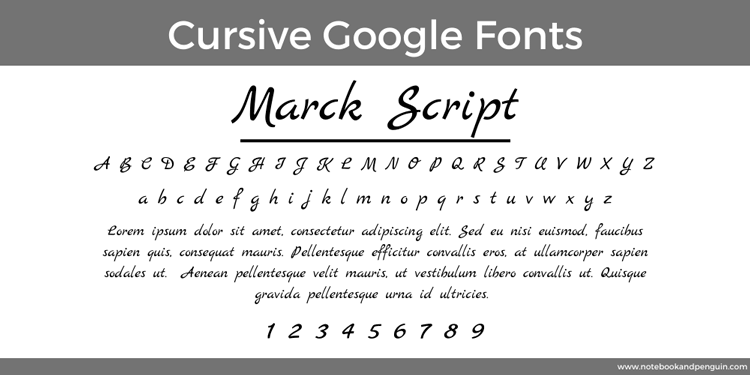 Mr Dafoe
Mr Dafoe is a stylish and sophisticated Google script font with a distinctive flair, perfect for projects that require a touch of modern elegance and refinement. Again, you will just need to make sure that it is readable especially if you are using it on digital displays with small screens.
Dr Sugiyama
Dr Sugiyama is a decorative and ornamental Google cursive font that draws inspiration from traditional Japanese calligraphy, infusing your designs with a sense of cultural heritage and artistry.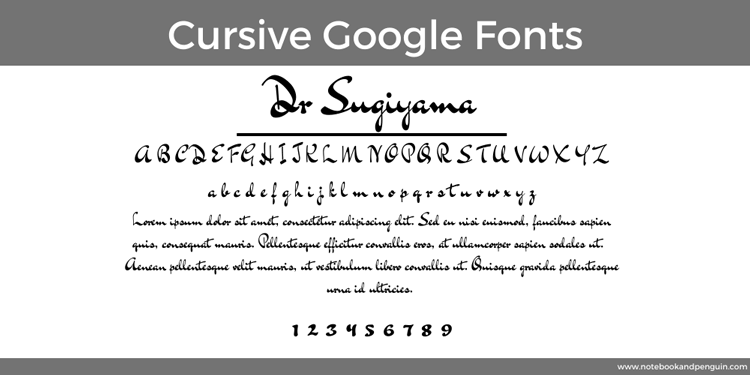 Other Notable Cursive Google Fonts
All in all, there are currently 225 handwriting fonts on Google where you can find beautiful cursive fonts. Here are a few more cursive Google fonts you could try:
Cherish
Gray Qo
Ingrid Darling
Love Light
Kolker Brush
Petemoss
Send Flowers
My Soul
Island Moments
Fleur De Leah
Babylonica
Bonheur Royale
Caramel
Mr Bedfort
Neonderthaw
Imperial Script
Water Brush
Beau Rivage
Devonshire
Tips For Using Google Cursive Fonts
When it comes to using cursive Google fonts in your designs and on your website you need to keep a couple of things in mind:
Legibility
You need to prioritize how easy it will be for your audience to read your text, especially with longer paragraphs and smaller font sizes. Choose cursive fonts and script fonts that have clear and distinct letterforms to ensure the best readability for your audience.
Contrast
Always try to create a visual contrast between your cursive font and the other elements in your design such as your background and other text elements. This contrast will not only make your text easier to read but will also draw your reader's attention to important information.
Pairing With Other Fonts
It's always a great idea to pair your cursive Google fonts with sans-serif fonts to create balance and contrast in your design. Sans-serif fonts provide a clean and modern contrast to the more delicate and intricate cursive fonts.
Font Hierarchy
Create a clear hierarchy by using different font weights, sizes, or styles for your headings, subheadings, and body text. This ensures that your information is organized and easy to read.
Letter Spacing
Adjust the letter spacing and line spacing if your preferred Google cursive font looks too cluttered. Adding more line spacing also has a way of opening up your typography and making your text more legible.
Test, Test, and Test!
Testing is especially important if you are going to be using your script font on your website or app. Make sure that it is easy to read regardless of screen size or device. Also, check that there is enough contrast between your cursive font and other elements so that our design is clean and organized.
Conclusion
Cursive Google Fonts and script fonts offer a touch of elegance, charm, and personality to designs and their timeless appeal and sophistication can transform plain text from boring to fantastic!