This article may contain affiliate links which means we might earn a small commission if you decide to make a purchase through them (at no extra cost to you). Thank you for your support!
Are you looking for some of the best handwriting Google fonts around? Look no further!
In today's article, we are going to take a look at a collection of Google handwriting fonts that can bring the charm and personality of handwritten text to any design. These fonts bring a feeling of authenticity and individuality to your website or small business branding and each font has a unique vibe that has a way of bringing ordinary text to life!
In this article, I've specifically looked at the more standard straightforward print Google fonts that look like handwriting. However, if you would like to see some absolutely gorgeous script or cursive Google handwriting fonts then we've got you covered as well!
So grab a cup of coffee and let's jump in and take a look at some of the best handwritten Google fonts around!
If you are new to Google Fonts, then check out our detailed Google Fonts Guide!
Architects Daughter
Architects Daughter is a playful handwriting Google font that brings a touch of whimsy to any project. It mimics the handwriting of a creative architect, with slightly irregular letters and numbers that give it a casual and approachable vibe.
This font is perfect for projects that need a personal and authentic feel and its clean and legible design ensures that your message will be conveyed effortlessly while adding a touch of artistic flair!
Caveat
The Caveat Google Font is a charming font that looks like handwriting with its versatile and casual. It has a timeless feel to it and can be used in many different types of designs, especially those that require a relaxed and informal font.
Shadows Into Light Two
Shadows Into Light Two is a carefree handwriting Google font that can bring a playful and artistic feel to your project with its uneven letters with varied stroke widths. It is easy to read and it has a feeling of spontaneity in its letterforms that are perfect for children's books, posters, or even logos.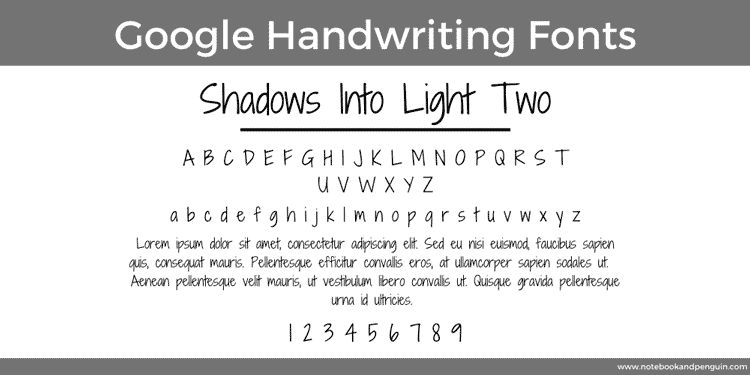 Amatic Sc
Arctic SC is a clean and modern sans-serif Google font that has more of a contemporary and geometric design. It has crisp letters that give projects a professional and polished look. While its lowercase letters also have the look of capital letters they still work well in paragraphs and slightly longer sections of text.
Long Cang
Long Cang is a quirky and playful Google handwriting font that adds a fun and energetic vibe to your projects. This font really stands out and has quite an individual feel to it. Of course, you will need to test it on mobile, tablet, and desktop if you plan to use it on your website to make sure that it is easy to read no matter where it is used.
Gaegu
Gaegu is a quirky handwriting Google font that has a sense of playfulness to it. It almost has a childlike feel to it and is perfect for designs that need a crafty or artistic touch. It is a great font choice for things like greeting cards, posters, and social media graphics and will work incredibly well for any design that you would to convey a handmade look to it.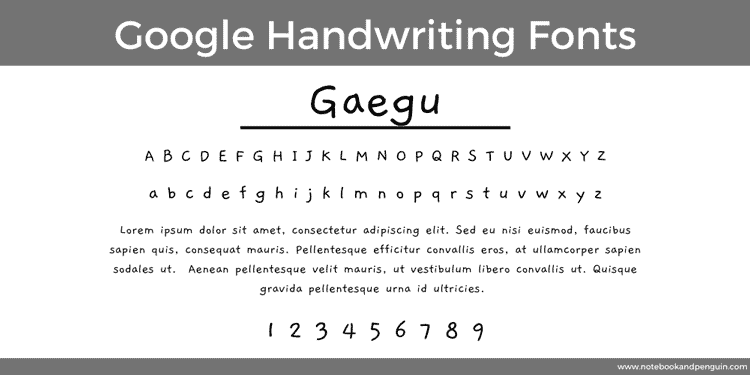 Over The Rainbow
The Over the Rainbow font comes brimming with a spirit of fun and positivity. It has bold letters that have almost an energetic feel to them. Its lively appearance can be used in many different types of projects but again, just make sure you test it well if your text is going to be displayed on small screens.
Crafty Girls
The Crafty Girls font has a gorgeous whimsy feel to it that is perfect for any design that needs a homemade or personal touch. This handwriting Google font brings a sense of authenticity to any project and is a great font choice for DIY blogs and crafting websites for example. So if you are wanting to create a fun, authentic vibe with a crafty feel to it, then Crafty Girls might just be the font for you!
Gamja Flower
Gamja Flower is a beautiful and decorative handwriting font that is inspired by traditional Korean calligraphy. It adds a touch of richness and artistic flair to any design and depending on how you use it, you can truly make it your own!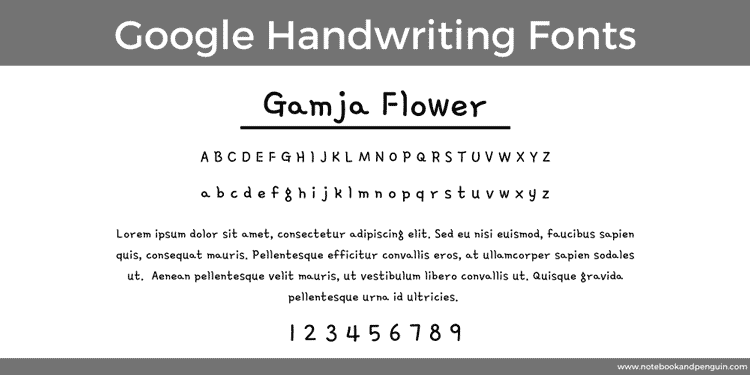 Walter Turncoat
Walter Turncoat is another Google font whose lowercase letters are written in an uppercase format. This however doesn't take away from its quirky individual vibe that has a very distinctive look and feel. Walter Turncoat is a great Google font choice for designs where you want to embrace individuality and break away from traditional handwriting type fonts. It is a good choice for things like album covers, street art, or unconventional branding.
Liu Jian Mao Cao
Liu Jian Mao Cao is a gorgeous and elegant calligraphy font inspired by traditional Chinese brushwork. If you are looking for a font that has a rich cultural feel that celebrates Chinese artistic expression then this might just be the font for you!
Give You Glory
Give You Glory is another beautiful handwriting Google font that has more of an open and airy feel to it. It mimics traditional writing with its uneven lettering and spacing and has an authentic feel to it.
Sue Ellen Francisco
Sue Ellen Francisco is an upright font that is quite eye-catching with its tall lettering style. It has a neat and clean appearance and can have quite a bold look depending on how you use it.
Yomogi
Yomiogi is another traditional and cultural type of font that has an old worldly feel to it. It's clean lettering and rounded shapes work well in both digital and print formats.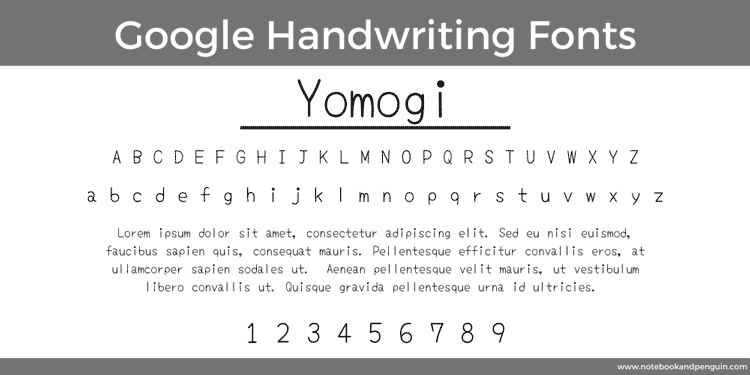 Schoolbell
The Schoolbell Google handwriting font is a nostalgic font that brings back memories of school days and childhood. Its irregular letters have an innocent, childlike feel to them and are perfect for a younger audience or brands that are geared toward products for younger children. it has a feeling of warmth and familiarity to it which can create a connection with your audience especially if they have kids or are searching for children's products.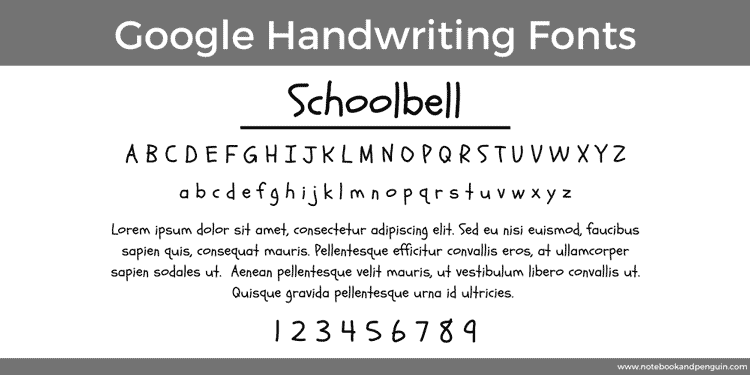 Tillana
Just like Sue Ellen Fransisco, Tillana is another upright font that also has more of a formal feeling to it for a handwritten font. It is quite easy to read even at small sizes and it is a great choice if you want to use a handwriting font while still keeping a sense of professionalism.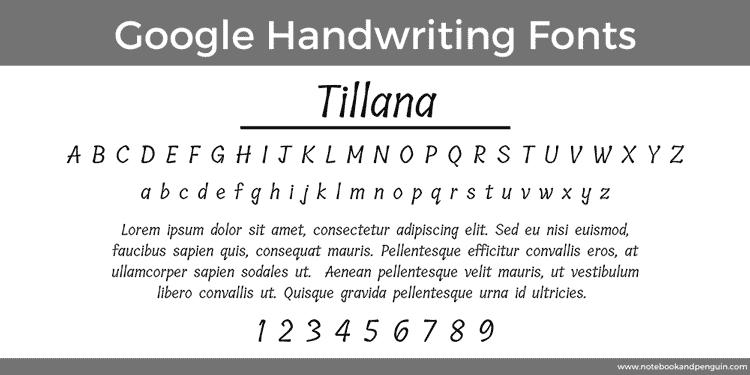 Mansalva
Mansalva is more of a casual font that has a fluid feeling to it. It has more of a casual vibe so it is a good font choice if you are wanting to use a handwriting Google font with an authentic handwritten vibe to it.
Sedgwick Avenue
Sedgwick Avenue is a casual handwritten font that has a laid-back and friendly vibe. It has a slightly messy look to it with uneven letters and numbers and it is a great choice for designs that need a personal touch.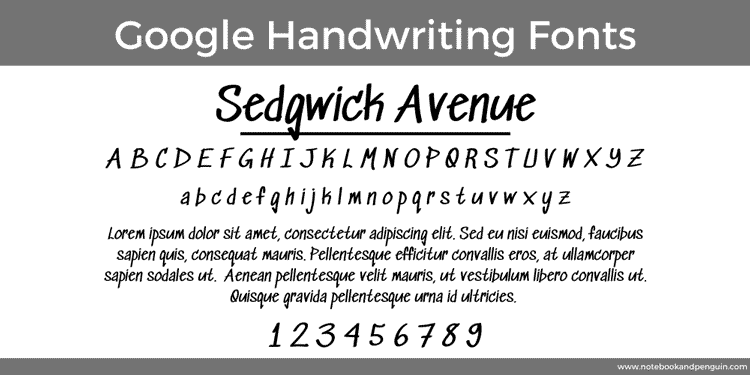 Coming Soon
Coming Soon is another font that reminds me of my school days and teachers! It has neat and clean letterforms that have a tidy and organized feel to them even though they have a very distinct handwritten look. This is a great font choice for projects, events and product launches, and announcements.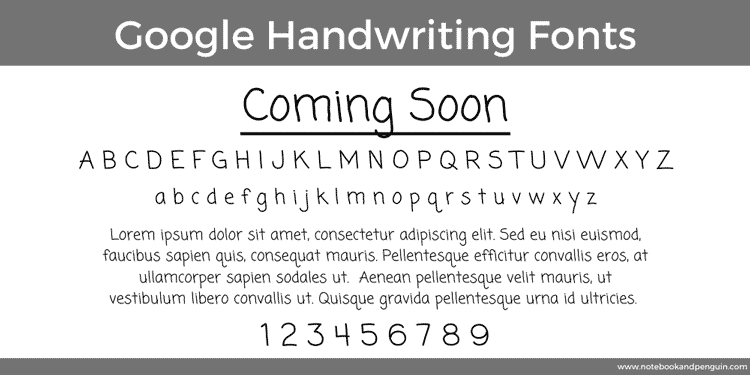 Nanum Brush Script
Nanum Brush Script is a lively handwritten font that has a playful and spontaneous feel to it. Its letters vary in size and shape and it has quite an interesting and unique look.
Nanum Pen Script
Nanum Pen Script is very similar to Nanum Brush Script but with more of a clean look to it. Its letter strokes are more even in width and have less of a dramatic feel to them.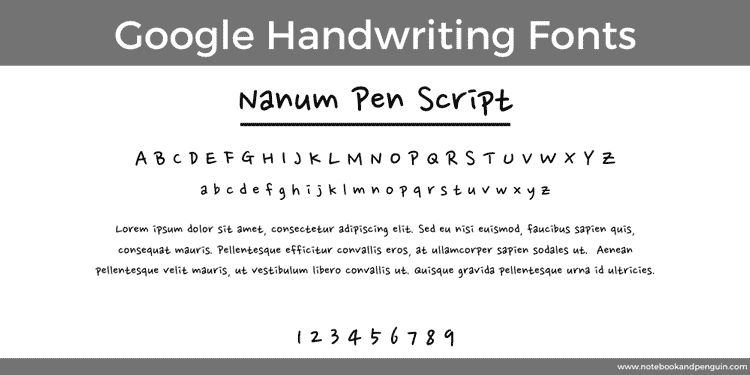 Gochi Hand
Gochi Hand is another fun and quirky handwriting Google font that has a cheerful and lighthearted feeling to it. It has a sense of whimsy that makes it a great option for children's books, party invitations, or any type of playful branding.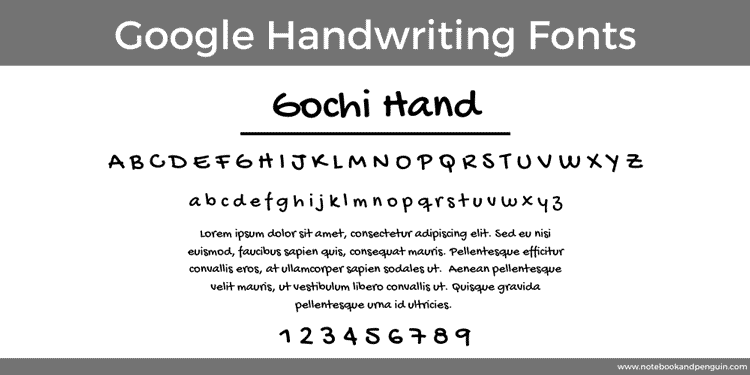 Just Another Hand
Just Another Hand is another casual handwritten style font that adds a personal and friendly touch to your designs. It also has more of an upright feel to it but still looks down-to-earth and authentic like a handwritten note from a friend.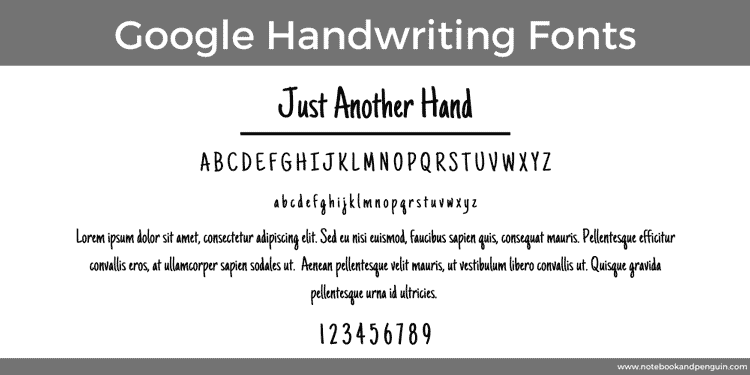 Pangolin
Pangolin is a unique and eye-catching Google font that mixes casual with neat and clean. Its uppercase letters have more of a formal, contemporary appearance to them while its lowercase letter remains casual and approachable.
Tip! Google fonts are not generally considered to be web safe fonts. This means that if you are using Google fonts in your website design, they may not display correctly on all your visitor's devices. If you would like to learn more about webs safe fonts and how to use them check out this article: Web Safe Fonts: What They Are & How To Use Them
Homemade Apple
Homemade Apple is quite a popular font with its charming and quirky style. It creates a welcoming and approachable feeling and is perfect for designs where you want to create a sense of homemade goodness and create a personal touch, for example, recipe cards, food blogs, and any authentic homemade products.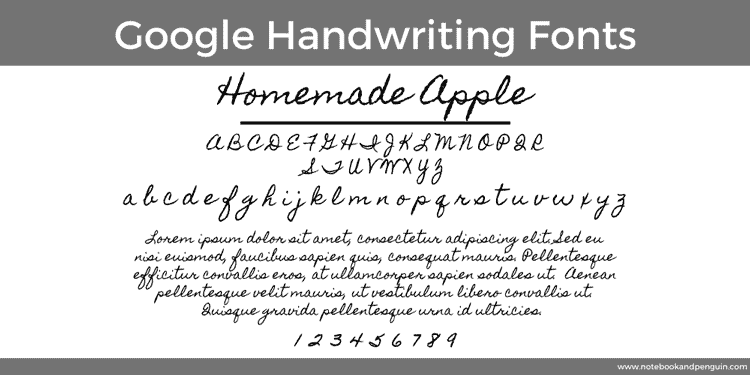 Gloria Hallelujah
Gloria Hallelujah is another handwritten Google font that has a light positive and enthusiastic feel to it. Its varying letter sizes and shapes have an unusual look that is casual and inviting.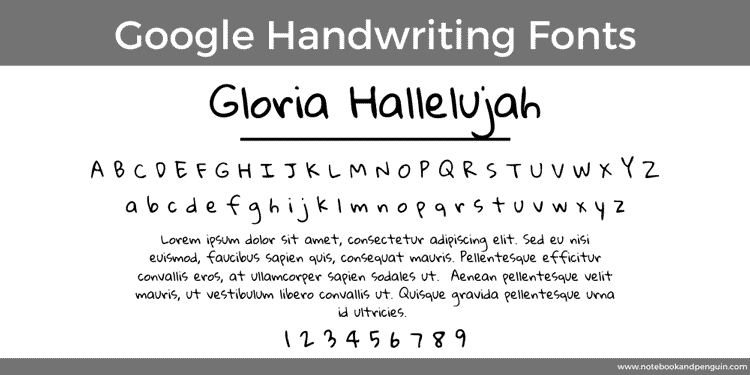 Kalam
Kalam is an elegant and versatile brush script Google font that has a traditional calligraphy feel with a contemporary twist. With its fluid strokes, it has an approachable feel that still feels professional and stylish.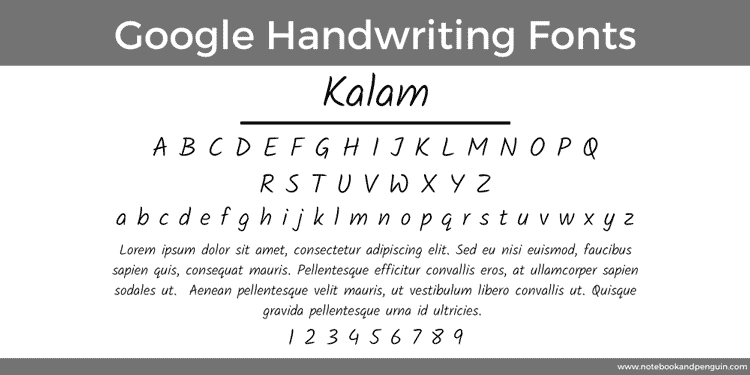 Some Honorable Handwriting Google Font Mentions:
With so many amazing Google fonts to choose from it certainly wasn't easy to choose the best fonts to display here!
Ultimately, the fonts that I chose are ones that are also available to use in Canva's free package so if you see a font that you like, and would like to use it on Canva, you can do so right away! Keep in mind, however, that if you are on any of Canva's paid plans you can upload fonts to use if you would like to.
While this article contains only 27 of the best handwritten Google fonts there are a lot more you can consider if you still aren't sure which font you would like to use. Here are a few more honorable font mentions:
Slackside One
Indie Flower
Permanent Marker
Zeyada
Neucha
Handlee
Itim
Patrick Hand
Bad Script
Rock Salt
Delicious Handrawn
Comic Neue
Nothing You Could Do
Covered By Your Grace
Reenie Beanie
Julee
Short Stack
Annie Use Your Telescope
How Many Handwriting Google Fonts Are There?
As of today, there are 225 handwriting Google fonts. And these are broken up into two groups – more traditional print-style fonts and cursive-style handwriting fonts. In this article, we took a look at some of the print-style fonts. But if you are looking for cursive Google fonts, then you can find them here: 25 Cursive Google Fonts: Discover the Beauty of Cursive Handwriting Fonts.
Keep in mind that you can also use any of these fonts on Google Docs as well! So if you are a fan of Google Docs then you should definitely experiment with these fonts to make your docs more interesting and memorable!
Conclusion
If you are looking for the best handwritten Google fonts you really are spoilt for choice! Whether you are designing invitations, building a brand identity, choosing fonts for your website, or simply looking for a way to give your designs a personal touch then you are sure to find a Google handwriting font to suit you. And if you are looking for more font ideas, don't forget to check out all our font articles for inspiration!