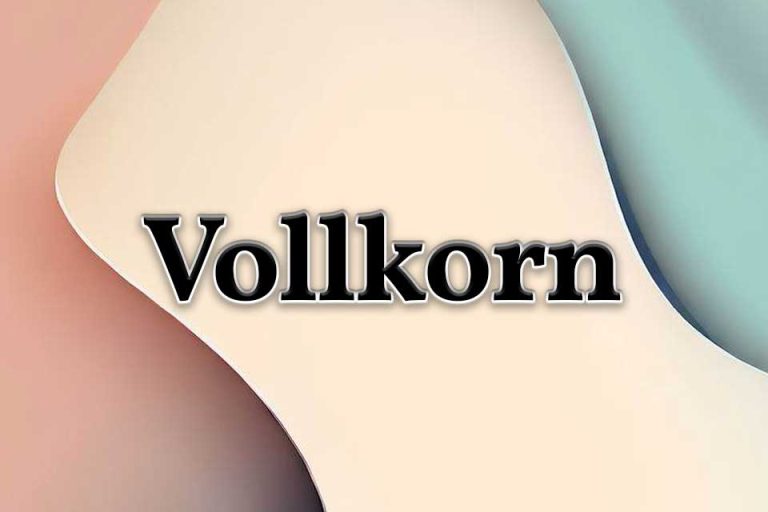 This article may contain affiliate links which means we might earn a small commission if you decide to make a purchase through them (at no extra cost to you). Thank you for your support!
Vollkorn is a classic serif font that was designed by Friedrich Althausen and it was first published in 2005. It is licensed under the Open Fonts License which means that you are free to download it for any project including commercial projects.
The name Vollkorn is German for "wholemeal," and the font's designer says that he designed the font as a bread-and-butter font for everyday use. It is an incredibly versatile font that can be used for everything from body text to headlines and titles.
Fun Fact! The Vollkorn looks incredibly similar to Times New Roman which is a web safe font. So if you are looking for a web safe Vollkorn alternative be sure to check it out!
The Vollkorn Font Family
The Vollkorn font comes in two different styles:
Vollkorn
Vollkorn comes in 6 different font weights ranging from Regular 400 to Black 900. Each of these font weights also comes in italics as well which brings the number of font styles to 12. This is what Vollcorn looks like.
Vollkorn SC
Vollkorn SC is the uppercase version of the Vollkorn font and it comes in Regular, Semi-Bold, Bold, and Black font weights. It does not have italic variations of the font. This is what the Vollkorn SC font looks like:
Vollkorn Font Pairing Ideas
Vollkorn is an incredibly elegant serif font that has a sophisticated and classic look which makes it perfect for high-end typography for luxury brands and magazines. It pairs really well with modern sans serif fonts creating visually pleasing designs.
If you would like to learn how to pair fonts, then check out our Font Pairing Guide For Beginners.
Tip! Use our Google Font Pairing Tool to experiment with your own font pairing ideas!
Vollkorn & Vollkorn SC
When pairing fonts, it is always a great idea to use fonts from within the same family because they blend together so effortlessly. Also, remember to experiment with different font weights and italics for even more font combinations.
Our greatest weakness lies in giving up. The most certain way to succeed is always to try just one more time.
Vollkorn & Lato
Lato is an incredibly popular sans serif font that pairs well with almost any serif font out there and Vollkorn is no exception.
Tell me not, in mournful numbers, Life is but an empty dream! For the soul is dead that slumbers, And things are not what they seem. Life is real! Life is earnest!
Vollkorn & Roboto
Roboto is another sans serif font that works together well with Kollkorn. It has a sturdy and strong look and feel that pairs beautifully with Vollkorns classic look.
No stir in the air, no stir in the sea, The ship was still as she could be, Her sails from heaven received no motion, Her keel was steady in the ocean.
Vollkorn SC & Windsong
If you are looking for a classic font pairing, then you can try combining Vollkorn with a flowing script font such as Windsong. This font combination has a timeless appeal that oozes sophistication and elegance.
What kind of thoughts now, do you carry
In your travels day by day
Are they bright and lofty visions,
Or neglected, gone astray?
Montserrat & Vollkorn
Montserrat is a sans serif font that was inspired by the old signs, posters, and typography from the Buenos Aires neighborhood of Montserrat. It is the go-to font for many because it is so easy to pair with other fonts. It is also really easy to read and it is very versatile making it an ideal font to pair with Vollkorn.
Whose woods these are I think I know. His house is in the village though; He will not see me stopping here To watch his woods fill up with snow.
Other Vollkorn Font Pairings
Besides the fonts mentioned above, you can also pair Vollkorn with other sans-serif fonts that are in the Google Fonts Collection. Here are a couple more ideas:
Raleway
Open Sans
Poppins
Karla
Source Sans Pro
Where To Download The Vollkorn Font
You can download the Volkorn font directly from the Google Fonts Library. All the other fonts that we used in our Vollkorn font pairings can also be freely downloaded from the library.
Conclusion
Whether you are designing a website layout, a marketing campaign, or even an upmarket magazine spread, you can't go wrong with a classic font like Vollkorn! I hope that these Vollkorn font pairing ideas have helped you come up with some great font combinations to make your design truly unforgettable!