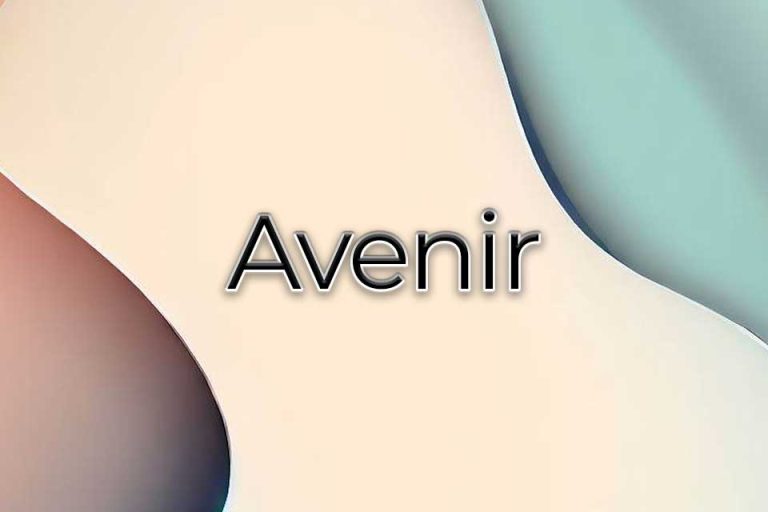 This article may contain affiliate links which means we might earn a small commission if you decide to make a purchase through them (at no extra cost to you). Thank you for your support!
Avenir is a widely used and recognized sans serif font that was designed by Adrian Frutiger and was released by the Linotype font foundry in 1988. Avenir was designed with clarity and simplicity in mind which makes the perfect font for clean and modern designs.
Avenir has 12 different typefaces which range from Avenir Pro 35 Light through to Avenir Pro 85 Heavy. The collection also includes italics fonts which makes it a very versatile font family.
Is Avenir Free For Commercial Use?
Avenir is not free for commercial use so you will need to buy a licence if you would like to use it in your designs. You can buy a licence directly from LinoType for about $50 per typeface.
Is Avenir a Google Font?
Unfortunately, Avenir is not included in the Google Fonts library. There are however some great Avenir Google Font alternatives that you can use in your designs for free (including commercial designs).
What Does Avenir Look Like?
Before we jump into some Avenir Google font alternatives, let's take a quick look at what Avenir looks like so that you can compare similar fonts in the Google fonts library.
Avenir Font Example
As you can see from the example below, Avenir has a very clean sans serif font with a modern edge that is very easy to read making it ideal for headings, titles, logos, body text, etc.
Google Font Equivalents To The Avenir Font
Let's jump in and take a look at some beautiful Avenir Google font alternatives for you to try! Not only are these fonts beautiful but they are also available for free from the Google Fonts Library
Tip! Always remember to check the licensing information for each font before using it. Check out our article "What Are Google Fonts & Are They Free To Use?" for more detailed information about how Google Fonts work.
1. Montserrat
Montserrat is probably one of the most popular fonts around! And for good reason. It is a true classic that is an awesome Avenir Google Font alternative. Montserrat comes in a number of different styles ranging all the way from thin to black and also includes italics so you are sure to find a font that suits your design.
ABCDEFGHIJKLMNOPQRSTUVWXYZ
abcdefghijklmnopqrstuvwxyz
123456789
2. Poppins
Poppins is another very popular Google font similar to Avenir. It has more of a narrow feel to it which might work a little bit better than Montserrat. Poppins also comes in a huge variety of styles ranging from thin to black as well as italics.
ABCDEFGHIJKLMNOPQRSTUVWXYZ
abcdefghijklmnopqrstuvwxyz
123456789
3. Raleway
Raleway is a great Avenir alternative if you are looking for a font that is slightly more stylized. I particularly like the styling of the "W" in the Raleway font family! Just like Poppins and Montserrat, Raleway also has a wide variety of styles to choose from.
ABCDEFGHIJKLMNOPQRSTUVWXYZ
abcdefghijklmnopqrstuvwxyz
123456789
4. Open Sans
Open Sans is described as a humanist sans serif font that was optimized for web, mobile, and print. It is also easy to read and can be used for everything from bold headings and titles to small body text.
ABCDEFGHIJKLMNOPQRSTUVWXYZ
abcdefghijklmnopqrstuvwxyz
123456789
5. Sen
Sen is described as a Geohumanis sans font that has a more neutral feel to it when compared to Avenir.
ABCDEFGHIJKLMNOPQRSTUVWXYZ
abcdefghijklmnopqrstuvwxyz
123456789
Conclusion
While Avenir remains a timeless choice, there are a number of really great Avenir Google Fonts alternatives that you should really consider if you are looking for a geometric font that is modern yet bold with a dash of minimalist charm! Also, don't forget to check out our Google Fonts Pairing Tool if you would like to experiment with pairing these fonts with other Google Fonts.