This article may contain affiliate links which means we might earn a small commission if you decide to make a purchase through them (at no extra cost to you). Thank you for your support!
Navy blue is one of those colors that is timeless and incredibly versatile. It is a deeper and darker shade of blue that can be used in so many different ways so it is a popular color choice in everything from design to fashion to home décor. It is bold, yet understated with its own unique style and personality!
Navy Blue Hex Code And RGB Value
Navy blue is a beautiful dark blue color that is found between blue (#0000FF) and black (#000000).
Although there are quite a few different shades of navy blue, the traditional navy blue color is found right in the middle of these two colors. This is what it looks like:
Navy Blue
Hex Code: #000080
RGB Code: RGB(0,0,128)
What Colors Match Well With Navy Blue
Depending on the look you are wanting to create, there are many different colors that you can match with navy blue or dark blue.
For a timeless classic look, try pairing navy blue with white, cream, or beige. For a more vibrant look try pairing it with bright bold colors such as pink, yellow, and green.
Navy blue and other dark blue shades also work really well with all other shades of blue.
And finally, why not try navy with metallic colors such as gold or silver to add a touch of luxury to your navy blue designs (these combinations work really well for logos!).
Navy Blue Color Palettes
Let's take a look at some gorgeous navy blue color palettes. Each color palette comes with hex codes so that you can begin experimenting with the color combinations right away!
Navy Blue, Gray, And White
Navy blue and dark blue are great alternatives to black or white if you are wanting a neutral base that is a little less harsh. It is easily combined with shades of gray and white for a cool color palette that has a nautical feel to it. Love this color combination? Then check out our other blue and gray color palettes here!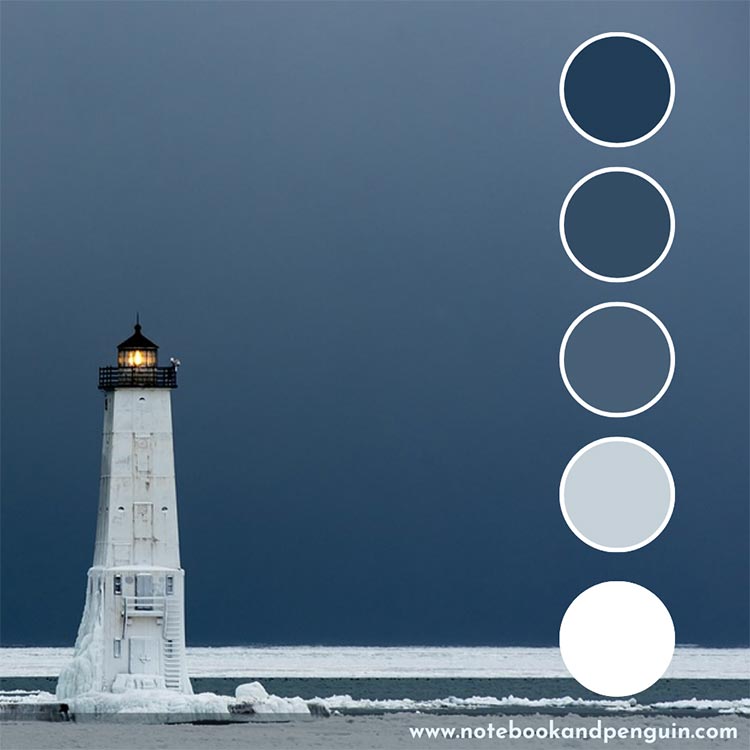 | | | | | |
| --- | --- | --- | --- | --- |
| #213D57 | #334C64 | #475F76 | #C6D1D8 | #FFFFFF |
Classic Navy, Maroon, And Gray
This timeless red, white, and blue color palette truly is a classic! It is perfect for a variety of designs where you want to create contrast and make a statement. This color palette combines deep, dark navy blue with a warm burgundy color along with gray and white creating a balanced and harmonious look.
If you want to lighten up this palette a little then you can combine royal blue (hex: #4169E1) with red instead of burgundy and navy blue. Click here for more ideas using this color combination!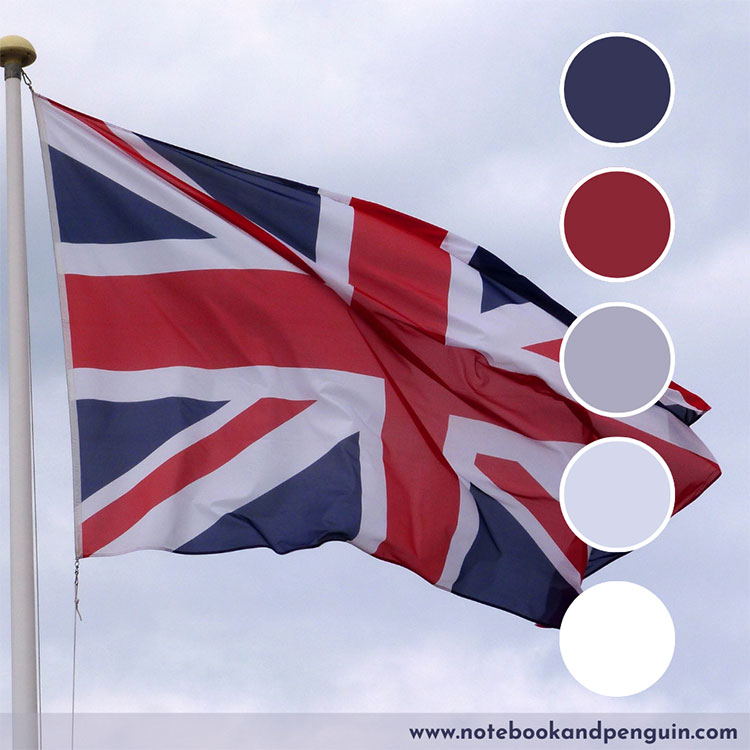 | | | | | |
| --- | --- | --- | --- | --- |
| #353557 | #8A2635 | #ACAABF | #D4D8EC | #FFFFFF |
Navy Blue And Brown
A navy blue and brown color palette is a great option if you want to create a calm, earthy look.
Pair rich deep navy tones with royal blues and warm natural browns and beige tones to create a look that can be both classic and contemporary. In color psychology, both blue and brown are said to evoke feelings of trustworthiness and reliability so this color combination is great if you want to convey these feelings to your audience.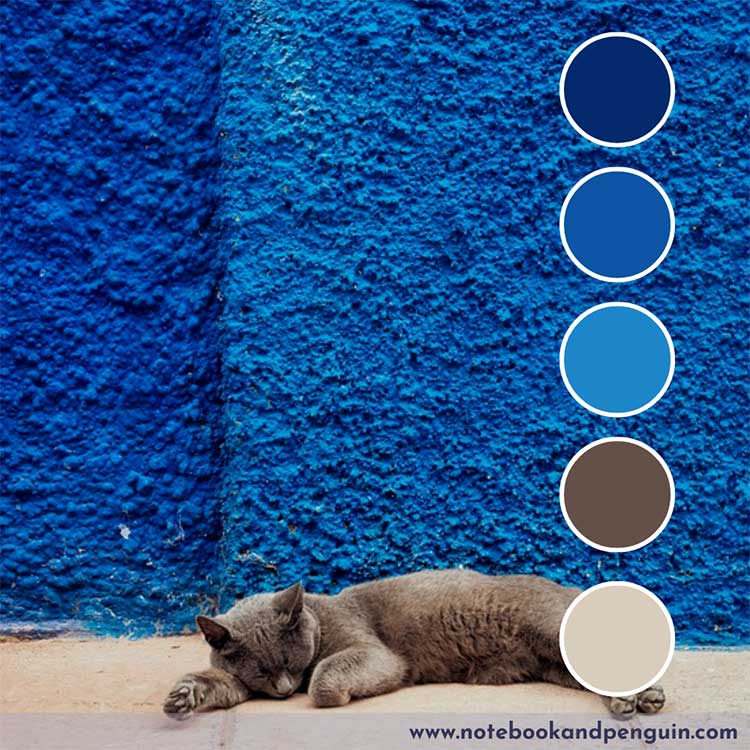 | | | | | |
| --- | --- | --- | --- | --- |
| #03286E | #0C55A5 | #1D86C9 | #645047 | #D8CDBC |
Dark Blue Combined With Light Blues
When you combine navy blue or even royal blue with other lighter shades of blue you create a calm and stylish look and feel. It combines deep navy blue with lighter shades of blue such as sky blue, baby blue, and powder blue for a fresh and clean feel.
| | | | | |
| --- | --- | --- | --- | --- |
| #192847 | #325084 | #6A98DB | #A1CFFF | #D8CDBC |
Navy Blue And Green
Both blue and green are calm and cool colors so by combining navy blue, royal blue, or dark blue with shades of green you can create a color palette that has a natural, earthy vibe. Start by choosing your navy blue and then combine it with different shades of green such as sage, mint, or even emerald green.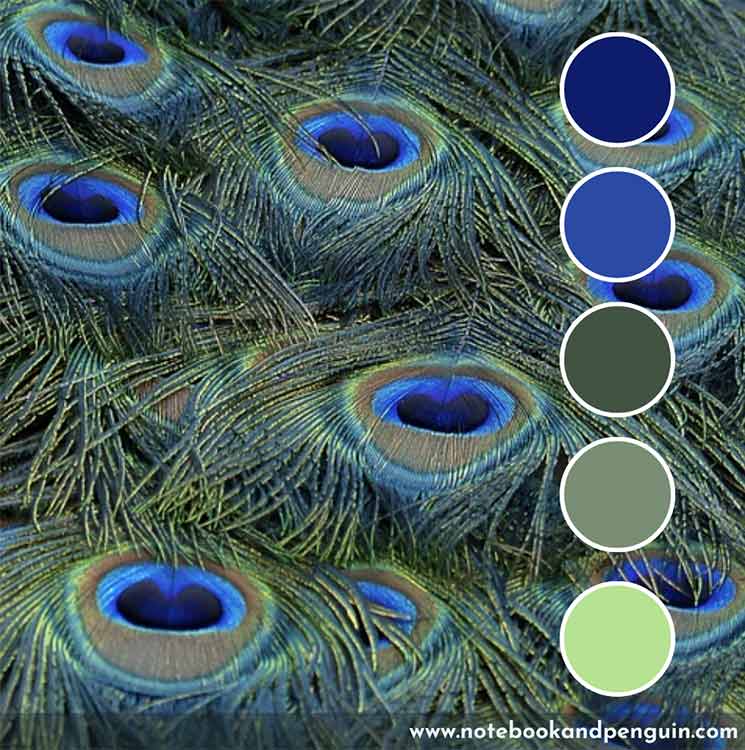 | | | | | |
| --- | --- | --- | --- | --- |
| #0E1D6B | #2B4AA3 | #415342 | #798E74 | #B6E292 |
Navy Blue, Orange, And Yellow
If you are looking for a navy color palette that is bold and bright then you can't go wrong by combining different shades of yellow and orange with navy!
This navy and yellow color combination is cheerful, energetic, and lively and it is definitely worth considering. Combine navy with shades of lemon yellow and tangerine orange using navy as a base. The result? A navy color palette that is dynamic and versatile!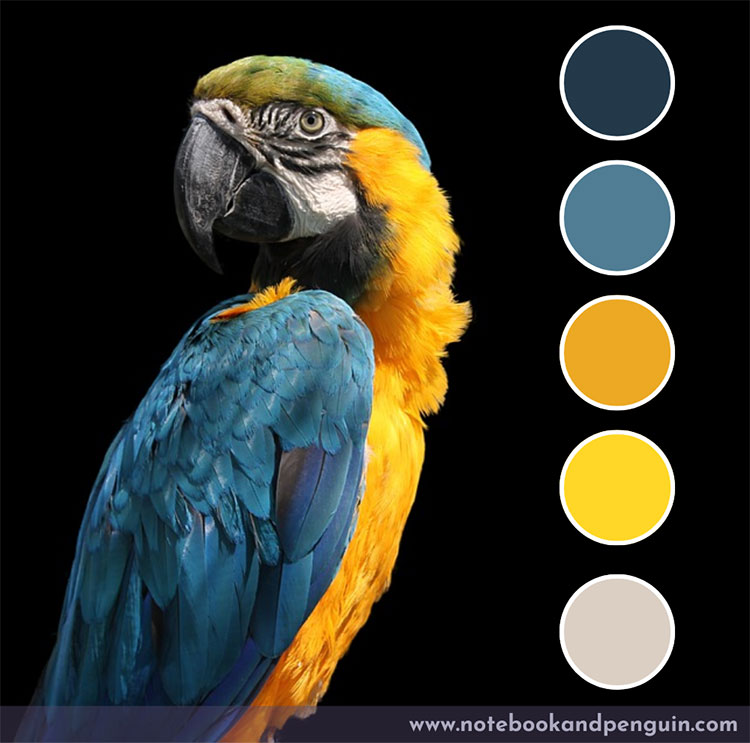 | | | | | |
| --- | --- | --- | --- | --- |
| #23394A | #507D94 | #ECA924 | #FFD727 | #DBCFC3 |
Navy Blue, Purple, And Pink
Not a color combination you would readily think of but you really can create amazing color palettes by combining these unlikely colors!
Depending on the depth of each color, you can create color palettes that are soothing and enchanting or bold and bright. Start with shades like blush pink, lavender purple, and baby blue for a soft, whimsical feel, and combine with a darker navy blue base for a beautiful contrasting color palette.
Check out our collection of blue and purple color palettes here!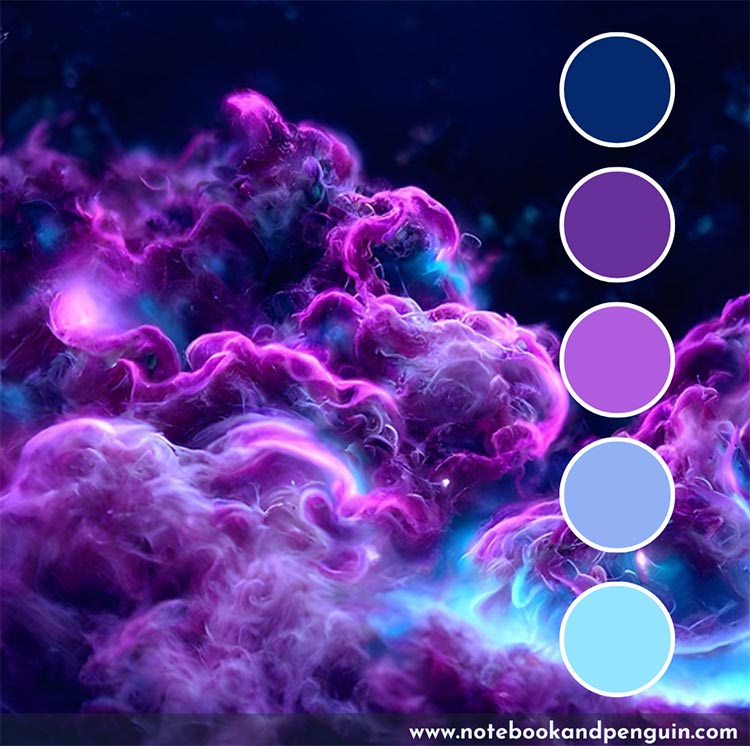 | | | | | |
| --- | --- | --- | --- | --- |
| #04296D | #67309A | #B05DDE | #92B1F4 | #94E4FF |
Navy Blue With Muted And Misty Yellows And Oranges
If you are wanting to create a navy color palette that is warm with rich tones that are soft and luxurious then why not try combining navy with muted shades of orange, yellow, and purple?
Try burnt orange, mustard yellow, dusty rose, or even lavender purple combined with navy or other dark blues for an unusual and contrasting color palette!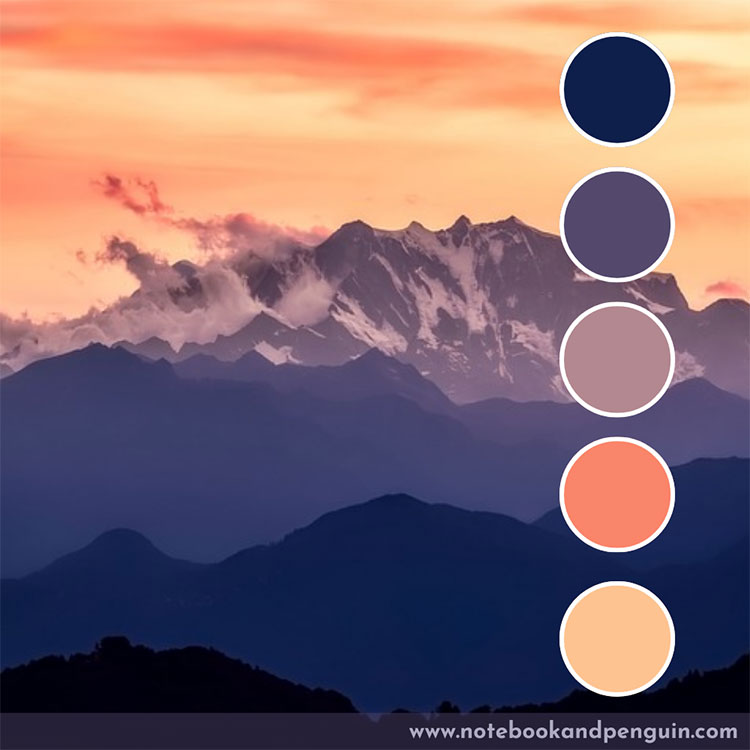 | | | | | |
| --- | --- | --- | --- | --- |
| #0E1F4B | #54496C | #B38890 | #FA856A | #FEC391 |
Conclusion
Navy blue, dark blue and even royal blue are awesome colors to use as a base for any design. Combine it with bright accent colors for a showstopping design or with more neutral shades for a calmer color palette. And if you need more color inspiration, don't forget to check out our color palette library where you can search by color!