This article may contain affiliate links which means we might earn a small commission if you decide to make a purchase through them (at no extra cost to you). Thank you for your support!
Sage green is one of those colors that has become really popular over the last couple of years, especially in interior design and if you are looking for sage green color palette ideas, you have come to the right place!
Sage green is a greenish-gray color that is known to be calming and soothing and it is pretty versatile when used within a color palette. It is easily paired with neutral colors like white and beige but it also goes well with warmer colors such as yellow as well as cooler colors such as different shades of purple and blue.
Here you will find a small collection of sage green color palettes. Each color palette comes with a color code table which includes a swatch and hex color code for each color.
Sage Green Hex Codes And RGB Values
Sage green is created by mixing green with different amounts of gray, which creates its muted, soft appearance. As with any color, the specific shade of sage green changes according to the amount of gray you use.
The hex code for sage green varies slightly depending on the specific shade you are looking for and how it's used but one of the more common shades of sage green looks like this:
Sage Green
Hex Code: #9AAB89
RGB Code: RGB(154,171,137)
If you are looking for other variations of green then don't forget to check out our green color code collection as well as our color palette library!
Variations Of Sage Green
There are a few variations of sage green that you will find if you are searching for sage green hex color codes. Now while the sage green color swatch which I included above is my favorite, here are a few more variations that you might prefer if you are deciding on a color palette for your brand:
Sage Green Color Palettes
As mentioned before, sage green is a cool, earthy color that is really popular right now! And while it is always a good idea to choose a color palette based on your specific brand's personality, if you have a brand that focuses on organic and natural products and services, sage green might be a great color choice for you!
I put together a few of my favorite sage green color palettes which I hope will give you some ideas when choosing a color palette for your brand or building your website.
If you need more green color inspiration, don't forget to check out our dark green and olive green color palettes as well!
Bamboo-Inspired Sage Green Color Palette
This gorgeous monochromatic green color palette uses a dark forest green shade and pairs it beautifully with lighter shades of green (including sage green).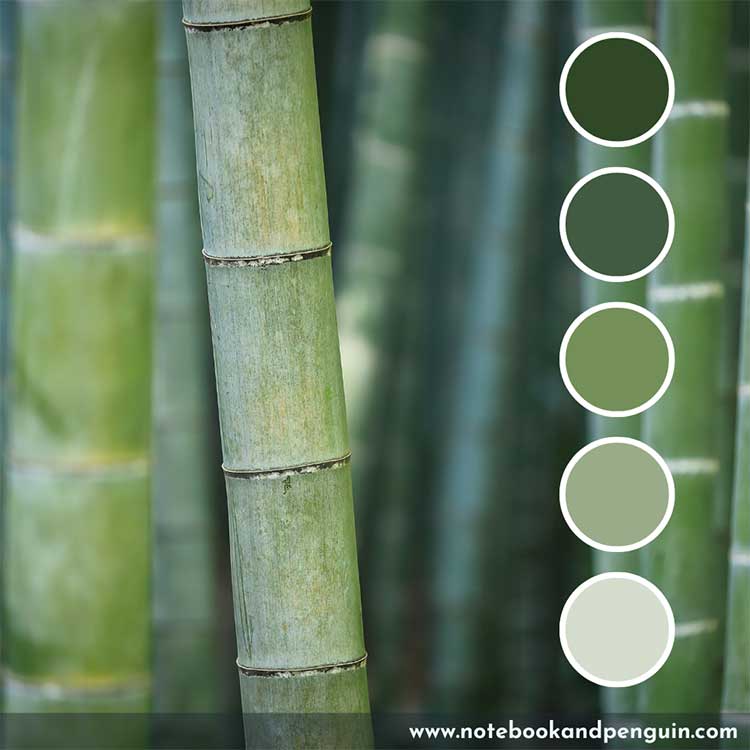 | | | | | |
| --- | --- | --- | --- | --- |
| #304827 | #415B41 | #749059 | #9AAB89 | #D5DDCD |
Misty Sage Green And Gray Palette
If you are looking for a darker more moody color palette, then this might be the one for you! Darker gray greens pair with lighter grays and of course sage green to create a beautiful contrasting color palette.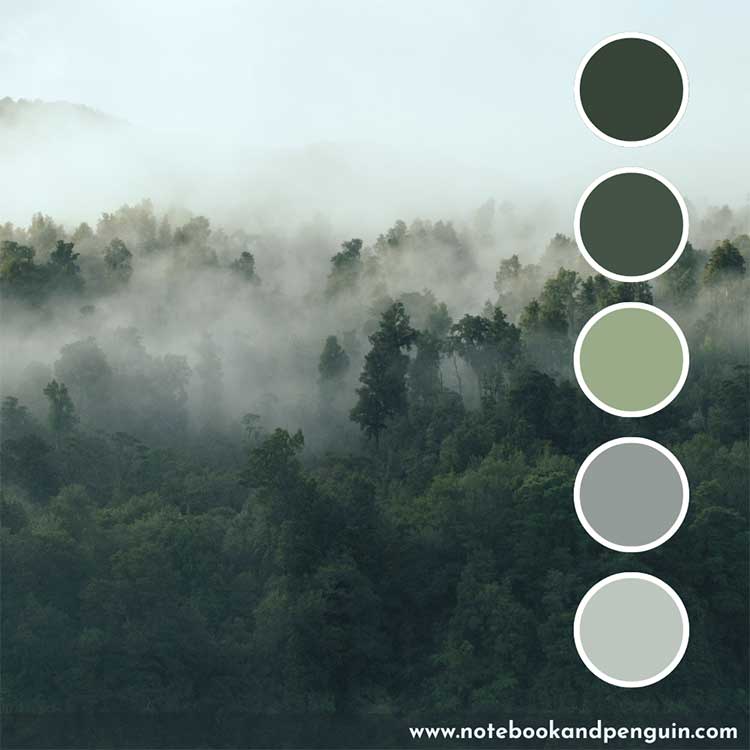 | | | | | |
| --- | --- | --- | --- | --- |
| #374438 | #435347 | #9AAB89 | #939C97 | #BDC6BF |
Sage Green And Brown Color Palette
You can't ever go wrong by choosing earthy colors for your color palette. After all, mother nature truly is the very best creator of color palettes there is! This color combination is created by using different shades of brown with lighter shades of sage green.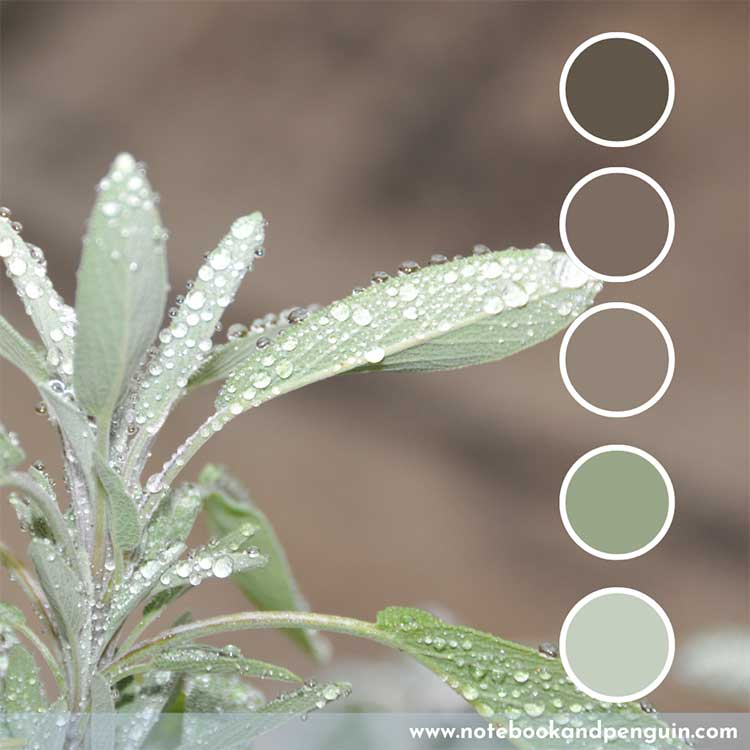 | | | | | |
| --- | --- | --- | --- | --- |
| #61574A | #7D6D62 | #938578 | #99A689 | #C5CFC0 |
Sage Green And Purple
Both sage green and purple are cool colors that go really well together. This eye-catching color combination is soft and beautiful with a splash of a lavender-purple color adding contrast and interest to the palette.
| | | | | |
| --- | --- | --- | --- | --- |
| #4D5D42 | #6A894B | #8DA67E | #9B999A | #C6B5DF |
Sage Green And Blue Color Palette
Just like green and purple, blue is also a cool color. And just like purple it also blends really well with sage green. In this color palette, a darker cornflower blue and avocado green color is used which is contrasted against lighter shades of pastel blue and sage green.
For more green and blue color combinations, click here!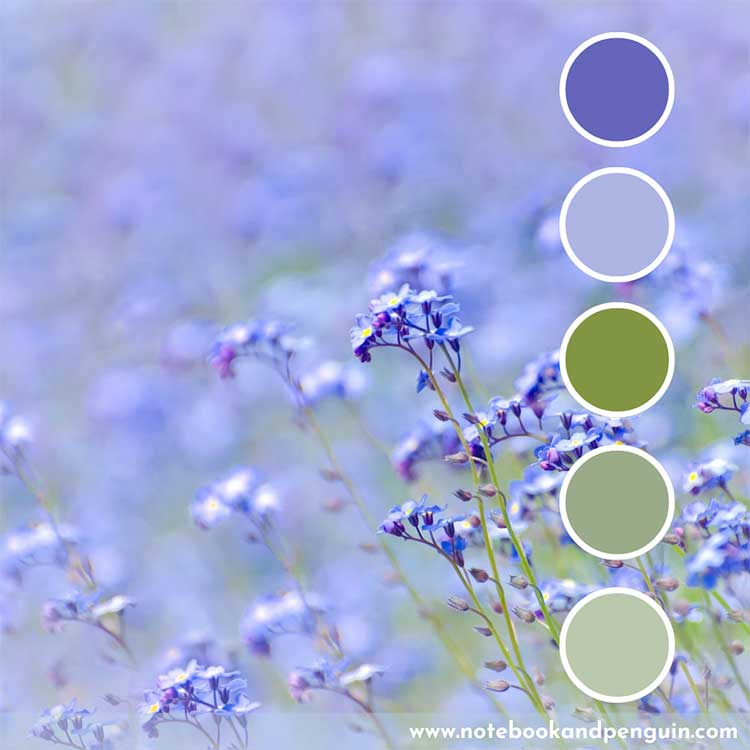 | | | | | |
| --- | --- | --- | --- | --- |
| #6565BA | #ADB5E3 | #829643 | #9AAB89 | #BAC8AC |
Sunrise-Inspired Sage Green Palette
Combining sage greens with warmer shades of yellow is a really great option if you are trying to create contrast with your color combinations. In this palette, shades of parmesan yellow and buttermilk yellow are used to create an eye-catching contrast!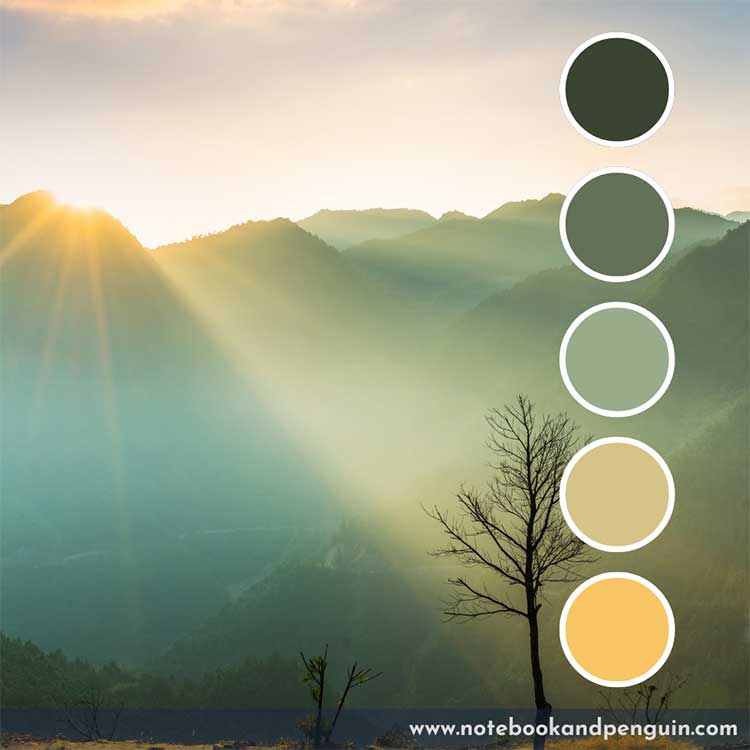 | | | | | |
| --- | --- | --- | --- | --- |
| #3B4331 | #647056 | #9AAB89 | #D6C388 | #F8C565 |
Sage Green With Complementary Colors
Using sage greens with equally muted shades of red and blue creates a beautiful soft color palette that feels quite light and airy. This color combination proves just how well complementary colors can work together!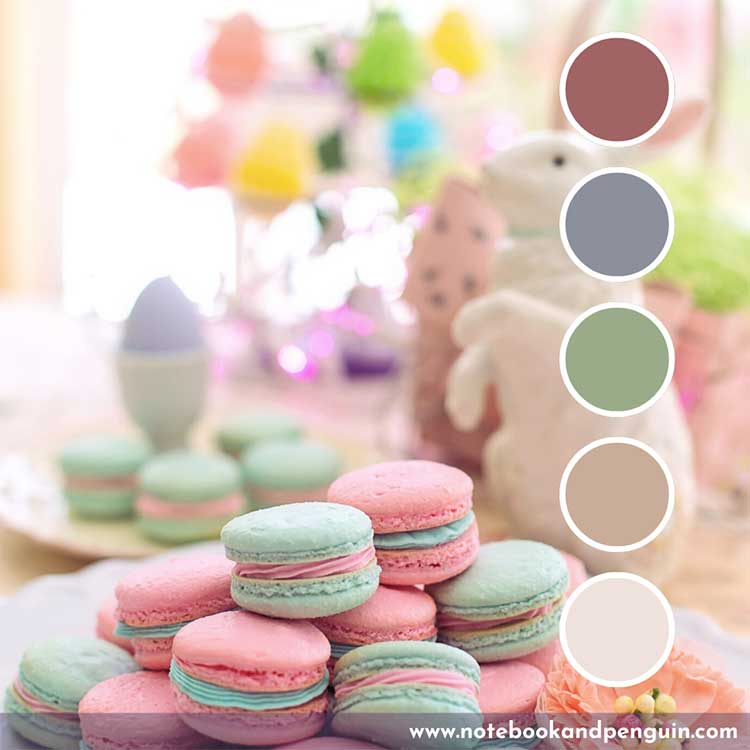 | | | | | |
| --- | --- | --- | --- | --- |
| #A06464 | #8C909C | #9AAB89 | #C9AD99 | #EFE2DD |
Conclusion
Sage green is quite a versatile color that adds softness and depth to any design. And because it is a soothing color that is also relaxing and calming, it is an especially wonderful option for any type of business that specializes in health and wellness products and services.