This article may contain affiliate links which means we might earn a small commission if you decide to make a purchase through them (at no extra cost to you). Thank you for your support!
Both green and yellow are beautiful colors that people associate with the natural world so they are often used in brands that want to promote health, wellness, and sustainability. Green and yellow color palettes are therefore a great choice for organic and eco-friendly products and services where you want to create a feeling of freshness, growth, renewal, happiness, and optimism!
A good example of a company trying to take advantage of this is BP!
In this article, we are going to take a look at a collection of green and yellow color palettes that I created that I hope will inspire you and give you some great ideas on how to use green and yellow together when choosing colors for your website or brand!
And if you need more ideas for different shades of green and yellow, don't forget to check out our green hex code and yellow hex code articles where you will find collections of colors with color swatches, hex color codes, and RGB values for each color.
Let's get started!
Green And Yellow Hex Codes And RGB Values
Both pure green and pure yellow are bright and vibrant colors. This is what they look like:
Green
#00FF00
RGB (0, 255,0)
Yellow
#FFFF00
RGB(255, 255,0)
When you mix equal amounts of green and yellow together you get a much more muted shade known as yellow-green.
This Is what yellow-green looks like:
Yellow-Green
#9ACD32
RGB (154,205,50)
Other Popular Green And Yellow Colors
Just like yellow-green, there are many other colors that are created when you mix green and yellow together. Here are a few popular colors that people like to use in their designs:
Lime Yellow
#D0FE1D
RGB (208,254,29)
Apple Green
#8DB600
RGB (141,182,0)
Bitter Lime
#BFFF00
RGB(191,255,0)
Pear Green
#D1E231
RGB(209,226,49)
Dark Yellow Green
#728f02
RGB (114,143,2)
Yellow Chartreuse
#DFFF00
RGB (223,255,0)
The color chartreuse is a very popular color to use in design because of its bright and vibrant look and feel. If you would like to learn more about chartreuse then check out our color guide!
Green And Yellow Color Palettes
And now, on to our green and yellow color palettes! Each palette that has been created has a color swatch table below the image along with each color's hex color code.
You can find more color palette ideas by visiting our color palette library. Here you can view all the color palettes I've created so far and you can search for color palettes by color or keyword.
Sunrise Green And Yellow Color Palette
No green and yellow color palette collection would be complete without a sunrise color scheme! This beautiful color combination combines a dark green shade with lighter shades of green and yellow. Click here for more dark green color palettes!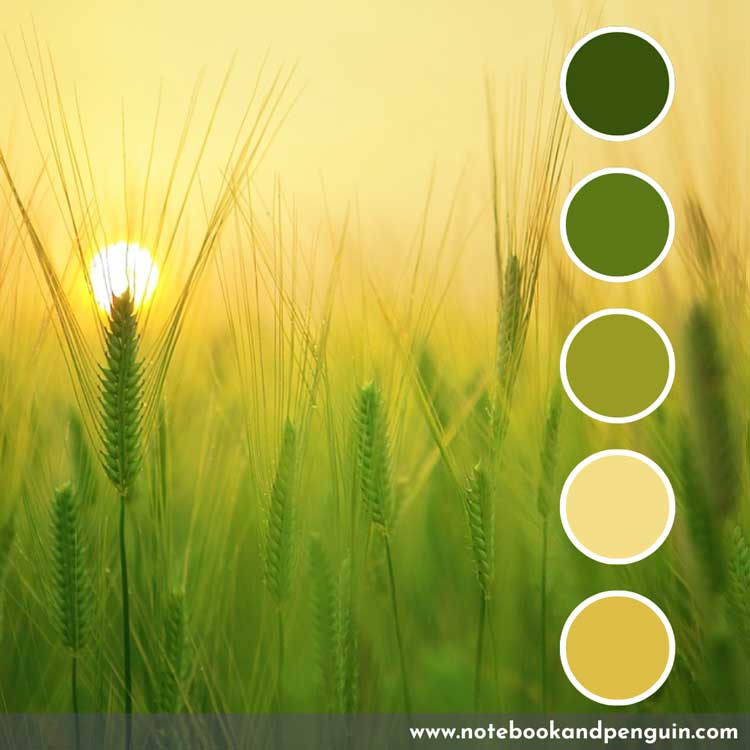 | | | | | |
| --- | --- | --- | --- | --- |
| #39530C | #5C7816 | #999C24 | #DDBE45 | #F4DE86 |
Green And Pastel Yellow
Pastel yellows are incredibly beautiful and create a sense of softness and warmth. Combine them with darker green base colors and you have a winning combination!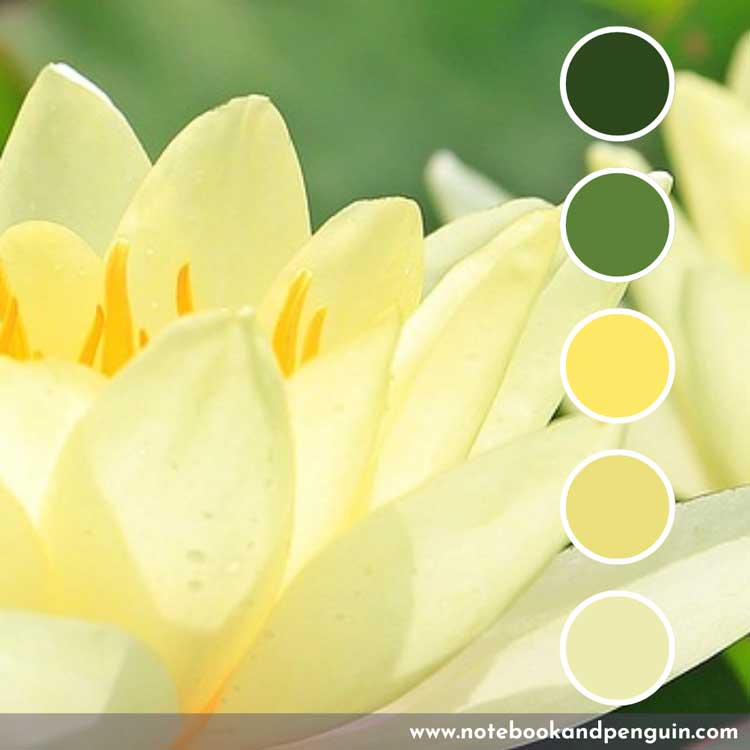 | | | | | |
| --- | --- | --- | --- | --- |
| #2D471D | #5B8238 | #FEE967 | #EBE07C | #EDEBB1 |
Green, Yellow, And White Color Palette
Add a crisp shade of white to your green and yellow color palette to make all the colors pop!
| | | | | |
| --- | --- | --- | --- | --- |
| #374A0F | #7D8724 | #C4D03F | #DDCC42 | #DDD7B9 |
Brown, Yellow, And Green
Adding different shades of brown to your palette creates a gorgeous natural earthy color scheme that has a wonderful organic feel to it. This palette uses a mustard yellow and a chartreuse color to give it an earthy look and feel.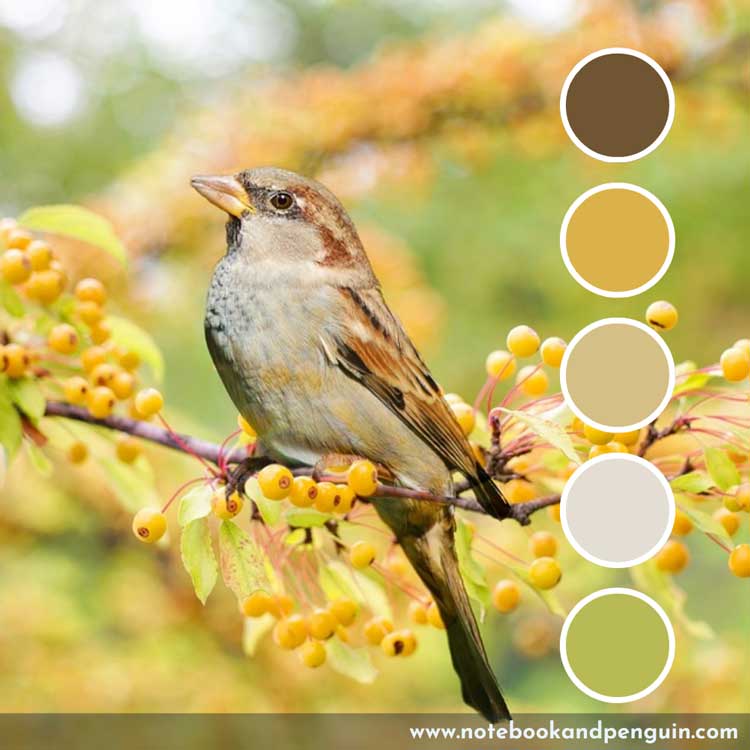 | | | | | |
| --- | --- | --- | --- | --- |
| #705532 | #DBB24A | #D5BF86 | #E3DED3 | #B8BA55 |
Bold Green, Yellow, And Brown Palette
If you are looking for a green and yellow color palette that is bolder and more dynamic, then this could be the one for you! Once again green and yellow are combined with shades of brown to create a natural feel but this time bold yellows and greens are used to create an eye-catching color scheme.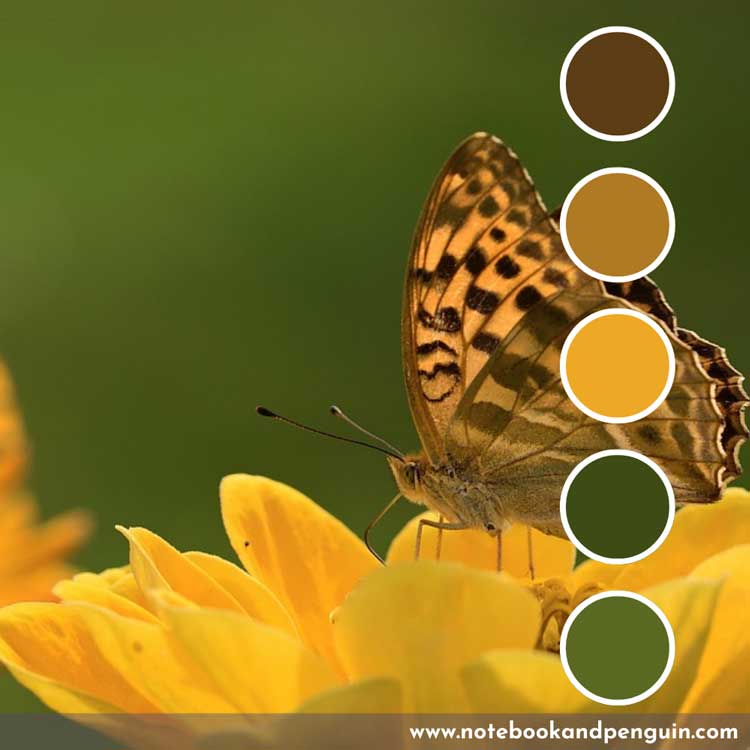 | | | | | |
| --- | --- | --- | --- | --- |
| #5C3D15 | #AF7A23 | #EDA825 | #3E4B15 | #4E653F |
Pastel Green, Yellow, And Blue
I think that this is one of my favorite color palettes in this collection! Soft pastel blues, greens, and yellows are combined to create this gorgeous color combination. If you love the look of pastel blues then don't forget to check out our pastel blue color palette collection!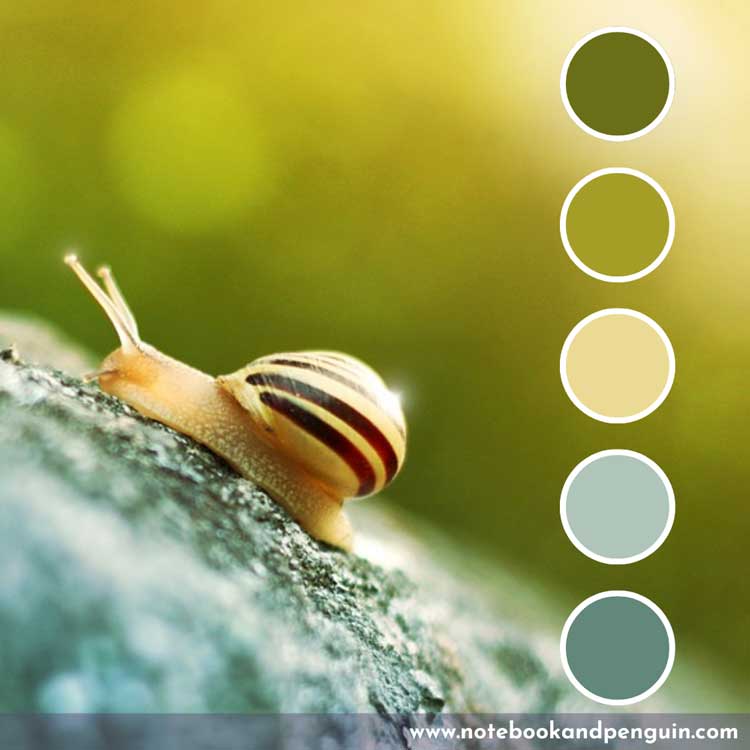 | | | | | |
| --- | --- | --- | --- | --- |
| #6A6F18 | #A59E27 | #EBDA94 | #AFC5BA | #62887A |
A Splash Of Blue
This yellow and green color palette has a bright pop of blue added to it to create a bright contrast of color! If you like the combination of green and blue, then you might want to take a look at our green and blue color palette collection!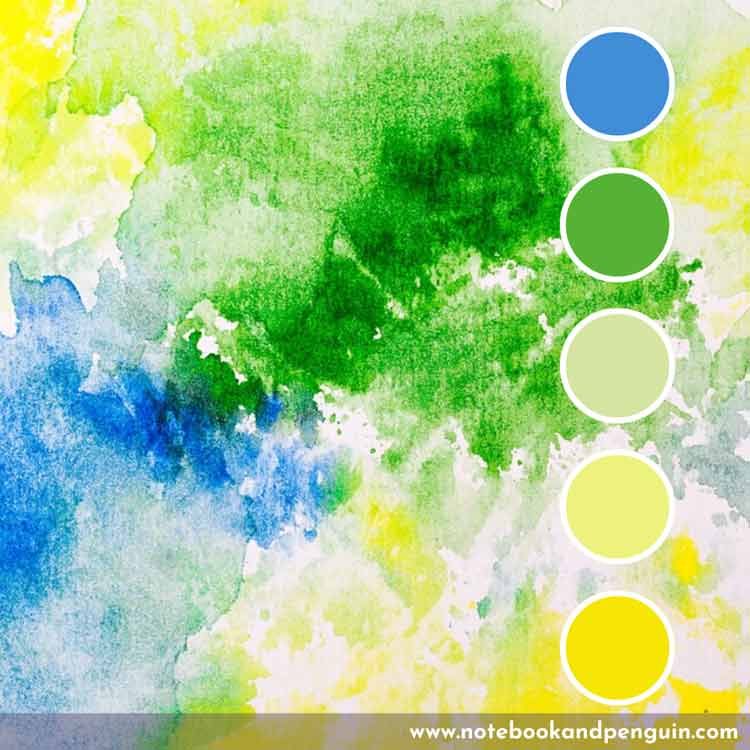 | | | | | |
| --- | --- | --- | --- | --- |
| #408ED6 | #56B235 | #D5E5A2 | #EDF27E | #F6E605 |
A Slash Of Red
Speaking of a bright pop of color, why not use red instead of blue as an accent color?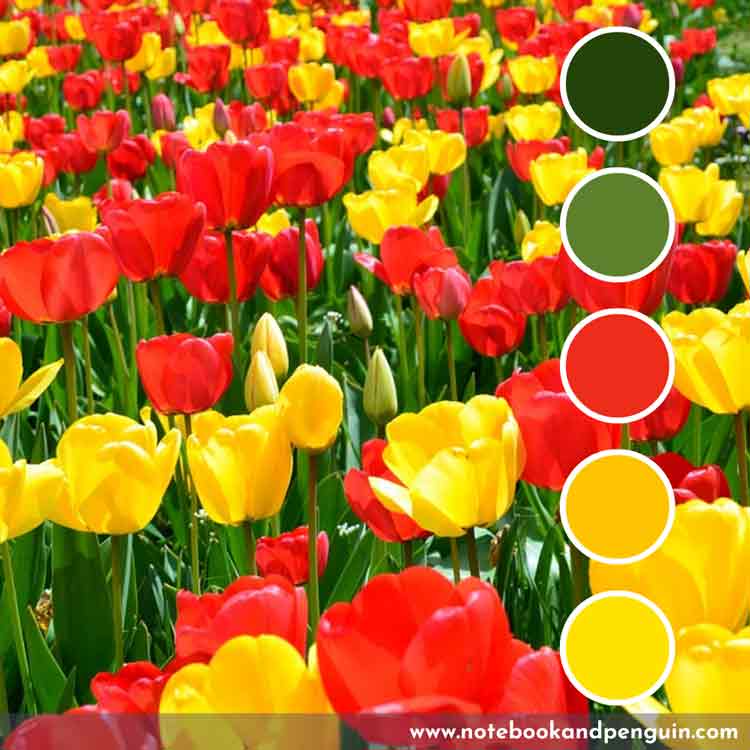 | | | | | |
| --- | --- | --- | --- | --- |
| #244309 | #5D802C | #ED2C1A | #FEC400 | #FFE201 |
A Splash Of Orange
And if all else fails, you could always use a bright orange as an accent color in your palette! Click here for more vibrant orange color palette ideas!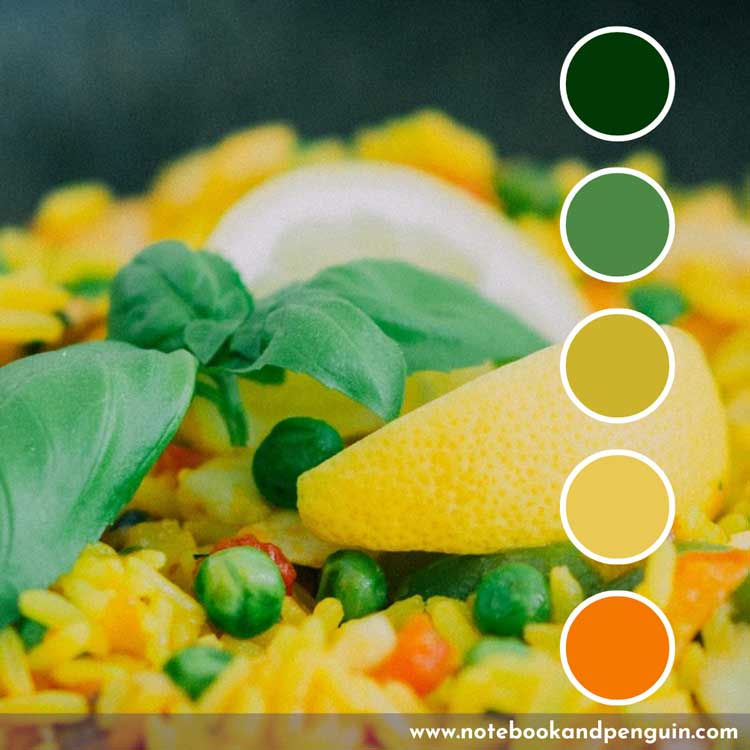 | | | | | |
| --- | --- | --- | --- | --- |
| #003805 | #4B8945 | #CCB32B | #E9C954 | #F47801 |
Conclusion
Green and yellow color palettes are versatile and can be used in so many different ways so you should definitely consider these colors when you choose colors for your website!