This article may contain affiliate links which means we might earn a small commission if you decide to make a purchase through them (at no extra cost to you). Thank you for your support!
Pastel pink and other light pink color palettes are soft and delicate and are most often associated with femininity, romance, and innocence. These colors are pretty versatile and can be used in many different ways, from playful and whimsical all the way to sophisticated and elegant!
Because pink is associated with femininity, you will often see it being used in brands that target women and feminine products. You will also often see lighter pink colors being used in children's and baby products bringing a touch of innocence and sweetness to these brands and products. And because these classic colors never seem to go out of style you will see them being used in everything from fashion to home decor to website design and business branding.
In design, lighter pinks pair well with other pastel colors, neutral colors, and even some bold and bright colors so go ahead and experiment with some pink color combinations!
Need some ideas to get started? If you are looking for a timeless and sophisticated look, try pairing pastel pinks with whites, beiges, and grays. If you are wanting to create more of a soothing and calming design then maybe try pairing them with other pastel colors. And for a much more bold and playful vibe, you can try pairing light pinks with brighter colors such as yellows and greens.
For this article, I have prepared a few pastel pink color palettes to give you some ideas and inspiration when choosing colors for your brand or website. I've also included the hex color codes for each color in the palettes so you can begin using them right away. And if you need more ideas, then don't forget to check out our full color palette collection!
Pastel Pink Hex Codes And RGB Values
Pastel pink is a light and soft shade of pink that is delicate and subtle. It is created by adding white to pure pink. Of course, depending on the amount of pink and white you use, you will end up with different shades of pastel pinks. Some other popular light pinks include baby pink, blush pink, and nude pink itself.
Pastel pinks and light pinks are seen as warm and soothing colors. This is what they look like:
Pastel Pink
#DEA5A4
RGB (222,165,164)
Pink
#F4C2C2
RGB(244,194,194)
Light Pink
#FFB6C1
RGB(255,182,193)
Nude Pink
#DDC0B4
RGB(221,192,180)
Light Blush Pink
#F1ABB9
RGB (241,171,185)
Lace Pink
#FFD8F0
RGB(255,216,240)
Cameo Pink
#EFBBCC
RGB(239,187,204)
Piggy Pink
#FDDDE6
RGB(253,221,230)
Light Pink And Pastel Pink Color Palettes
Let's take a look at a few pastel pink color palettes! And if you need more pink hex codes then click here!
Monochromatic Pastel Pink Color Palette
If you are looking for a color palette that just features pastel pinks and other light pink colors then this could be the one for you!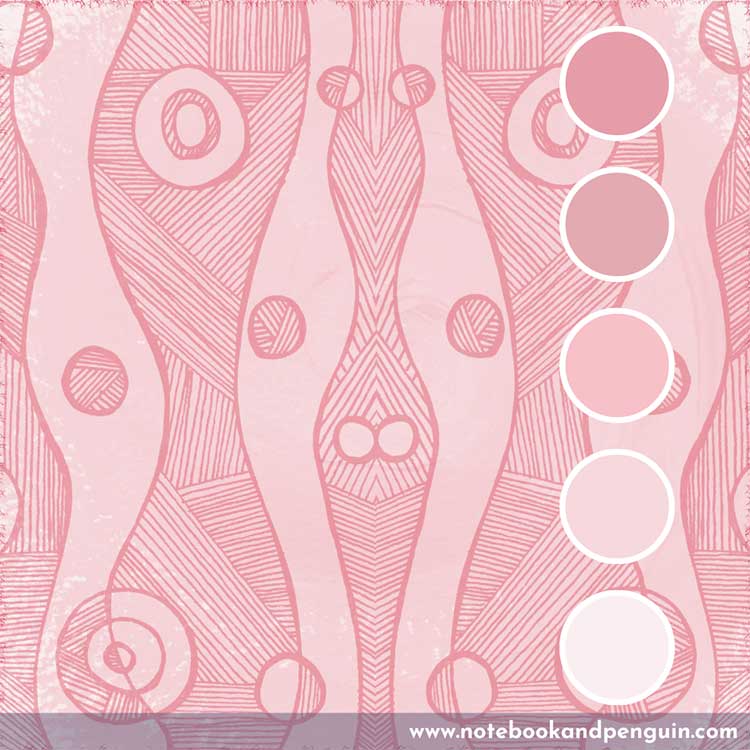 | | | | | |
| --- | --- | --- | --- | --- |
| #E69DA9 | #E3AAB2 | #F7C1C8 | #F6D8DC | #FAEEF0 |
Monochromatic Light Pink Palette
If you prefer light pink colors that are less peachy or dusty colored then this gorgeous palette might be what you are looking for! This one reminds me of candy floss, ballerinas, and marshmallows!
| | | | | |
| --- | --- | --- | --- | --- |
| #F6A5C6 | #F8C7DA | #F8D5DF | #FAE2E8 | #FCECF2 |
Pastel Pink And Gray Brown Color Palette
I love the way that pastel pink combines so beautifully with light gray and brown colors! This color palette takes advantage of these beautiful neutral colors by adding a darker brown-gray color with more neutral grays. Add your pastel pinks and you have a winning combination!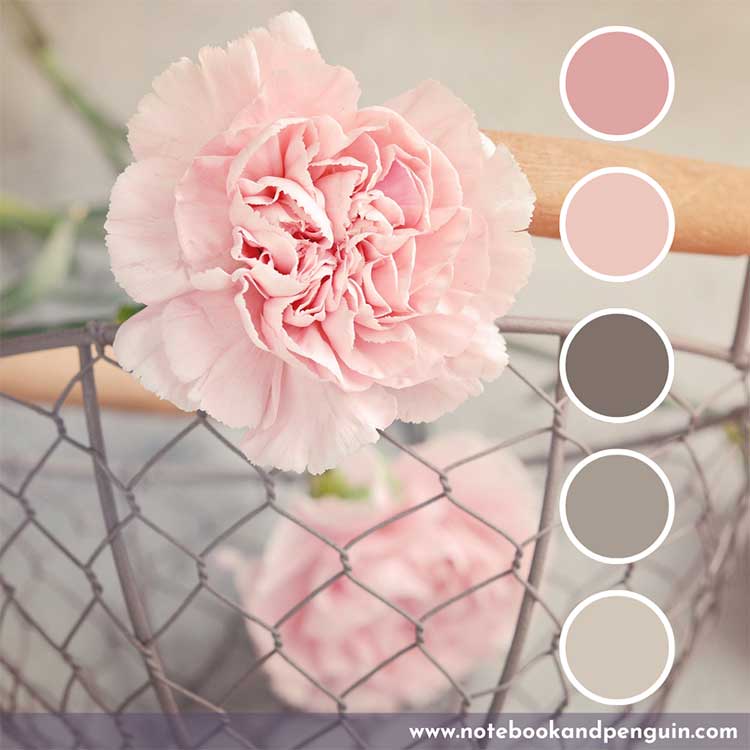 | | | | | |
| --- | --- | --- | --- | --- |
| #DEA5A4 | #EDC7BE | #80726B | #A89D93 | #D3C7BA |
Light Pink And Neutral Earthy Green Palette
This is mostly another monochromatic light pink palette with the exception of the final color which is a mix of green, beige, and brown (#CEC0AE). It adds a beautiful earthy contrast color to the otherwise mostly pink color palette.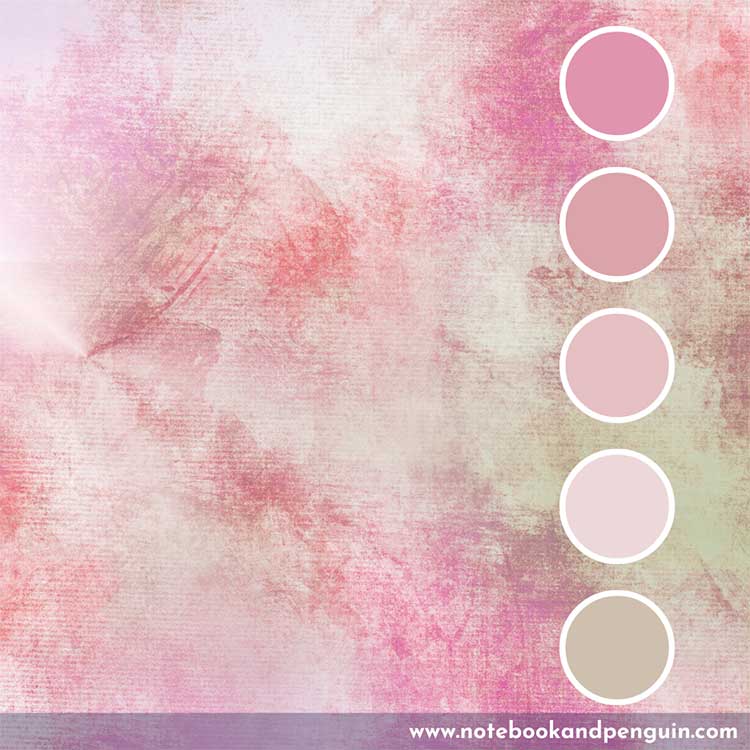 | | | | | |
| --- | --- | --- | --- | --- |
| #E194B0 | #DBA4AA | #E5C0C3 | #ECD8DA | #CEC0AE |
Pastel Pink And Pastel Blue Palette
Just like our previous palette, this one also uses mostly pink colors as its base. However, this time we use a shade of pastel blue as an accent color that adds interest and contrast to the palette.
If you are looking for more ideas using pastel blue, don't forget to check out our pastel blue color palette collection!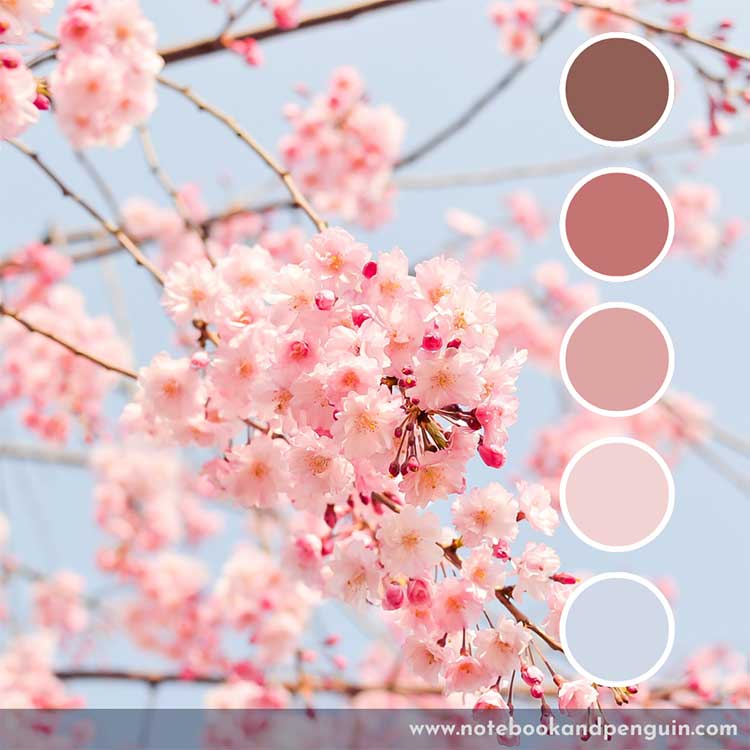 | | | | | |
| --- | --- | --- | --- | --- |
| #915F57 | #C47574 | #DEA5A4 | #F2D3D3 | #D1D9E7 |
Warm Pastel Pink Color Palette
Combining pastel pink with a deep purple shade as a base along with subtle yellows and muted oranges could be a good option if you want a warmer color palette that is a little bit different and eye-catching.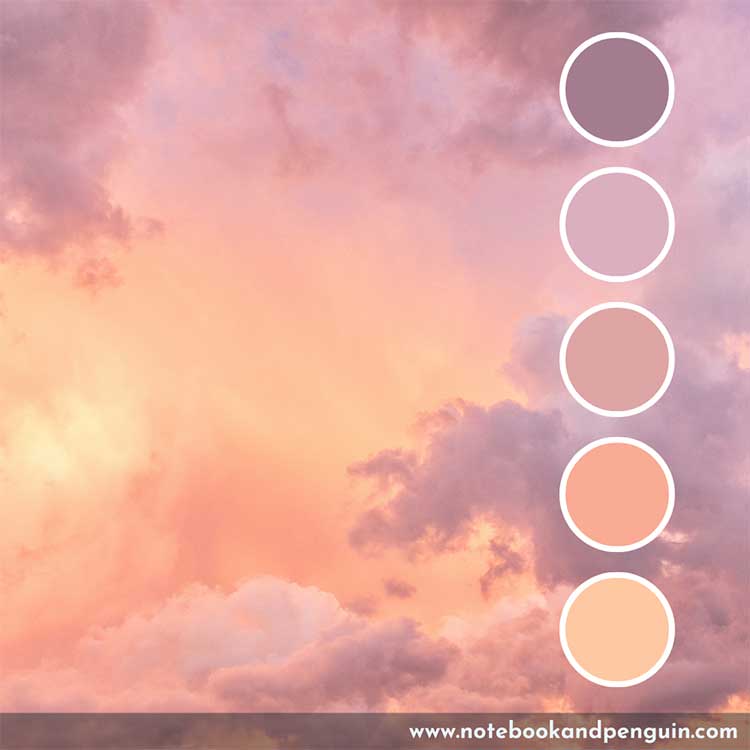 | | | | | |
| --- | --- | --- | --- | --- |
| #A47D8F | #DBAFBF | #DEA5A4 | #F9AB94 | #FEC8A2 |
Pastel Pink And Nude Pink Color Palette
The final two colors in this palette are pastel pink and nude pink. Don't they combine beautifully with the other light pink and purple shades?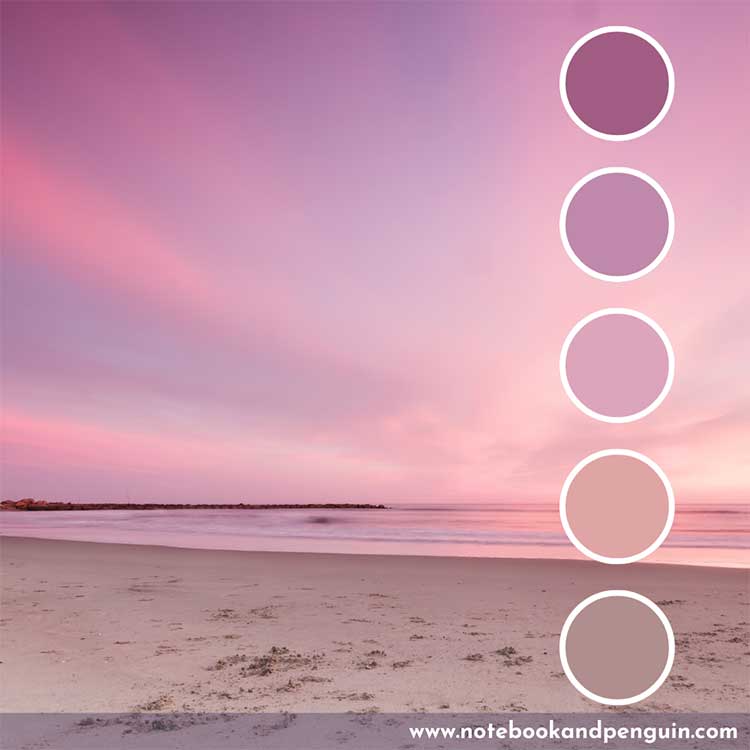 | | | | | |
| --- | --- | --- | --- | --- |
| #A15D83 | #C089AB | #DDA5BB | #DEA5A4 | #DDC0B4 |
Light Purple And Pink Palette
If you prefer light pinks that lean more toward the purple side then this palette might just be what you are looking for! This palette moves away from the more peachy-colored pinks and includes colors that are a little cooler including a very pale shade of white.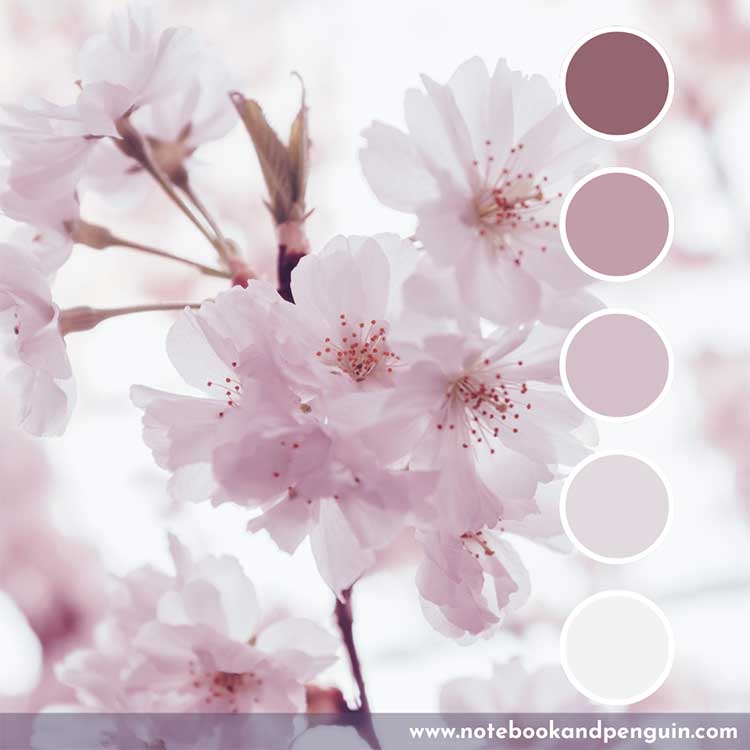 | | | | | |
| --- | --- | --- | --- | --- |
| #956671 | #C29EAC | #D5C0CA | #E2DADF | #F2F3F4 |
Q: What are pastel color palettes?
A: Pastel color palettes are a collection of soft, muted colors that are often associated with spring, Easter, and femininity.
Q: How do I choose the right pastel color palette for my project?
A: Consider the emotions you want your design to evoke, and what colors best represent those emotions. A pastel color palette can be very versatile, so let your creativity guide you!
Q: Can you give me some examples of pastel hex codes?
A: Sure! Some popular pastel hex codes include #F5B7B1 (pastel pink), #9ACD32 (pastel green), and #87CEFA (pastel blue).
Q: Are pastel color palettes only for girly designs?
A: Not at all! Pastels can be used to create a variety of moods and themes, from whimsical and romantic to calming and sophisticated. Don't be afraid to experiment with different combinations!
Q: Can pastel colors be used in branding?
A: Absolutely! Pastels can be a great choice for businesses that want to convey a softer, friendlier image. Just make sure to choose shades that complement your brand's values and
Conclusion
Pastel and light pink color palettes are beautiful and when used on your website or in your brand colors, they can bring a sense of softness and feminity to your designs. If you use lighter shades of pastel pink then they could be used as a soft base or background color otherwise they could even be used as accent colors in other pastel color palettes.