This article may contain affiliate links which means we might earn a small commission if you decide to make a purchase through them (at no extra cost to you). Thank you for your support!
Pink and black are an incredible color combination that is visually striking and attention-grabbing! And there is no doubt that it will leave a lasting impression on your customers and clients! And the best part about using pink and black color palettes is that you can really play with the mood you are trying to create by using different shades of pink to complement the black colors you use.
Why Use Pink And Black In Your Color Palette?
In color psychology, pink is a color that is associated with feminity, love, and playfulness. It is a light airy color that can bring softness to a design if you use lighter shades or drama if you use a bright pink color.
Black, on the other hand, is an elegant and sophisticated color that brings an air of timelessness and power with it. When combined, these colors really do create a striking contrast that is beautiful and bold!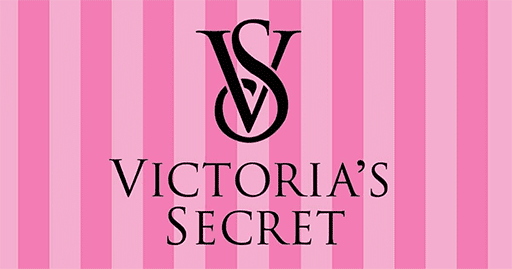 A great example of a pink and black color palette in branding is that of Victoria's Secret. Pink represents the femininity and playfulness of their brand while black conveys sophistication, elegance, and luxury.
Pink & Black Hex Codes And RGB Values
You can use black and pink in so many different ways depending on the hues and shades that you choose! And while you might think that black is just black, there are in fact hundreds of shades of black to choose from! Likewise, pink has just as many shades for you to use.
If however, you want to get started with pure black and pink, these are their hex codes and RGB values:
Pink
#FFC0CB
RGB(255,192,203)
Black And Pink Color Palettes
And now, let's take a look at a few pink and black color palettes to get you started! Each color palette comes with a color swatch and corresponding hex color code for you to use in your designs right away! Need more ideas? No problem, check out our color palette library here!
Dusty Pink, Brown, And Black Palette
Let's get started with a palette that is probably one of my favorites in this group! A black base color is combined with a dark earthy brown and a few pink colors that create a harmonious color palette that feels warm, soothing, and calming with a natural vibe.
| | | | | |
| --- | --- | --- | --- | --- |
| #181B0D | #56403B | #916D71 | #665939 | #D1C0BC |
Black, Gray and Pink Color Palette
If you are looking for a cooler color palette, why not try combining black and pink with different shades of gray?
| | | | | |
| --- | --- | --- | --- | --- |
| #2A363C | #5C5A62 | #8C7F8D | #C382A2 | #DEC5DD |
Cameo Pink and Black Palette
This color palette uses a darker shade of cameo pink (#EFBBCC) as well as a blue-gray color as an accent color in the design. Don't forget to check out our light pink and pastel pink color palettes if you are looking for more ideas using these lighter pink colors!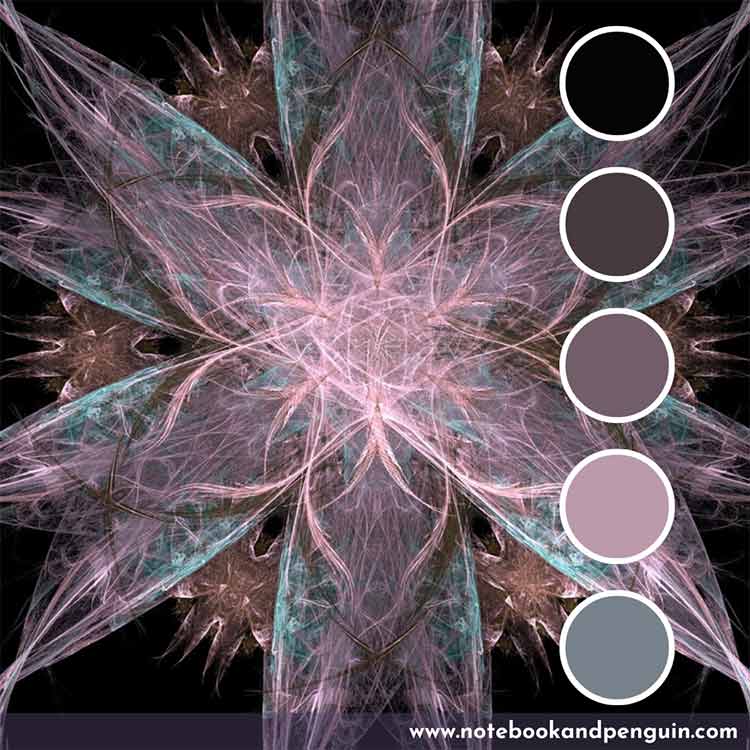 | | | | | |
| --- | --- | --- | --- | --- |
| #050404 | #453A3D | #725E69 | #BB9AAB | #77828B |
Black and Hot Pink Color Palette
Just like Victoria's Secret, this color palette uses a shade of hot pink (#FF69B4) to add a striking contrast to the black base. Use all five of these colors or simply choose two or three to create your perfect color palette!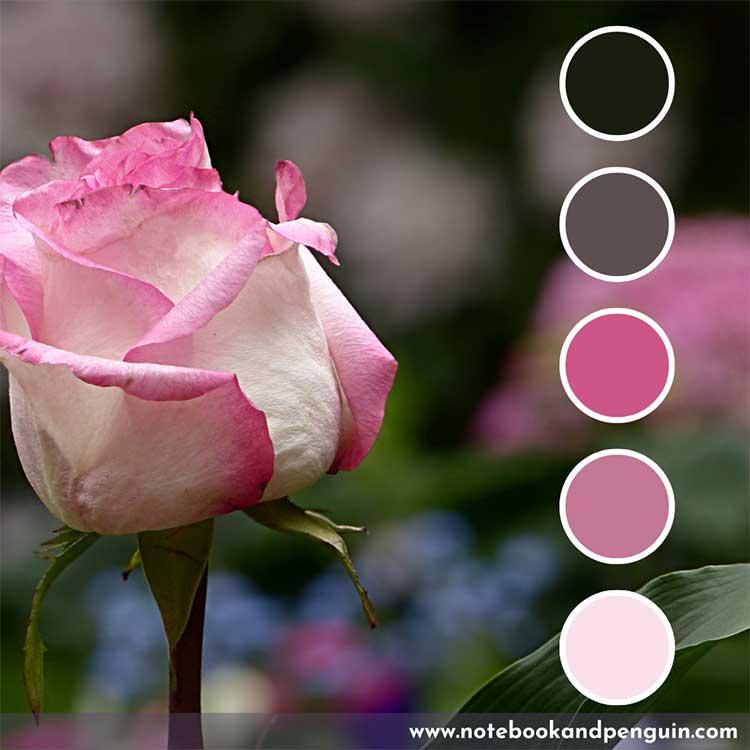 | | | | | |
| --- | --- | --- | --- | --- |
| #191D0E | #5C4F51 | #CD5685 | #C37795 | #F9DFE9 |
Pink, Black, And Red Palette
This color palette combines a graphite black color with a deep red color to create a palette that is dark and sophisticated. Splashes of pink are used as lighter accent colors.
| | | | | |
| --- | --- | --- | --- | --- |
| #3F3D44 | #59575C | #5A1D2D | #905373 | #CB8FB7 |
Black, Red, Pink, And White Palette
This color palette is similar to the previous one in that it also uses black, deep red, and pink colors. However, this one uses shades of white to make the palette a lot lighter and brighter!
| | | | | |
| --- | --- | --- | --- | --- |
| #030900 | #5F2636 | #BD667C | #D3DCD6 | #EEF2EF |
Brown, Black And Pink Color Palette
This is another beautiful warm color palette that uses black and pink along with a warmer shade of brown. This palette has more of a neutral feel to it.
| | | | | |
| --- | --- | --- | --- | --- |
| #1E210F | #8B5654 | #BD7C7E | #B29292 | #E1C0C5 |
Black, Pink, And Cream Palette
Neutral colors also work incredibly well in pink and black color palettes! This palette combines a black-red color, that is similar to a black color called "Black Bean", with pinks and a neutral cream color.
| | | | | |
| --- | --- | --- | --- | --- |
| #3D1729 | #664054 | #B7617E | #BF928F | #E1D7BD |
Conclusion
Pink and black color palettes are beautiful and versatile and depending on the colors you decide to use, you can create many different moods for your designs – from warm and cozy to cool and sophisticated. I hope these palettes have given you some ideas to work with if you are deciding on brand colors or building your website.