This article may contain affiliate links which means we might earn a small commission if you decide to make a purchase through them (at no extra cost to you). Thank you for your support!
Olive green is a muted, earthy green color with brown and yellow undertones that people tend to associate with nature and health. Of course, olive green gets its name from the color of the unripe fruit of the olive tree.
Olive green color palettes have been used for ages in art, fashion, and design and you can even see it being used way back in the Renaissance period art where it was often used in landscape paintings.
In marketing and design, olive green is used to convey a sense of stability, reliability, and sophistication. You will most often see it used in natural and organic products and outdoor gear but you can even find it in used in brands that offer financial and legal services.
In this post, you will find a collection of olive green color palettes to inspire you and give you ideas if you are deciding on a color palette for your website or brand. Each color palette comes with a color code table which includes a swatch and hex color code for each color. I hope these help to inspire you if you are deciding on colors for our brand color palette or website!
Olive Green Hex Codes And RGB Values
Olive green is a combination of yellow and black colors with small amounts of red and blue. Of course, the exact shade will vary according to the amount of each color that you use. This is what olive green looks like:
Olive Green
Hex Code: #708238
RGB Code: RGB(112,130,56)
Variations Of Olive Green
There are quite a few different shades of olive green that you can choose from! Here are a couple of variations for you to try:
Yellow-Green Olive
#9B9A4A
If you are looking for other variations of green then don't forget to check out our green hex color code collection! You might also find our dark green and sage green color palettes useful as well along with our color palette library!
Olive Green Color Palette
Olive green tends to work well in monochromatic color palettes blending well with other shades of green. However, it also works really well with reds, maroons, deep purples, and even pinks! And I'm not going to lie, creating these color palettes made me more than a little bit hungry!
The Monochromatic Sage Green Color Palette
I don't think you could start any olive green color palette collection without a picture of an olive tree! So here you go!
| | | | | |
| --- | --- | --- | --- | --- |
| #443F13 | #6C6817 | #9C9F2E | #C2C088 | #DDDBAE |
Olive Green and Yellow Palette
Shades of dark olive green and olive brown combine beautifully with yellow and grey colors to create this beautiful color palette!
| | | | | |
| --- | --- | --- | --- | --- |
| #535230 | #7A7937 | #8A6619 | #DCB044 | #EDE2D3 |
Olive Green With Dark Purple Accents
Mother nature has once again inspired an amazing color palette! A deep purple-red color is contrasted against dark olive green. Add a dash of pink for a softer accent color!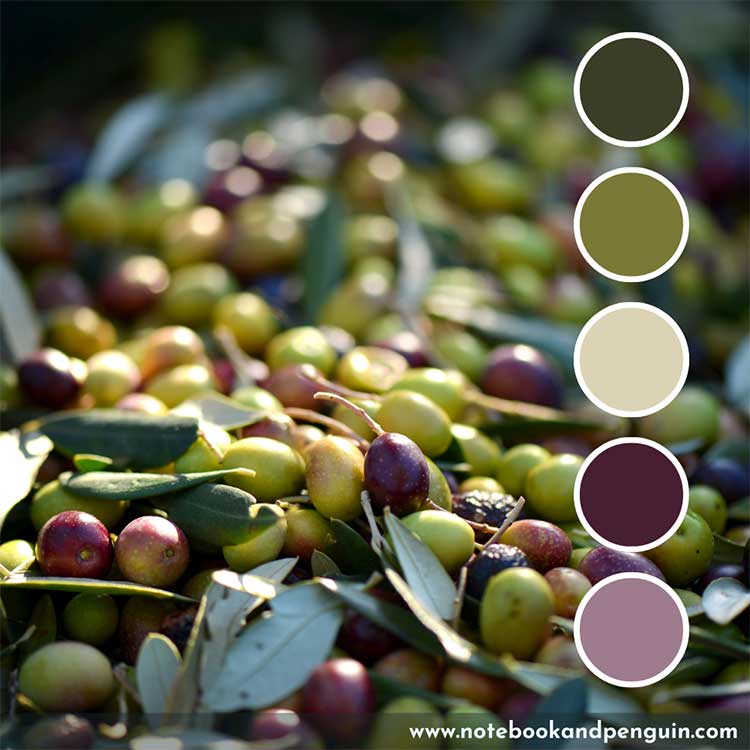 | | | | | |
| --- | --- | --- | --- | --- |
| #3A3E27 | #7A7937 | #DBD3B5 | #471F32 | #9E7B8E |
Olive Brown And Maroon
Some like it hot! Combine olives with chili peppers and you have a spicy combination of flavors. The color combinations work well together as well! Click here for more maroon and burgundy color palette ideas!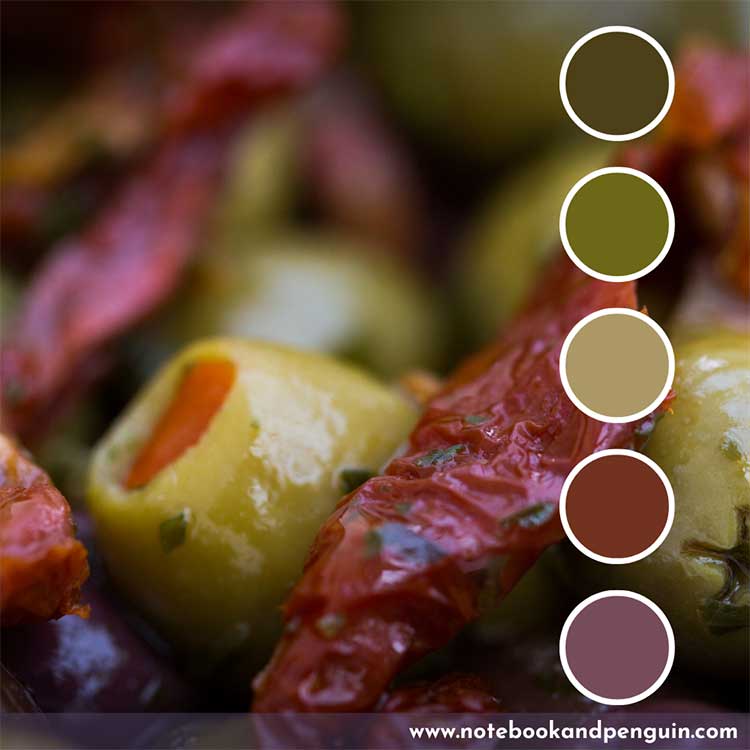 | | | | | |
| --- | --- | --- | --- | --- |
| #4C4018 | #6C6817 | #AC9867 | #713220 | #774C5B |
Olive Green With Bright Red Accents
Just like the previous two olive green color palettes, this one also combines different shades of red with olive green. However, this palette takes red to the extreme with this very bright pop of color! I think it works really well!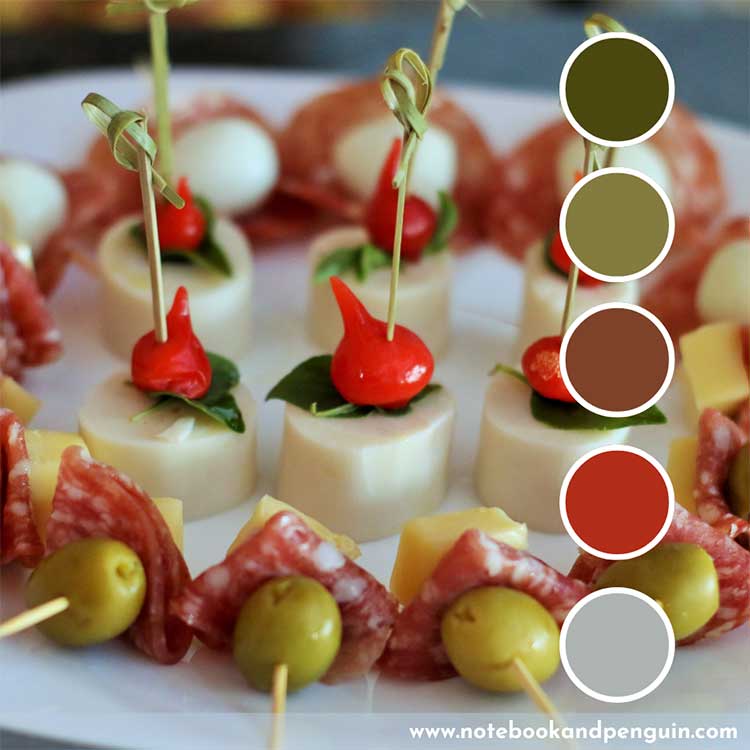 | | | | | |
| --- | --- | --- | --- | --- |
| #4B480F | #847B3F | #7E4229 | #B22D19 | #AEB3B3 |
Olive Green And Brown
If you are looking for a natural color palette with a rustic feel then this one might be what you are looking for. Natural shades of brown and green are combined to create the perfect combination of colors!
| | | | | |
| --- | --- | --- | --- | --- |
| #3F3E14 | #4F5017 | #988F55 | #936853 | #E2CEAA |
Olive Green And Tangerine Orange
At first glance, this color palette appears to be just another monochromatic green color palette, however, throw in a very vibrant and bright tangerine orange and you have a color palette that is unusual and eye-catching!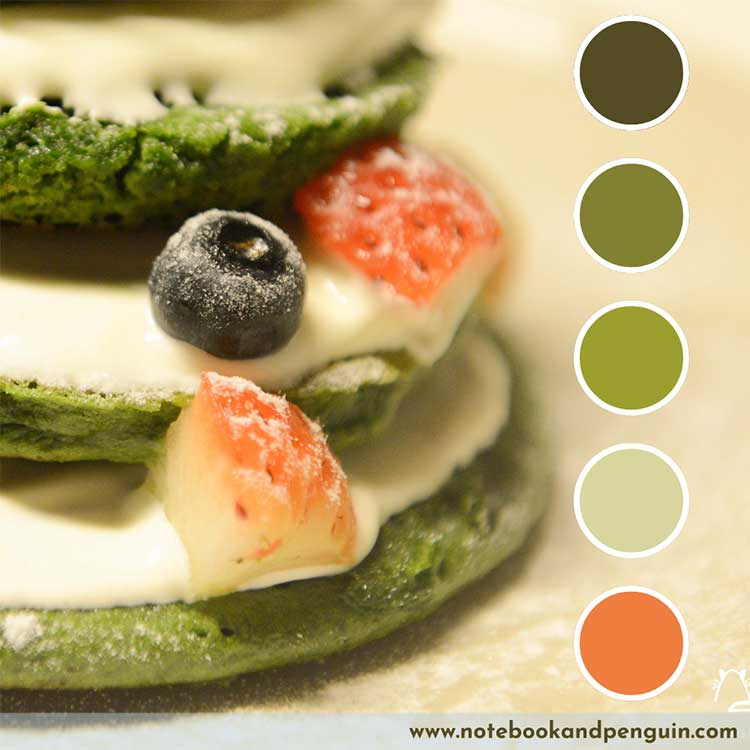 | | | | | |
| --- | --- | --- | --- | --- |
| #554C24 | #828131 | #9C9F2E | #D8D69E | #EF7E3F |
Conclusion
Olive green color palettes are a great choice if you are building your website and want to create a natural earthy vibe! Would you like to see more color palettes that use olive green? Let me know in the comments section below!